Valliamma wakes up at 5am to finish the trimming on T-shirts. She needs to hand them over to the contractor by 11 am—they're part of an important order for a global brand. There are no labels and no way of identifying the brand but, according to Valliamma, the strict timeline and fine quality T-shirt are proof that the assignment is for a high-end brand.
She has been doing this work for two decades and is paid 50 paise for each T-shirt, but after workers in the long supply chain have worked on it and a fashion label has been sewed on, the T-shirt will sell for at least a thousand times more in the global market.
Valiamma works for eight to 10 hours a day, then takes care of her ailing husband and two children. She is one of 40,000 homeworkers who are part of the supply chain in the garment manufacturing industry in Tirupur, a busy town near Coimbatore in Tamil Nadu.
According to a study conducted across three cities in India and Nepal by HomeNet South Asia, a network of home-based workers, and a research and policy network called Women in Informal Employment: Globalising and Organising, home-based workers labour for 21-29 days a month and earn approximately Rs6,000 on a piece-rate basis.
Most of these home-based workers are women who spend six to eight hours a day stitching sleeves, sewing buttons, trimming threads, attaching drawstrings, and crafting embroidery.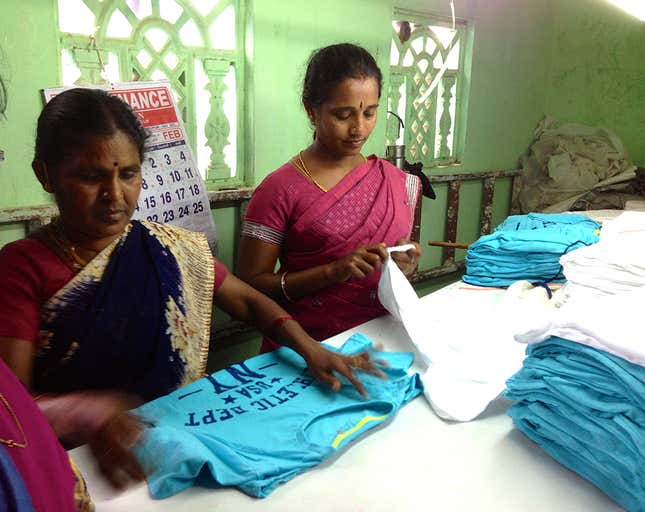 Invisible labour
Homeworkers are a sub-category of home-based workers that are contracted by a firm, individual trader, intermediaries, or sub-contractors on a piece-rate basis. They work from their homes, or around them, and don't have direct access to markets. There are 37.4 million home-based workers in India.
Homeworkers work in many industries, including manufacturing, wholesale and retail trade, social and personal services, hotels, and restaurants. They contribute to the final product sold in the market, though they are invisible to the companies and buyers for whom they make the products (or part of the product).
The invisibility of homeworkers in a supply chain can be attributed to the fact that they are employed through a series of intermediaries. But there is a serious lack of recognition of their work by companies, governments, and society at large.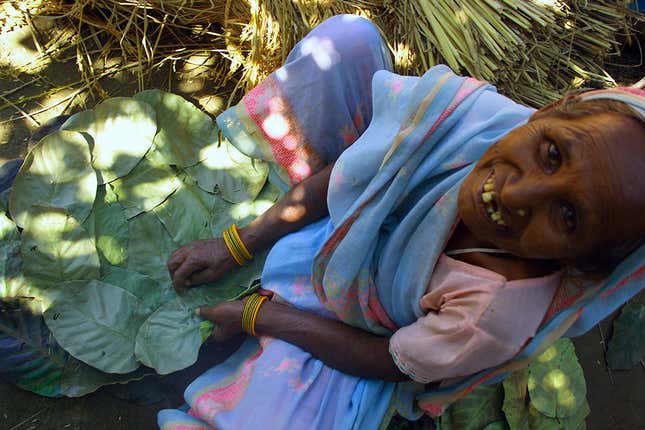 Why home-based work?
Sanjugta Muduli, a homeworker who makes papads in the Kargil Basti of Bhubhaneshwar, said that home-based work pays less than regular work but it allows her to take care of her family of four. Apart from making papads for almost six to seven hours a day, she also cooks for the entire family, cleans the house, washes clothes and utensils, drops her children to school, and fetches water from a nearby community tap. Like many women in the country, she is responsible for the unpaid care work at her home. "Working from home and making papads is not a choice, it's the only option I have," she said.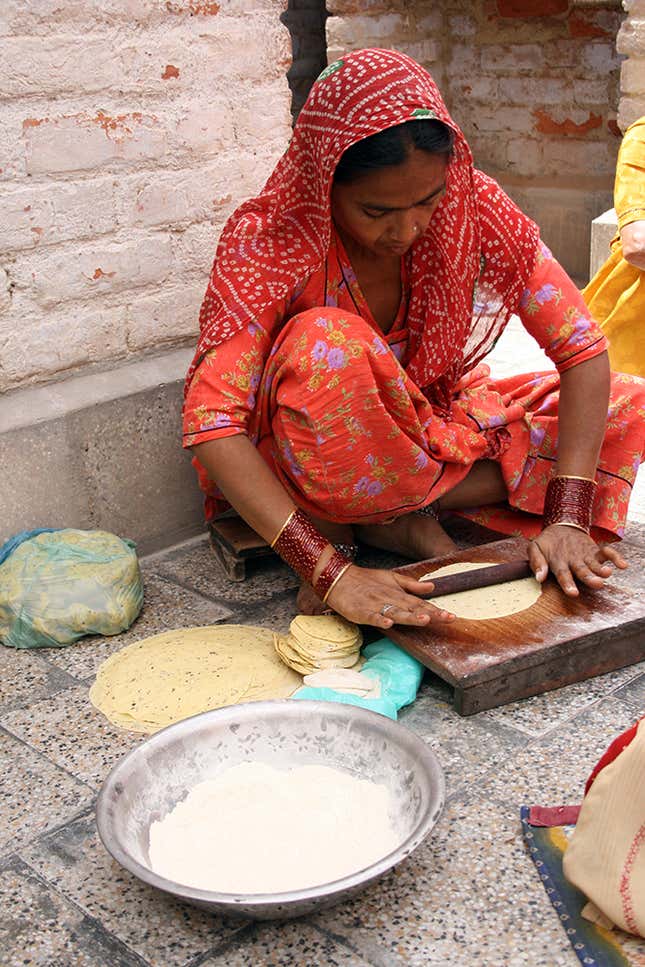 Eashwari from Tirupur had a different perspective: "In Tirupur, everyone works in garments. Earlier I used to work in a factory. I earned a lot more, though I had to stand and work for almost nine to ten hours and we were provided two tokens to use the toilets in the entire day. We weren't allowed to talk to other workers. There was strict monitoring to ensure that we don't waste any time. Home-based work provides me with time for basic things like using the toilet or resting my back once in a while."
Low piece rate
Homeworkers in supply chains in Delhi receive far less work than in Tirupur. The work they received was also inconsistent every month. In Delhi, homeworkers' tasks included embellishment work and embroidery. They could generally complete two pieces of the garment a day and received Rs70 for it, while in Tirupur the homeworkers did less skill-intensive work like trimming or stitching sleeves and buttons. They received 30 to 75 paise per piece and generally completed 200 pieces per day. For both categories of workers, the income was way below the minimum wages prescribed in their respective states.
Apart from the low income and inconsistent work, many of the risks of production also affect homeworkers. For example, fast-changing fashion trends cut into their lead time in production. In Delhi, just as workers were able to get the hang of a design and were producing pieces at a faster pace, the design would change. Women also reported incurring added production costs, like purchase of threads, trimmers, machines, and electricity.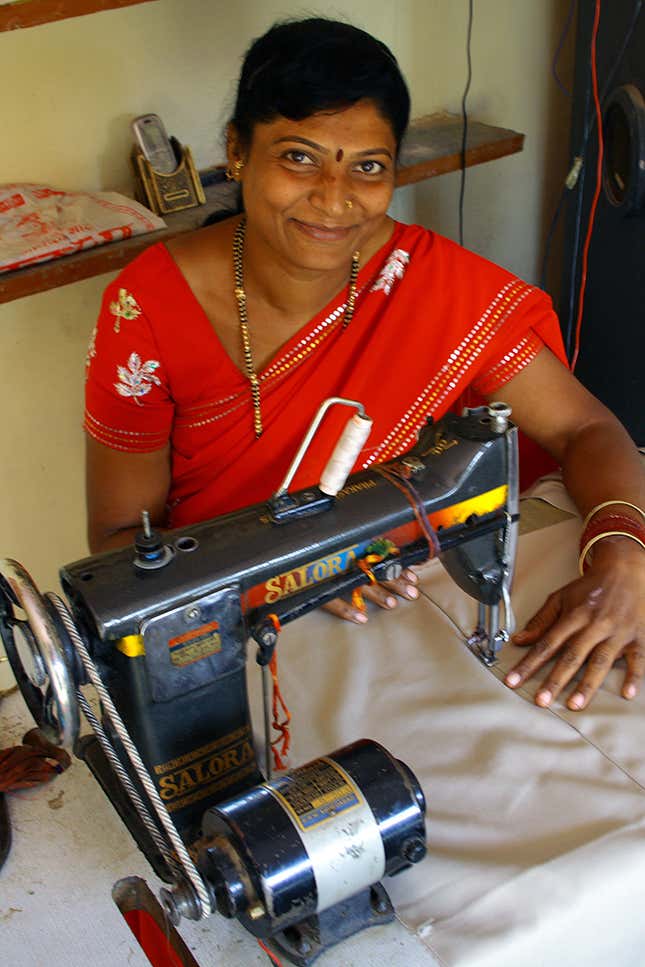 Home as office
For home-based workers, poor living conditions equate to poor working conditions. The lack of individual toilets, running taps, poor drainage, and lack of solid waste management contribute to reduced productivity. In a joint publication, titled Ensuring Access to Basic Services for the Home-based Workers—Learnings from Bhubaneswar, HNSA, along with WIEGO and the Harvard South Asia Institute, documented the impact of a project to improve drainage and solid waste management in two low-income areas of Bhubaneswar. The study pointed out that providing basic infrastructure to homes increased income between $45 (Rs2,900) and $270 (Rs17,600) per annum, increased work by almost three months every year, and reduced illness and health expenses for the workers and their families.
Munira Begam recalled, "Shantipally used to be flooded every year. The heavy rains and poor drainage would lead to water-logging inside our house for over a month. I make agarbattis and during three month of monsoons, it was impossible to work as I couldn't dry the agarbattis. We home-based workers got together and, in partnership with ROAD, negotiated with the local government for improved drainage. Now at least I can work through the year."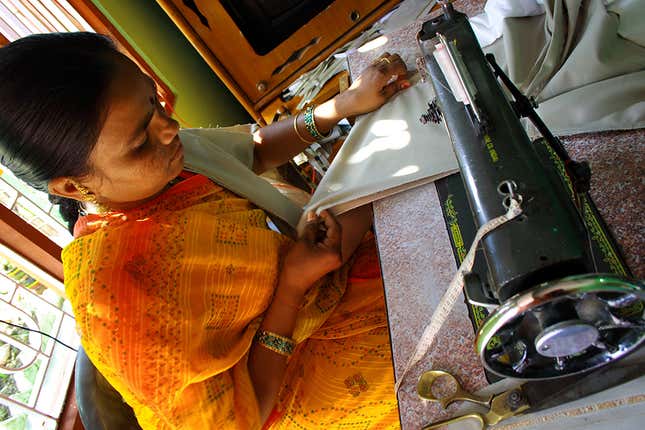 Demonetisation and GST
Government policies like demonetisation and the introduction of the Goods and Services Tax have added to their existing woes. A report prepared by LEARN Mahila Kamgar Sanghatana and SEWA Bharat that was supported by WIEGO detailed the effects of demonetisation. Workers reported reduced work, payment in old currency or non-payment for work done, increase in consumption of loans, reduced expenses on food consumption, clothing, and education for children, and increase in expenses of healthcare.
A home-based worker affiliated with SEWA in Jaipur shared how work had come to standstill in the months after demonetisation. She also added that while things had finally improved, work was scarce and there simply wasn't enough to be distributed among entire communities of workers.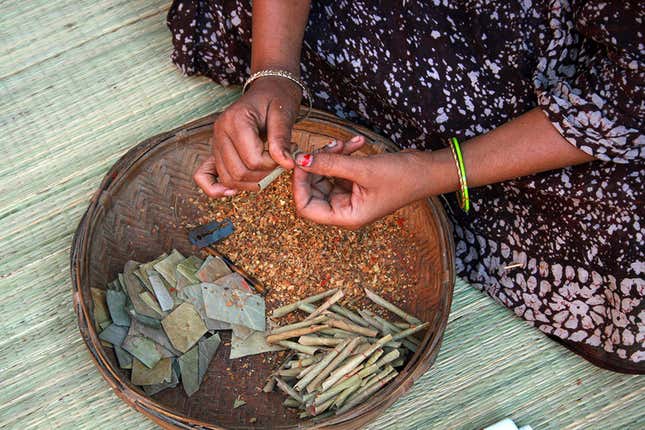 Coping mechanisms
For over 45 years, SEWA has organised home-based workers into trade unions, cooperatives, and social enterprises. An excellent example of collective bargaining spearheaded by the workers is the institution of tripartite boards by beedi and agarbatti workers in Ahmedabad. These tripartite boards comprise of a representative from the labour department, an employer, and worker leaders. They negotiate for increase in piece rate and bonuses together.
There are also other initiatives where home-based workers are provided skills training and they move up the value chain, defying the roles of intermediaries. One such example is SADHNA, a social enterprise of 714 home-based workers, spread across 16 locations in Udaipur. Members of SADHNA make handicrafts and garments. They market their products at their own shop and supply to domestic as well as global companies.
These grassroots organisations come together in the network of HomeNet South Asia, which supports in making supply chains ethical. This is done by conducting supply chain studies mapping all the workers and their working conditions in the chain, followed by joint negotiations between home-based workers, sub-contractors, and companies.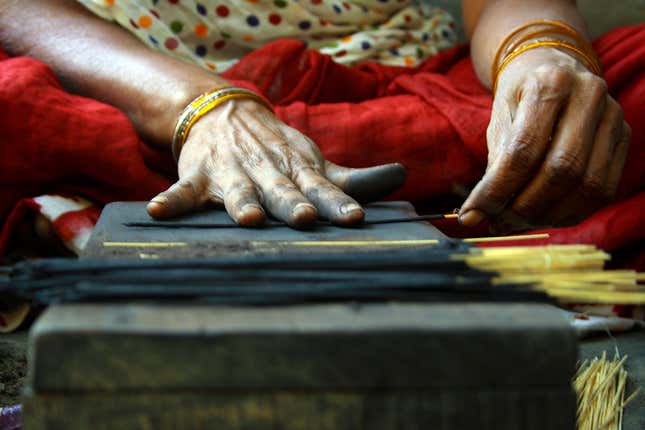 Janhavi Dave is an international coordinator of HomeNet South Asia. This piece first appeared on Scroll.in. We welcome your comments at ideas.india@qz.com.