Thirty years after it was founded, the National Association of Software and Service Companies (Nasscom) will finally have a woman leading it.
On Nov. 10, India's IT lobby group, representing over 2,100 homegrown and multinational companies, named Debjani Ghosh as its next president. She comes to Nasscom following a 21-year stint at Intel. Before she resigned from the tech giant this February, she served as its south Asia managing director. Currently, she is an independent director on YES Bank's board and a member of Cisco's India advisory board.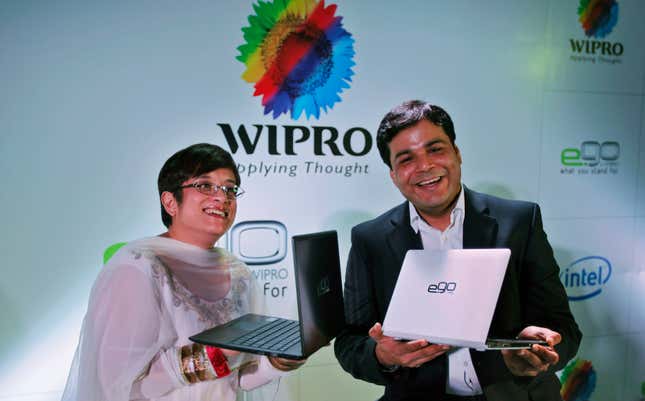 Earlier a member of the Nasscom executive council and a trustee of the Nasscom Foundation, she will take over from the current president, R Chandrasekhar, in March 2018. Two years ago, Ghosh also became the first woman president of the Manufacturers' Association for Information Technology, a trade group that represents scientific, educational, and IT players in the hardware industry.
Ghosh's appointment may be a sign, however belated, that India's $150 billion IT services industry is finally taking its gender ratio problem seriously. The sector typically employs just one woman engineer for every three male ones, with only 7% of the women eventually reaching the C-suite at Indian tech companies. The predicament is so acute that about 45% of women who graduated from top research-focused universities between 2005 and 2009 moved out of core engineering roles after an average eight years of working, according to a 2017 report by hiring firm Belong.
"Her (Ghosh's) appointment is a true reflection of the importance of diversity and inclusion, which is a key pillar for the industry," Nasscom chairman Raman Roy said in a statement.
In her personal capacity, Ghosh is also an angel investor, having backed Inclov, a matchmaking app for the disabled. She also serves as the co-chair of the Federation of Indian Chambers of Commerce and Industry's innovation committee. "I feel privileged and honoured to take up this opportunity to work with all stakeholders and strengthen the prowess of the Indian IT-BPM industry globally and in India," she said on Nov. 10.
As Ghosh steps into her new role, she'll have her hands full. India's IT sector is in the throes of a massive transformation with the cost-arbitrage business model rapidly getting replaced by automation and cloud-based technologies. Meanwhile, over the last year, visa regulations in the US and the rest of the world have become stricter and Brexit has only added to the uncertainty. On the whole, the industry has slowed down as revenues flatline and hiring takes a backseat.