While visiting her sister in the UAE almost six years ago, Yasra Khoker was inspired by her niece and nephew. She liked the way they would spend hours after school copying pictures of dishes that appeared on menu leaflets. When Khoker returned to India, she began doing something similar.
Trained as an interior designer, Khoker had already been sketching for over 15 years. "Even while growing up in (the) UAE, during family get-togethers, we would sit and sketch and make magazines and select stickers for our drawings," said the 32-year-old, who now lives in Jaipur with her husband. "It's probably why I still like stationary and cartoons."
Khoker's obsession with and appreciation for food is apparent in the way she talks about it—whether it is picking out the best place to get a fix of onion kachori in Jaipur, a tandoori chicken sandwich from the Lucky restaurant in Bandra, Mumbai, or just the simple pleasure of a cup of tea. Khoker recently self-published an illustrated journal of her 10-day-trip covering Hyderabad, Mumbai, and Goa. The mouth-watering journal is titled Food Swings.
"Instead of recording a moment in time as a photograph, I sketch," said Khoker.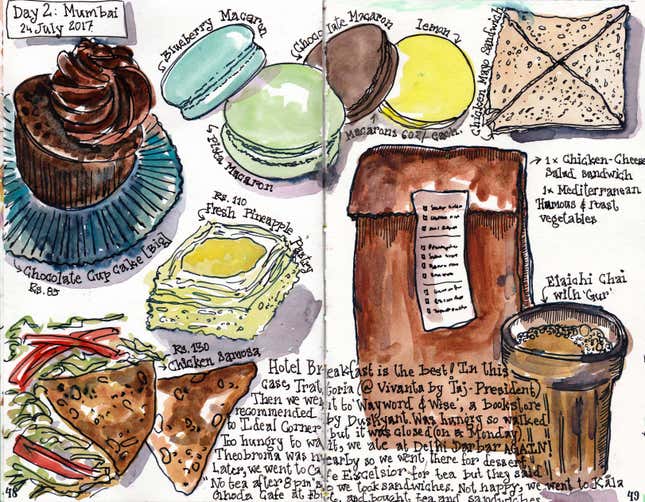 Khoker began her food sketching journey by eating out for a month and a half in Jaipur. She would turn up everywhere—restaurants, cafes, or the peanut vendor outside Hawa Mahal—with her sketchbook and record everything she saw or ate. "Some people would get what I was doing and appreciate it, while some would stare awkwardly or comment about my weight," said Khoker. "I started posting these on social media and was surprised at how much attention I got for it." Khoker now writes a blog under the name Doodlenomics, where she posts her sketches and writes about her travel experiences.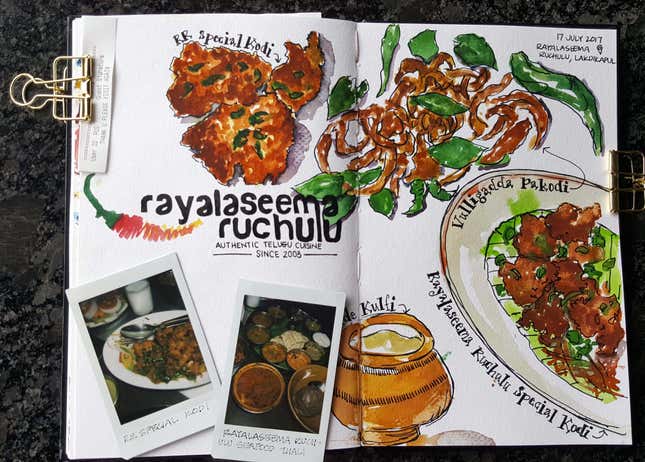 Food Swings is not a recipe book or even a compilation of must-try restaurants, but simply what Khoker and her husband ate that day—whether it is the in-flight meal or her first glass of kokum juice. "This has everything that I saw or everything that intrigued me, like a market in Goa where women were selling mushrooms after the rains, the biryani we ate at Hotel Shadab or even the baked yogurt and bananas that I had to eat after developing a stomach bug," said Khoker. "During the whole trip I was looking at the journey through the various meals I had and the things we tried there."
In Food Swings, the reader will encounter the cashew feni, fish curry, and even the chunky jewellery that are synonymous with Goa, along Hyderabad's jauzi halwa. Also in it are images of biryani and haleem that were ordered by her husband, since Khoker is allergic to mutton and soy.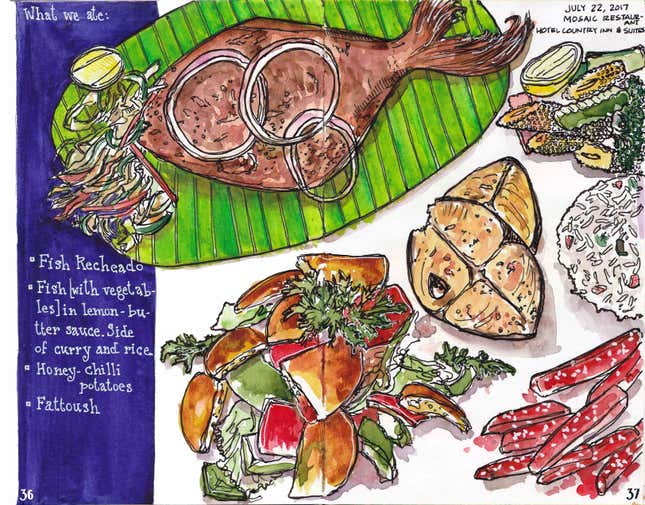 "There are times when I just look at what I'm about to eat and it just looks so pretty that I want to sketch it, like the time I went to the Ziya in Mumbai's Oberoi hotel and found every single dish presented in a way that looked so good," she said.
While Khoker is attracted to foods that have a lot of colour, she is well aware that most Indian curries tend to be brown. "It's about what kind of feelings it inspires in me in that moment. My love for a certain dish determines what I want to sketch. Whether it is a kachori or tea or samosa, it's all brown but I don't really have a problem with that and it works well in a composition."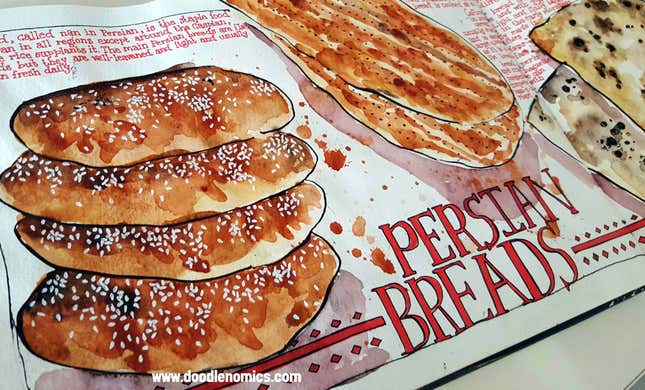 It takes Khoker ten minutes to an hour to complete a sketch, depending on what she is drawing. "If I can sit for long, I allow the paints to dry or I just keep a tissue paper in between the sheets. In places where there is a rush, I quickly do a drawing and fill in the colours later or maybe the other way around if I'm drawing something with a lot of gravy."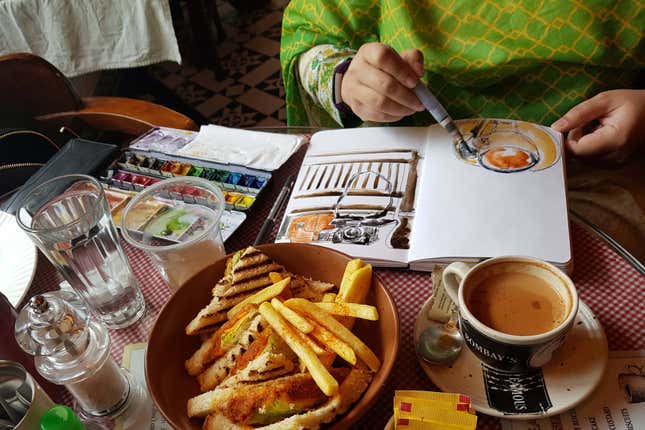 Khoker has been approached by bloggers, writers, and journalists to illustrate covers for books. She recently illustrated the recipe of a chutney that was Mughal king Bahadur Shah Zafar's favourite—the Rahat-e-Jaan chutney.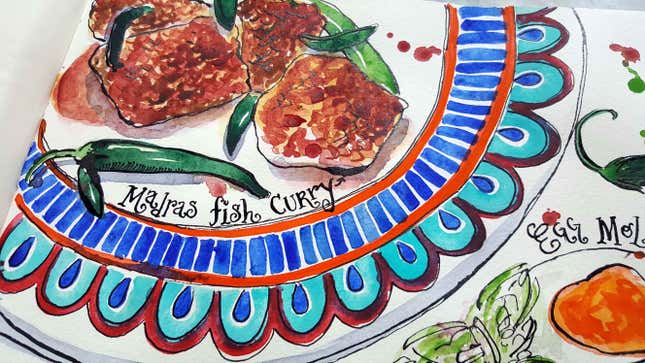 This post first appeared on Scroll.in. We welcome your comments at ideas.india@qz.com.