A neurology professor in one of India's most storied universities is determined to fight pornography with religious songs and inspirational speeches.
Professor Vijay Nath Mishra of the Banaras Hindu University (BHU) has created the Har Har Mahadev app, named after a popular chant for Hindu god Shiva, to function like any website blocker. But instead of simply blocking adult sites, it displays religious images and plays related audio repeatedly.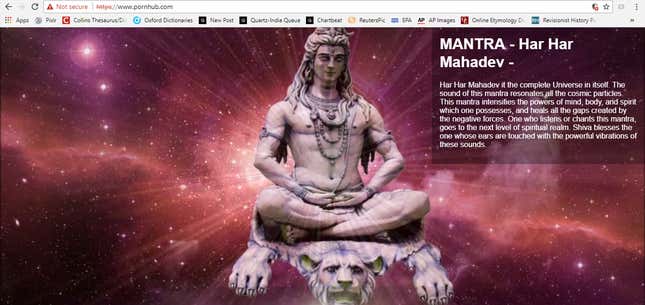 The images thrown up could be that of lord Shiva or mosques, accompanied by either the Shiva chant or the muezzin's call.
There is, of course, no dearth of website-blockers, but what makes this reinvented wheel unique perhaps is its religious and moral overtones.
The beta version of the app is available on laptops and desktops for now and has been downloaded over 6,000 times in 42 countries, Mishra told Quartz. He expects it to debut on Android and iOS phones in a month.
It has an in-built list of 3,800 sites to be blocked. Besides X-rated content, it can also be used to stop access to social media and gaming sites.
By mid-December, Har Har Mahadev will also have the option of playing inspirational speeches by the likes of Mahatma Gandhi, Nelson Mandela, Rabindranath Tagore, and Martin Luther King.
Drawing the lines
The app was born out of Mishra's experiences with his patients who have suffered sexual abuse and trauma. He cites unpublished data from his work to say that "74% of perpetrators (of sexual crime) have learnt the aggression and sexual afflictions because of watching porn." Often, the ones committing the crime are young boys in their early teens and they don't know better, he said.
"Ten- and 12-year-olds are given phones and there's nobody to monitor what they're doing on them," Mishra said. "The app is for them." (Although, the app website says, "It's for all of us, not just children.")
India does suffer a critical problem with sexual violence, with nearly 35,000 incidents of rape reported from across the country in 2016—the number could be much higher since many such incidents go unreported. In the public debate surrounding this issue, the easy availability of pornographic material—Indians are one of world's largest consumers of porn—has been often cited as a reason for such high rates of sexual crime, even though no conclusive relationship has been established in this regard. 
In August 2016, the government of India blocked 857 porn websites to "protect social decency," even though the country's supreme court had earlier refused to entertain such a plea, saying "adults had a fundamental right to watch pornography within the privacy of their own homes."
Mishra, meanwhile, wants mobile phone manufacturers to create different types of phones for children and teenagers with in-built blockers installed instead of giving them full access to the internet. But until that happens, he's hoping Har Har Mahadev could help curb porn-watching and divert attention to "something positive."
"And the question is not only of change of the mind," added Mishra. "The question is also of feeling shame."