March 1998: It was a coup most unceremonious. Members of India's Congress party removed their chief Sitaram Kesari's name plate and replaced it with a computer printout that read, "Sonia Gandhi, Congress President."
Kesari was close to former prime minister PV Narasimha Rao who ran a minority government from 1991 to 1996. Under the Rao-Kesari regime, a number of senior Congress leaders had left the party.
The Congress lost the 1998 general elections after having withdrawn support from two United Front prime ministers in two years. Gandhi came out of the shadows to campaign in the 1998 elections. The party performed poorly and Atal Bihari Vajpayee presided over India's first Bhartiya Janata Party (BJP) government (not counting his 16-day prime ministership in 1996.)
Kesari had been growing unpopular in his party but it was only the 1998 defeat that made Congressmen convince Gandhi to take over the party's leadership.With her blessings, an elected party president was unconstitutionally removed.
Gandhi has since been the longest serving Congress president. Out of the 19 years that she has been at its helm, her party has ruled India for 10, with some adept management of coalitions by a wily team of managers.
Now, she is making way for her son, 47-year-old Rahul Gandhi.
Son rise
The scion entered politics in 2004 by contesting from the Amethi Lok Sabha seat in Uttar Pradesh (UP). In 2007, he was made general secretary of the party. In 2013, he was made vice-president. Since then, Gandhi, the party president, has slowly withdrawn herself from politics and Rahul has become the Congress's face.
He will soon be formally declared party president, a post once held by the founding fathers of modern India, including Mahatma Gandhi and Jawaharlal Nehru.
Far from matching up to those names, Rahul has been an unequivocal failure. He took upon himself the task of reviving the party's youth organisations and failed. He said he wanted to rebuild the party organisation in its home turf of UP, but has only seen it worsen. After his elevation as vice-president, the Congress slid down to 44 seats in the Lok Sabha, the lower house of parliament, in the 2014 general election. It was the first time in history that the Congress went below 100 seats.
When Gandhi came out to speak on the result, Rahul merely stood by her side smiling.
That was three-and-a-half years ago. In this time, Narendra Modi and his BJP have swept state after state, while Rahul has not been able to give the Congress any sense of revival. A lone election victory in Punjab was credited to the Congress' regional leader there, Amarinder Singh, whom Rahul famously wanted sidelined.
Kesari was thrown out for presiding over one election defeat. For presiding over defeat after defeat, Rahul is getting promoted to the top.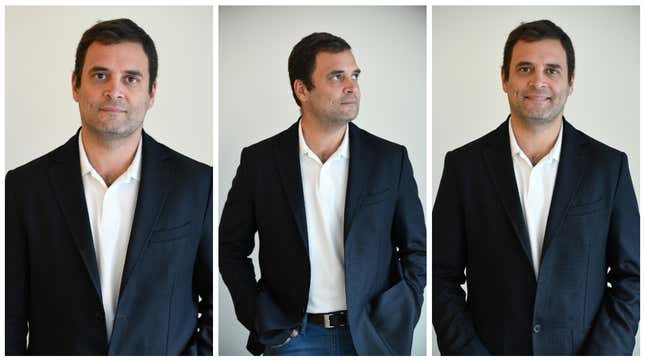 The party has even lost its ability to stitch together clever coalitions. Despite having emerged as the single-largest party in the Goa and Manipur assembly elections earlier this year, the Congress was outmanoeuvred by the BJP in stitching alliances and forming governments. The Congress's image and organisation are both in such bad shape that pre-poll alliances with regional parties didn't improve its prospects—indeed they reduced the votes of its regional partners in Jharkhand, Tamil Nadu, West Bengal, and UP.
Diffident over secularism, its credibility in tatters over corruption allegations, unwilling to fight elections with a killer instinct, and unable to set the agenda against the Modi government, the Congress today faces an identity crisis. Voters don't know what it stands for, what it is offering. Rahul has been unable to change that.
Far from being the solution, Rahul is seen as the problem. By his own admission, he is no match for Modi in mass communication. Politics, especially in the Modi era, is all about political communication. He uses English words when addressing Hindi-speaking rural masses, often disappears for days from public discourse, and has been a rich source of political humour.
Seen as a part-time politician, Rahul never misses his holidays. Whether India is undergoing upheaval with demonetisation or a fresh round of assembly elections are nigh, he has to take his December-end flight out and soon starts planning his birthday trip in June. Each holiday lasts around two weeks.
By contrast, Modi projects the image of a 24×7 leader. Even when he fails, people say at least he is trying. Rahul is seen as someone who's not even trying.
Rahul and his party have a good reason to not even try. They feel they are India's natural party of governance, the only alternative to the BJP. Whenever Modi fails, whenever that era is over, what choice do the hapless voters have but to bring back the Congress? The worst of setbacks in the past have seen the Congress return to power. Why, then, should they work hard as if winning the next assembly election was a matter of life and death. Put simply, Rahul and his party don't know how to play the part of the opposition. Just as Rahul is being handed over the reins of the Congress without having earned it, he will one day run the world's second-most populous country, without having to do much.
This is not to say that the Congress could have made anyone else president, because it has no one up to the task. Over the decades, one mass leader after another has left the Congress. There is no rebellion in the Congress despite its derelict state because there is no mass leader left. The Rao-Kesari years showed that the Nehru-Gandhi clan is needed to keep together the party, or whatever is left of it. Rahul is the worst possible choice to lead the Congress party. Alas, he is also the best they can get.
The timing of Rahul's elevation is important. Since 2014, the Congress has waited for the right moment to elevate him—that one election victory, that one moment when Rahul appears to have made some achievement.
In two weeks, the results of the ongoing Gujarat and Himachal assembly elections will be out. The Congress is likely to lose both. It is thus important to make him president before a fresh round of embarrassment makes it difficult.
Three months before these elections, Rahul was again abroad, this time on a "study tour" in Norway and the US. Soft questions in orchestrated interactions with US university students and prepared English-language speeches made him look better than usual.
Full moon
Since then, people have been wondering if Rahul has matured, has he improved. But the sighting of Rahul Gandhi 2.0, like the full moon on Eid, is an annual ritual.This time it looks brighter because Modi's bluster is damaged by setbacks to the economy, and regional leaders like Nitish Kumar and Arvind Kejriwal have given up playing opposition to Modi.
To be fair, Rahul is doing better in Gujarat than his usual self. He is leading from the front, showing consistency and commitment, making fewer mistakes. An improvement over the last election would itself be an achievement, though the credit for it might go more to the BJP's own mistakes, and to organic caste movements that the Congress has smartly co-opted. Ultimately, there's only one thing that matters: winning. Unless Rahul can start delivering election victories he will continue to be seen as a failure.
The immediate test is if Rahul can sustain the image of coming into his own, maturing as a politician who can convince the people of India that he can lead them. For starters, he may want to forgo his New Year's Eve party plans in Europe.
We welcome your comments at ideas.india@qz.com.