"Naan late-aa vanthaalum latest-aa varuven (Even if I arrive late, I will be the latest)." That's one of the most popular and typically catchy "Superstar" Rajinikanth lines from his 2002 movie Baba.
Years before that, in 1996, the Tamil movie icon's public call to end then chief minister J Jayalalithaa's rule in the southern Indian state is said to have played a significant role in her defeat in the legislative elections. A wildly popular former film star herself, Jayalalithaa's chief ministership between 1991 and 1996 was seen as corrupt and autocratic, fuelling popular disenchantment. So, in a televised message, Rajinikath said, "Even god cannot save Tamil Nadu if Jayalalithaa is re-elected to power."
That one line sealed her fate.
It also fuelled speculation over Rajinikanth's political ambitions, though nothing came of it for over two decades. Then, on the last day of 2017, the 67-year-old took the plunge.
"But even if he is late, he is the latest and totally fresh," screamed Muthukumar, one of the thousands of his fans assembled outside the Raghavendra Mandapam, a public utility hall in Tamil Nadu's capital Chennai, where Rajinikanth made the announcement. The frenzy and excitement, even though largely orchestrated for television cameras, was proof that the newest politician in town had created a splash.
At the meeting, Rajinikanth announced that he will contest the assembly elections due in 2021, giving him enough time to organise his party. He would decide on the 2019 Lok Sabha elections later.
"His decision to enter politics is a dramatic turn of events," says PC Balasubramanian, author of Punchtantra, a book on the actor's iconic movie lines. "We are coming out of an atmosphere where we were stuck with two parties. He is fresh blood."
The starry-eyed Tamil
It began with MG Ramachandran, the first Tamil movie star to become chief minister in the 1970s. Then it was his protégé, Jayalalithaa. In between and following them, many others went on to play key and sundry political roles.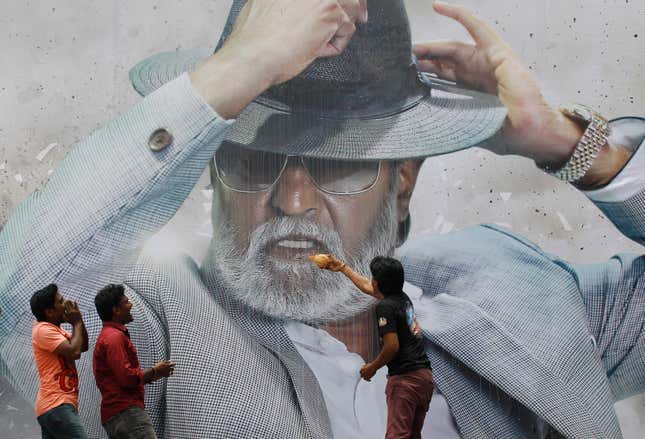 For instance, over the last one year alone, Kamal Haasan, another popular actor, and Vishal, have made their intentions clear.
There's indeed something about Tamil Nadu's fascination with personality cults and actor-turned-politicians. Rajinikanth, a government bus conductor in Bengaluru till he entered movies in the 1970s, is one of the biggest examples in that Tamil tradition. Over his four-decade career, he has garnered a huge following, not the least because of his one-liners, peculiar on-screen mannerisms, and stylised gestures. Last year, the release of his movie Kabali was treated as a national event by Tamilians across the country.
In 2018, Rajinikanth will have two movies releasing. The first, 2.0, is a sci-fi thriller shot in 3D. It will be followed by Kaala, in which he plays an ageing don. It is believed that while 2.0 will target the young, Kaala will see him taking up the cause of the underprivileged and socially backward—the perfect political vehicle ahead of the 2019 Lok Sabha polls.
Perfect timing
Rajinikanth has the advantage of entering politics at a time when Tamil Nadu's two political heavyweights, Jayalalithaa of the All India Anna Dravida Munnetra Kazhagam (AIADMK), and her bitter rival M Karunanidhi of the Dravida Munnetra Kazhagam (DMK), are no longer around. Jayalalithaa passed away while in office in December 2016 and nonagenarian Karunanidhi has been unwell for a while. The fading away of the two colossal personalities of Tamil politics around the same time has created a political vacuum that no one else has been able to fill.
"Rajinikanth would have been a non-starter if he had come when they were around," says Sumanth C Raman, a Chennai-based political commentator. "The advantage with him is that people are ready to listen to him. He can leverage his brand equity. But it is critical that he has a good team with him."
And there is a reason why the man on the street is not too cynical about him. For the last year, post-Jayalalithaa's passing, the AIADMK has imploded. It split into two before expediency forced the rival factions to merge again. Governance was the casualty.
The opposition DMK, which was expected to gain from all this, has failed to capitalise on the situation and provide an alternative.
Meanwhile, another popular star, Vijaykanth, had earlier entered the political arena. And even with Jayalalithaa and Karunanidhi around, he managed to get a 10% vote share in the 2006 elections. But his Desiya Murpokku Dravida Kazhagam frittered away the initiative, particularly with his family's conspicuous involvement in party affairs.
There is a lesson here for Rajinikanth as well.
He is expected to fall back on hundreds of his fan clubs to transform into the rank and file of his political outfit. But whether mere fans can negotiate the politics landscape remains to be seen. For now, there is no dearth of enthusiasm. Umashankar, a Team Rajinikanth member said, "This is going to be Rajini yuga (era). We have been expecting this day from 1996. Fan clubs all over Tamil Nadu and beyond will work together as a team."
Cautious first steps
Then there is the sneaking suspicion about the Bhartiya Janata Party (BJP); prime minister Narendra Modi's outfit is perceived as a north Indian party with a pronounced emphasis on Hindi and Hindu nationalism. It has for years unsuccessfully tried to gain a foothold in Tamil Nadu, a state driven by Dravidian politics that views any north Indian overture with suspicion. All the more so because, over the last year or so, during the absence of Jayalalithaa, the BJP has been seen as trying to remote control Tamil Nadu's AIADMK government.
Soon after the star's announcement on Sunday, BJP leaders welcomed his move through a series of tweets. The cat was out of the bag when party spokesperson Narayanan Thirupathy tweeted:
This confirmed that the saffron party had nudged Rajinikanth all along.
"Rajinikanth's equations with the BJP go to a time much before Modi. He and the BJP agree with each other even on matters of economic importance," says SJ Suryah, a BJP spokesperson.
At the event on New Year's eve, Rajinikanth spoke about indulging in "spiritual politics" without explaining what that meant. It has only fuelled speculation over his ideological proximity to the BJP.
The BJP's central leadership, however, does not want it to be directly associated with Rajinikanth's move. The party feels it should let Rajinikanth chart his own course. The calculation being that it can piggyback on his popularity or even work out a post-poll alliance if the actor is cagey about associating with it before elections.
"The BJP should stay quiet, otherwise it will damage his (Rajinikanth's) credibility," said Raman.
Meanwhile, his silver screen aura alone may not be enough for him to succeed in electoral politics. He needs to make his stand clear on contentious issues that have bogged the state for decades, be it sharing the waters of the River Cauvery with neighbouring Karnataka or the Sri Lankan Tamil issue.
"The Tamil Nadu voter is extremely aware and an indication of that is the high TRPs that political debates on Tamil channels generate," says RK Radhakrishnan, a senior Chennai-based journalist. "Rajinikanth needs to be coherent all the time. Can he pull off a scripted show each time?"
We welcome your comments at ideas.india@qz.com.