Shutting off the internet during turmoil is becoming a dangerous trend in India.
The world's largest democracy has shut down the internet 124 times since 2012—over half of them in 2017 alone.
Authorities cut off internet access 65 times during the past year, more than double the number of times (31) in 2016, as per internetshutdowns.in. The website tracks the blocking of internet in India using data collected by the New Delhi-based pro bono legal services firm Software Freedom Law Center (SFLC).
In 2017, the strife-hit northern state of Jammu & Kashmir (J&K) saw 29 instances of the internet being shut down, mainly as a precautionary measure during gunfights between soldiers and militants. After the killing of Amarnath pilgrims in a terrorist attack in July, services were halted for 36 hours. More recently, in December, the internet was shut down after the killing of three militants and a taxi driver in Handwara's Yunso village.
J&K was also the state that saw internet access being shut down the most number of times (57) between 2012 and 2017.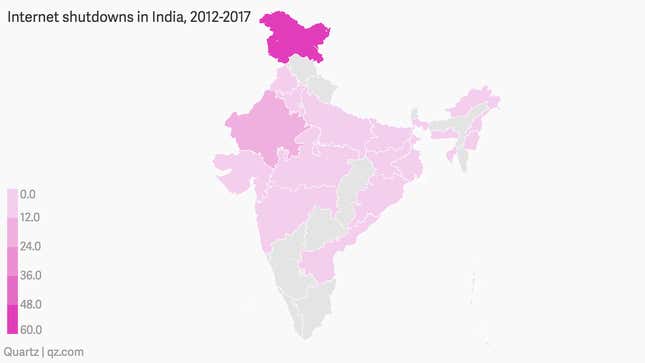 In 2017, Rajasthan came second, with nine shutdowns, mostly due to communal tension and farmer protests.
In Punjab and its capital Chandigarh, the union territory which it shares with the state of Haryana, access was blocked for the first time in five years. This came ahead of the verdict in a rape case against Gurmeet Ram Rahim Singh, the leader of the religious cult Dera Sacha Sauda. Anticipating a violent backlash from his followers, the ban lasted more than three days. Haryana, too, was part of this clampdown.
Stifling access to the internet is typical of countries with authoritarian or unstable regimes, such as Cameroon, Turkey, Ethiopia, and China. For instance, with violent protests unfolding in Iran, the government there has disabled internet access in order to curb the uprising.
SFLC insists that curtailing access to the internet—deemed a basic human right by the United Nations—is worrisome as these shutdowns "threaten the democratic working of nations, and also point to the gradual normalisation of the mindset that permits such blanket restriction on Internet access."