One of India's leading online lingerie retailers is all set to pivot its business with a round of fresh funding.
Bengaluru-based Buttercups today (Jan. 05) said it has raised an undisclosed amount from marquee individual investors including Google India head Rajan Anandan; Facebook's director for products and platform partnerships Anand Chandrasekaran, and venture capital firm Fireside Ventures' founder, Kanwaljit Singh, among others.
Founded in 2014 by Arpita Ganesh (40), the company is among the few players in India's online lingerie retailing space, which is touted to be a Rs31,306 crore ($4.7 billion) market by 2021.
With the latest funding, the 12-member team plans to move its manufacturing to India from China and turn profitable by the end of this year. Ganesh spoke to Quartz about the problems she is looking to solve and where she thinks the Indian online lingerie retail market is headed this year.
Edited excerpts:
What is your planned business pivot, and what was the need for it?
Till now, we were running in a startup mode but over the past six-eight months we have shifted our focus to turn profitable. We expect to be profitable by around August this year.
We are moving away from being a premium lingerie brand towards being one that solves problems around intimate wear. We are introducing different lines of products. For instance, earlier we were just into regular bras and bottoms, but now we are looking at sports bras, nursing bras, and a lot of lingerie-related accessories.
We are also moving manufacturing from China to India.
What is the reason for shifting your manufacturing base?
We will now be manufacturing from Bengaluru because making products locally gives us better margins. Chinese factories require us to place large orders whereas in Bengaluru we will make only as many pieces as we want. This way, we only hold on to raw material and the business is not heavy on inventory. The production time would be lesser in Bengaluru—around two months versus four months if we manufacture in China.
Also, the import duty on our finished goods is around 30% while duties on raw materials are 15%. So we save a lot of money by manufacturing locally.
We will continue to get the accessories such as lingerie bags from China since no one makes those in India.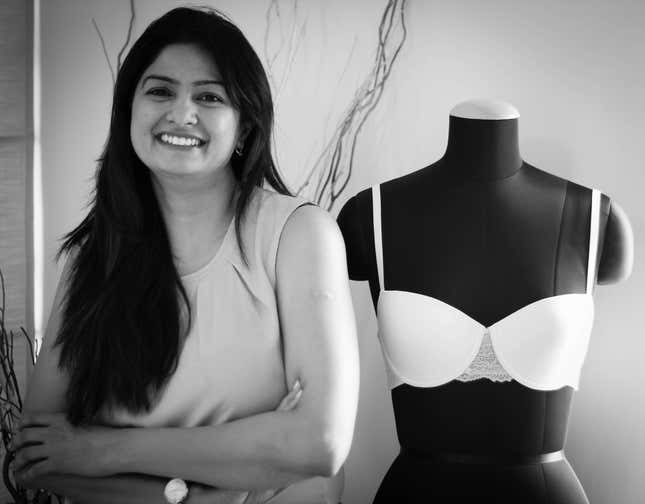 What are the problems you are looking to solve, and how?
We always had a very large range of sizes and that's what differentiated us. But we realised that sports bras for large women don't exist in India and those are the women who exercise more. So we're launching a sports bra range by March. Also, we realised that nobody does intimate wear for the maternity and nursing segment, and we plan to launch something in that segment by April. We're also looking at panty liners. There are also a lot of women who are having mastectomies and they are looking for a brand for them. In a year we will come up with something that caters to such women.
How are you leveraging technology?
We have always been a data-driven company. We've got around 15,000 women who've taken our quiz (an online questionnaire that helps women identify their correct bra size). And on the basis of that data, we forecast what we are going to bring out in our next range, including colours and styles. We are also working to make the quiz easier to take.
What are your main challenges going forward?
Creating awareness has been a challenge for us. In addition to that, marketing will be a big challenge for us as I think a lot of players will enter the sector in the near future. However, the market is so big that 20 others can come and there will still be space for everyone. How well a company does will depend on the customers each of the players targets. For example, we are in a specific segment (premium segment focusing on offering a wider range of sizes) and we are doing things differently (with focus on sizing and including products for teens). We're building a brand that people like—we have a return rate of just 2% and a repeat cohort of 43%. Also, now that we've moved manufacturing from China to Bengaluru, and we will focus on making that more efficient this year.
Where's do you think India's online lingerie retail sector is headed in 2018?
In comparison to earlier, now a lot more awareness is being created in terms of why lingerie is important. A lot of women have started working today because of which their wardrobes have changed dramatically. We no longer wear only salwar kameez and sarees. We have moved to wearing clothes that require a different kind of lingerie. Additionally, since more women are working and have disposable incomes of their own, they're becoming comfortable in spending on themselves—something that was not there earlier. There's also a fashion aspect now since magazines have started talking about lingerie.
In 2018, the industry will move towards an offline-online combination model. Earlier it was only online but now Pretty Secrets has opened up a few stores, Zivame has gone multi-channel, and we will also open more fitting rooms in the next couple of months.
I think that in the next 10 years you'll see lots of international brands coming to India, and more intimate-wear products coming into the market.