When they are in the mood for some fun, urban Indian millennials just head to a restaurant, or order in food.
Indeed, dining out is the activity that this group, aged between 18 and 34 years, spends the most on to entertain itself.
"Young Indians, who comprise the middle-income millennial generation, newly entering the workforce, spend three times as much on restaurant visits than on any form of entertainment, including cinema, theatre, and other recreational activities," research and insights firm Nielsen said in a note released in December 2017.
That translates to middle-income urban millennials spending roughly 10% of their total food expenditure, or Rs7,914 ($124) annually, on dining out—purchasing cooked meals from restaurants, caterers, and canteens—according to Nielsen. In fact, it gets better with the affluent millennials, who spend Rs11,461 ($180) annually, roughly 13% of their total expenditure on food.
In comparison, the middle-income Gen-X consumers, aged between 35 and 50 years, spent only 3% or Rs4,461 ($70) of their annual food bill on dining out. Meanwhile, the affluent segment of Gen-X spends Rs9,388 ($147.5).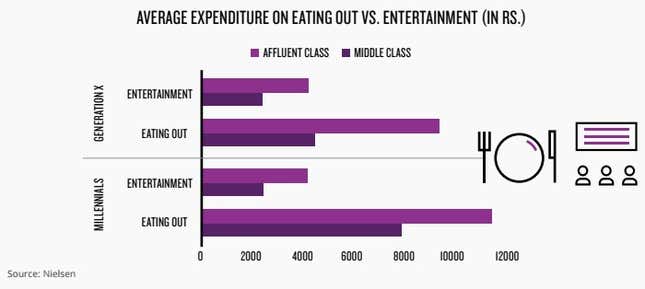 These free-spending affluent Indian urban households are increasingly giving food chains a reason to invest more in the country's growing food services market. This is likely to boost the sector from Rs3,09,110 crore ($48 billion) in 2016 to Rs4,98,130 crore ($77 billion) by 2021, according to a report by the National Restaurant Association of India (NRAI) and consulting firm Technopak.
The yawning gap
On average, urban Indians households spend Rs6,500 ($102) per year on dining out, Nielsen noted. The amount spent, however, varies dramatically across income groups, especially between middle-income households and the more affluent ones.
With an average of Rs10,000 per annum, Nielsen found that affluent households spend twice as much as the middle-class on dining out. Spends aside, the frequency of dining out by the affluent income group is also twice that of middle-class households, said the research note.
Nielsen defines middle-income urban households as those with annual earnings of between Rs3 lakh and Rs10 lakh. Affluent households, on the other hand, earn upwards of Rs10 lakh.
The difference between the top and bottom in terms of the average expenditure per meal is huge, which Nielsen defines as "an example of the yawning gap between the expenditure of different income groups." So, when it indulges, the country's top 1% of the population spends a massive Rs6,400 ($100) per meal on average, while the lowest 20% of the urban population spends Rs97 ($1.5).
However, urban Indians lag dramatically behind other countries on the per capita expenditure on dining out. Compare this to Brazil's $745, China's $750, and the huge $1,870 in the US.
After all, most Indians still mostly eat home-cooked meals. Indian households largely "don't have the financial means to indulge in eating out," Nielsen noted. This makes the practice an occasion, rather than an indulgence or a necessity, for most middle-class households.