Vikram Bhatt, synonymous with Bollywood thrillers and horror flicks, has worked the silver screen for 25 years. This year, he's shifting gears.
As India's online content consumption logs blockbuster growth, thanks to growing internet penetration and cheap data prices, Bhatt is eyeing a piece of the pie. He's been testing the waters over the last year, releasing a number of web series on his YouTube Channel, VB on the Web. On Jan. 27, he will launch a mobile app, VB-Theatre on the Web.
"Everything is going online. Great bookshops and legendary music shops all over the world have been reduced to an app," Bhatt, who has written and directed over 50 films, told Quartz. "It's only a matter of time before cinema houses become apps."
Bhatt spoke to Quartz about his move to the digital space.
Edited excerpts:
What pulled you towards creating online content?
Through time, the entertainer has been where the crowd is. The entertainer is going to be in the village market, not on an isolated street. Now that the crowd is on the phone, it makes sense for us to be on the phone. Soon, data for the common Indian is going to be so cheap that it's going to be the first source of entertainment.
How has your experience with the web been so far?
I started with a series called Maaya on my YouTube channel. It became extremely popular. We went to Marseille (web fest in France) with Maaya; we were the only web series from India to be showcased there. The second release, Twisted, was also a huge hit. The point of these shows was to garner the audience on YouTube and then jump into a revenue model.
The response is overwhelming, but there's definitely a difference between people watching for free on YouTube and a paying audience for an app.
Our first year is about getting as many viewers as possible. If the content is liked in the first one year, that would be a success for us. Revenue will come if your content has been liked.
What can the viewers expect from the VB-Theatre on the Web app?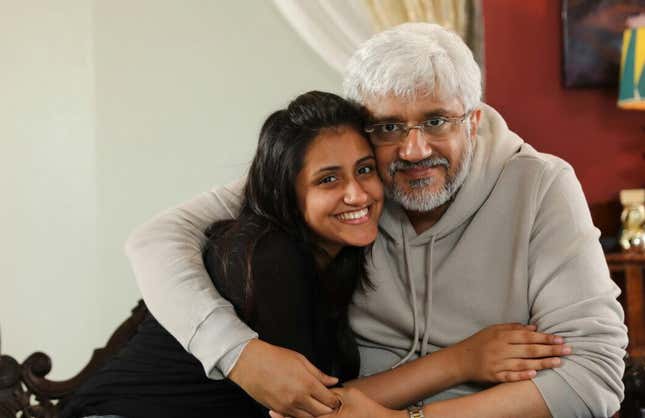 With the app, the plan is to make it a multiplex experience that people understand as opposed to a subscription experience that is generally typical of streaming apps. We'll have different kinds of shows—14-, 15- or 26-episode series—depending on the story. Users don't have to subscribe to the app. The app is free to download. All you do is click on any story that you want to see, pay for that, and move on.
There's nothing over Rs20 ($0.31) on the platform. The first show, Untouchables, costs Rs18 for 15 episodes. It's directed by my daughter and has me in the lead.
Why Rs18?
I wanted it to be as cheap as the rickshaw in Mumbai. I haven't travelled in a rickshaw in years but I asked someone what is the starting price of a rickshaw ride, and said OK, Rs18 it is.
Netflix, Amazon Prime, and ALTBalaji all offer monthly or annual subscription models. Why have you chosen a pay-per-show model?
I feel if you have a subscription model, you will need very deep pockets. You have to offer new content to the audience every three to four days or at least on a weekly basis. Also, the Indian consumer is skeptical and wary of what will come his way when he subscribes.
A subscription model is also like me saying, why don't you subscribe to a PVR or an INOX? You'll be like, "What movies are coming?" You won't blindly subscribe. People will only come if they have an idea of what is being offered.
How confident are you about creating a space for yourself in India's crowded over-the-top (OTT) market?
Amazon, ALTBalaji, and Netflix are all very big companies. They are funded. I am an independent (film-) maker doing stuff with my own funding. So I can't compare myself in terms of their largesse. But I know my content's going to be kickass.
How different is it to create content for the web versus making a movie?
Because the viewing in the digital space often happens one-on-one, you have to be very careful about what you're serving. In films, a good song or the promise of sensuality used to draw people, but now it's different. There is all sort of entertainment available on the web now. If you want to watch porn, you can easily do that on your phone; you don't need a movie that looks like a porn film. Similarly, for music, you can go to YouTube. The audience is going to be further bifurcated. People will come to you only for compelling stories.
So is it digital over films for you now?
I feel that both TV and cinema are dying a slow death—I would call it slow asphyxiation. Look at what happened with my film (1921). We worked hard for a year, wrote the script, made the film and thought it was beautiful. Then due to a situation between the distributors and the theatres, the film did not release till around 4pm in the afternoon and we lost all the morning business.
There are a lot of reasons why films don't work and they're not necessarily the storyteller's fault. Sometimes, you don't get a good release or another bigger release comes along on the same weekend. I remember my film Kasoor was meant to release on Jan. 26, 2001. Indra Kumar's Aashiq, with Karishma Kapoor and Bobby Deol, was releasing on the same day. So we had no choice but to move the release date. Unfortunately for them, that weekend was when the Bhuj earthquake happened. So you see, too many factors affect films.
In entertainment, if you're not controlling the chain end-to-end, somewhere you will always fall into the abyss. With the digital platform, you have the opportunity to make stuff and exhibit it directly. It's like a microphone in your hand. You don't need anybody.
So, as a content creator, where do you see yourself in five years?
In some resort in Switzerland. The Austrian Alps, maybe. See, I've come to an age in life where I'm having fun. I've been directing for 25 years. I've been there, done that, got the T-shirt. I'm not caging myself, I'm flowing like a river. If a movie's story appeals to me, I'll direct. If not, I won't. But VB on the Web, that's going to be a very important thing in my life.