In 2000, just months after its launch, travel-booking portal MakeMyTrip was staring down the barrel of a gun. The dot-com bust had sent the internet industry into a tailspin. Venture capital investor eVentures—which had funneled $1 million into MakeMyTrip at inception—withdrew its offer to splurge another million and shut shop altogether.
By 2001, MakeMyTrip was down to just a month's worth of working capital. So it was decided that all senior executives would take salary cuts. Shortly after, the then chief financial officer made a dash for the door and Deep Kalra, co-founder and group CEO of MakeMyTrip, began looking for a replacement.
For Rajesh Magow, who had just quit e-learning startup Quantum, this marked a new beginning. A chartered accountant, Magow had worked with the Tata group's Voltas and education and training firm Aptech before joining Quantum.
During a meeting that lasted several hours, Magow was impressed by the skill and competence of Kalra, who went on to become a star of India's startup community. The two struck an instant friendship.
"My decision to join MakeMyTrip was less about MakeMyTrip at that time and more about joining Deep," Magow, 49, now the India CEO of MakeMyTrip, told Quartz. "Dot-com was a big risk. Yes, it was an interesting idea and model, but it may or may not have worked if the ecosystem was not ready. But my conviction was towards working with Deep as an entrepreneur, coupled with the fact that I was not keen to pick up a big-name company job."
The disappearing act
Not only did Magow join the cash-strapped MakeMyTrip in early 2001, he was soon investing in the business, along with co-founders Kalra, Keyur Joshi, and Sachin Bhatia. Magow declined to reveal how much he had put in.
He went beyond his finance role, donning many hats to get work done at the firm.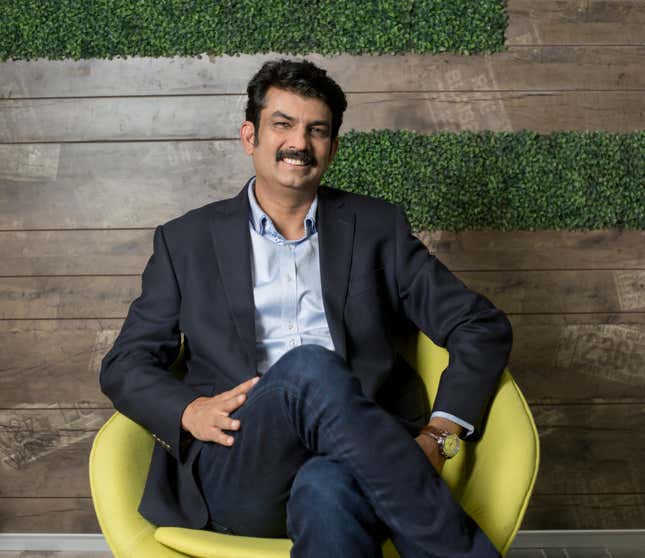 "Everyone had their own respective roles but, you know how it is in startups. Everyone was doing everybody else's thing," said Magow. "It was a game of survival."
Yet, despite the passion, Magow stepped away later in 2001 to lead a build-operate-transfer project that MakeMyTrip was executing for UK-based online travel firm eBookers in India.
By then, MakeMyTrip shifted focus to a niche audience of US-based non-resident Indian (NRI) customers visiting India, instead of serving all Indians.
But while changing gears, Magow he had an understanding with Kalra to return when they set shop in India.
In 2005, when MakeMyTrip made its official India debut, expanding beyond the NRI market and opening up all lines of travel booking to all sorts of destinations for Indians, the CFO's seat was once again ready for Magow. Though he had to take a salary cut to return, "the thrill of working with full passion and ownership" had him convinced, Magow said.
"I came back and never looked back," he added.
Good days, finally
Between 2006 and 2010, MakeMyTrip went through what Magow describes as a "super exciting high-growth phase." Buoyed by this performance, in August 2010, the company decided to list on New York's Nasdaq stock exchange. Magow was called on by Kalra to spearhead the initial public offering (IPO), among the first few by an Indian internet company.
"Some people would call it a blockbuster IPO," Magow said, adding that the share price increased 89% on day-one. "Much before us, there was Rediff, which didn't eventually do that well. And seven years after us, JustDial went public, too. But none of the other (internet) companies were at the stage where it could list itself."
MakeMyTrip's listing added to the pressure to perform. "Post-listing, we had to build credibility among the investor community, which only happens when you deliver. It's a ruthless world otherwise," Magow said. The company has succeeded to a great extent. In the pre-IPO days, MakeMyTrip was making $40 million-worth of annual revenue. In 2017, it posted upwards of $336 million in revenues for the year, according to filings with the US Securities and Exchange Commission (SEC).
Around the time of the IPO, Magow was not just heading finance but also operations. Shortly after, he passed the finance reins to the new CFO, Mohit Kabra. By 2013, Magow, who never considered himself  "a straitjacketed finance professional," pivoted again: He became the India CEO of MakeMyTrip.
Over a period of two decades, Magow has seen the company grow from a small office of around 30 employees in south Delhi's Okhla to 50-plus branches in India and abroad, employing over 3,000 people.
At the end of January 2017, MakeMyTrip completed a merger with the Naspers-owned ibibo Group. Now, MakeMyTrip claims to be doing 23% of the total air travel business (online and offline) in India. It likely has a big cost advantage, thanks to supply being boosted, Vidhya Shankar, the executive director at advisory firm Grant Thornton, said.
In online travel bookings, MakeMyTrip rules with nearly 42% of the market share, according to market intelligence firm KalaGato. Goibibo follows at 33%. The likes of Oyo, Cleartrip and Yatra are distant rivals, each capturing less than 10% of the market. And even though MakeMyTrip's hotels business nearly halved between September 2016 and December 2017, Goibibo's transactions make up for its slide.
Till date, MakeMyTrip has raised nearly $550 million.
But profits are still a while away. "Revenue has been growing reasonably well but their losses have widened," Yugal Joshi, vice-president at Texas-based consulting and research firm Everest Group, said. The company posted more than $88 million in losses last year as per SEC filings, worrying experts that it hasn't diversified enough to maintain its lead.
"New players, such as OYO in the budget space and Trivago for hotels, have now emerged who are focused exclusively on niches within these segments," Aman Kumar, the chief business officer at market intelligence firm KalaGato, said. Airlines, too, are looking to pull customers away from aggregation sites to their own portals, Everest's Joshi said.
While it faces stiff competition among low-cost travel options, MakeMyTrip is trying to up its transaction value. "They're apparently trying to increase higher end offerings, increasing their four- and five-stars listings, upping the value per room from an engagement," Joshi said. In the travel bookings, too, MakeMyTrips' average order beats its competitors by a large margin, KalaGato data show.
In a business where loyalty is fickle–customers go where the best deals take them—Magow may have come a long way, but he still has a challenging journey ahead.