Every morning at around 8:30am, as India's financial capital wakes up to another noisy workday, a little-known e-commerce delivery centre joins the grind.
Inside its facility, tucked in one of the hundreds of narrow lanes in the city's Fort area, a diligent team of 26 begins to receive, record, sort, and deliver consignments. However, unlike their boisterous city, the employees of logistics company Mirakle Couriers barely raise a murmur.
That's because these 26 people, including two women, speak in sign language—they are all hearing-impaired.
Clad in bright orange polos and yellow vests, they operate a one-of-a-kind delivery station exclusively for Amazon.
In a country where 6.3% of the population, or 63 million people, are estimated to suffer from significant auditory loss—with chances of employment far below those of people with all faculties intact—Mirakle stands out as an exception.
"At my last job, I was the only hearing-impaired person at work. There was a sense of discrimination there," 35-year-old Neelam Tanna gestures. "Here (at Mirakle), I'm enjoying work, my responsibility is much more, and computer—I always wanted to learn computer."
Tanna's gestures are interpreted for Quartz by Dhruv Lakra, Mirakle's CEO. Earlier employed with a small tailoring shop, Tanna joined Mirakle in 2010, the year Lakra founded the firm. Today, she handles the scanning and sorting of hundreds of Amazon's packages.
"Generally, you hear that 1% of the workforce is differently-abled. We're the opposite. Only a small percentage of our staff is able-bodied," 37-year-old Lakra, a banker-turned-social-entrepreneur, said. "The idea was to radically change how deaf people are employed and to figure out whether we can have an inclusive organisation."
Tanna and her team are aided in their task by eight other employees who suffer no impairment. These eight handle customer calls and other functions that employees like Tanna may not be able to perform. But make no mistake, Mirakle's Fort facility is the forte of the differently-abled.
And they go about their job like clockwork.
All in a day's work
Mirakle's workday begins in earnest once the parcel van arrives. One set of employees forms a chain to get the packages from the vehicle to Tanna.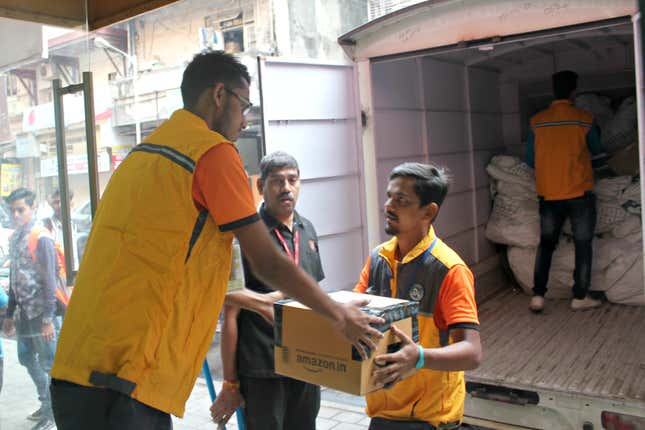 She scans, sorts, and passes them on to be stacked in specific piles based on their destinations.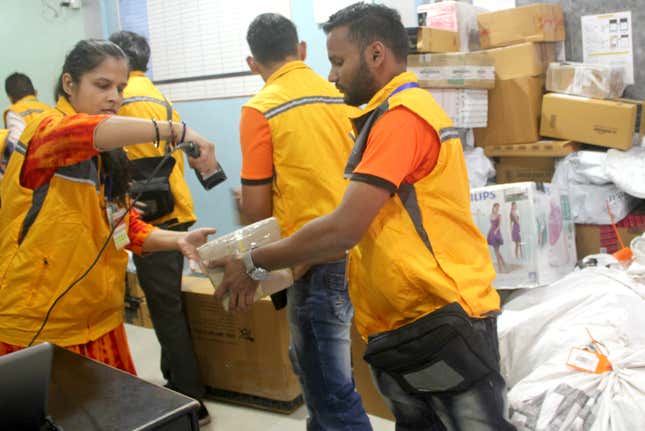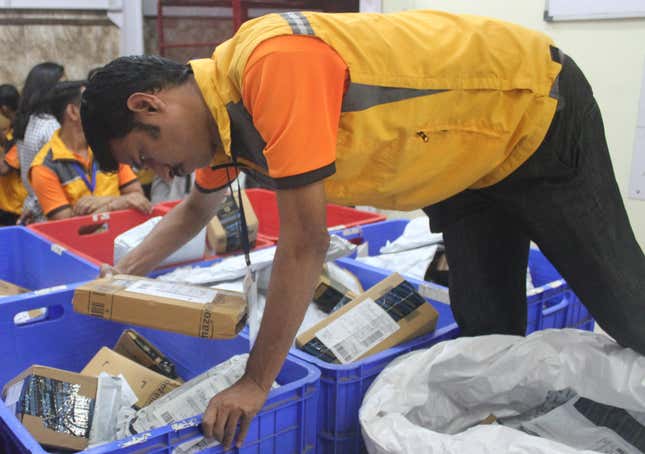 The boxes are then bagged. Tanna generates a delivery list for each consignment while a colleague loads the shipments in big, black bags and labels them for each delivery person.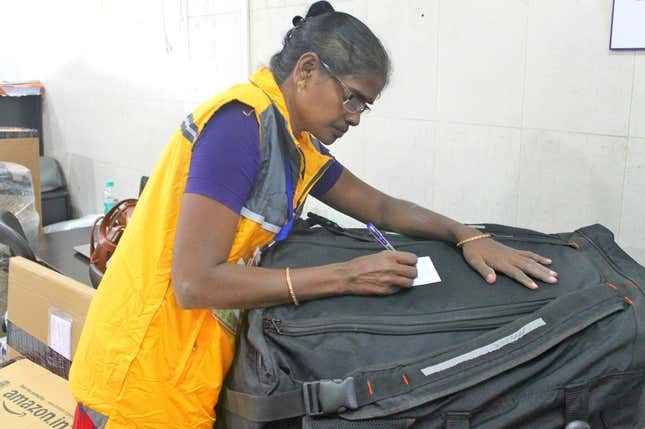 Finally, the delivery associates head out, mostly covering a radius of between two and three kilometres on foot; some take bus rides. Two of them even use a small van hired by Mirakle, along with a driver, to deliver the bulkier items or to streamline the operations in high-volume areas.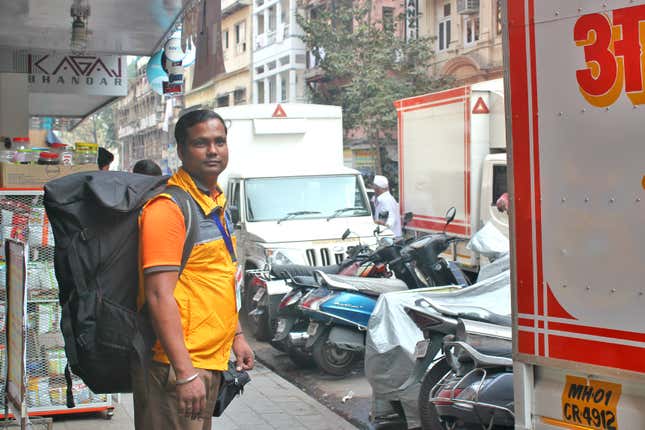 The delivery cycle kicks off around 8:30am and is wrapped up by around 5pm, though the centre itself remains open 24 hours, running on a shift system.
While neither Amazon nor Mirakle reveals the volume of deliveries that the centre handles daily, they claim the numbers are doubling every month. "Two months ago, they were managing one pin code. Now, they are managing five," said Awanish Singh, who looks after Amazon India's pan-India last-mile operations. "Their performance is equal or better than our other delivery centres."
That's some success for a firm launched to create employment opportunities for Mumbai's hearing-impaired.
Humble beginnings
Lakra set up Mirakle Couriers as a document-delivery service. By 2013, even as the documents business slumped, e-commerce began picking up. Lakra quickly shifted track and began partnering with small firms in this segment.
Amazon came along three years later, looking to tie up with services that "include people from various walks of life," Singh said. In May 2016, the e-commerce giant launched a pilot deploying four of Mirakle's specially-abled delivery associates. Impressed by their performance, the Seattle-based online retailer set up an independent delivery centre for Mirakle, which by then was working exclusively with Amazon.
This Fort centre itself was opened in September 2017.
All the associates here are trained on safety procedures and customer experience behaviour. In the beginning, they were even schooled by sign-language trainers hired by Amazon. Now, with its business growing, Mirakle carries out its own week-long training.
"They see how the productivity is, and they don't find any negatives in hiring these candidates. And more importantly, they're doing it for the cause," Kirti Sharma of the Mumbai-based disability services and support organisation, Sarthak Educational Trust, said.
Yet, there are some areas where they need constant support. For instance, "if the house is locked, they can't call the customer. They have to get in touch with the operations team, who will then reach the customer," Lakra said. WhatsApp and video calls come in handy during such situations.
Hiring hardships
Unlike regular employees, LinkedIn listings or word-of-mouth don't really help Mirakle find the right candidates. Lakra visits various "deaf clubs" for the hearing-impaired, besides government-organised job fairs, to make presentations to the hearing-impaired community. He also works with non-profits to recruit.
Even after receiving a job application, there's no cookie-cutter formula that can be applied. "Ideally, we would prefer 10th-pass people, but that doesn't always work. The education space for the hearing impaired is very complex," said Lakra. "We've found associates who are 5th or 6th-pass but really smart, who want to work hard in life. So we have to deal with it on a case-by-case basis."
Mirakle, therefore, also vets the resumes with references and testimonies from schools and colleges.
After recruitment, new associates are sent out on deliveries for between two and three days before finalising their roles.
Having a mostly-hearing-impaired staff means the employees also motivate each other as they know they're being treated equally, Sharma of Sarthak Educational Trust said, adding that it's a win-win for everyone—the candidate, the company, and the NGO they are recruited from.
There is, of course, always room for improvement.
"We've not been able to find hearing-impaired people who can run a delivery centre," said Lakra, speaking of how most of the new entrants lack the skill set and experience for managerial positions. "But now we'll groom them to start taking higher responsibility." Two of Mirakle's employees already are in supervisory roles. Besides making deliveries, they also sort packages for other associates and monitor their performance.
In a business notorious for attrition, the firm has had no churn in eight years. "People with disabilities tend to stay longer. I don't know if loyalty is the right word, but basically the cost of training eventually comes down," Lakra said.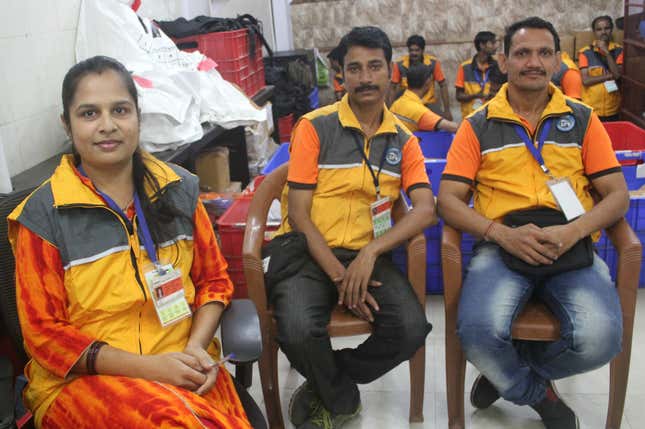 A real job
Like Tanna, the differently-abled Mirakle employees all had jobs before moving to the company. However, they were mostly shabbily treated.
Rinku Singh, 38, used to work in a painting shop where he was doing double the work than able-bodied people, yet getting paid less.
At Mirakle, each associate receives between Rs12,000 and Rs18,000 a month—much above market rates, according to Lakra. "Money is very important to them as they've never had that kind of comfort and security before," he said.
And the pay increases steadily, say both Tanna and Singh.
"I love working for Amazon. There's a sense of pride," Singh gestures. "And there are steady volumes all-year-round, so there's a sense of comfort that our job is here to stay."