It's never been easy to be an Indian athlete with Olympic dreams.
As the 2016 Rio de Janeiro Olympics proved, talented young gymnasts and wrestlers have had to struggle against the odds to represent India on the global stage, fighting for adequate funding and training. But when it comes to winter sports in a cricket-crazed country, the difficulties are almost overwhelming.
This year, only two Indians have qualified for the Pyeongchang Winter Olympics in South Korea, which opens today (Feb. 09). Cross-country skier Jagdish Singh is one of them, while the other is Shiva Keshavan, the country's only Olympic-level luge rider who debuted at the 1998 Nagano Olympics in Japan. Keshavan is marking his sixth time at the Winter Olympics, but he's said it may also be his last, capping a career spent overcoming government apathy and an almost crippling lack of funds.
How an Indian became an international luger
Keshavan was born to an Italian mother and Indian father in 1981 in Vashisht, a small village in the mountains of Himachal Pradesh. The region is one of India's top skiing destinations and, as a child, Keshavan would go sledding and skiing, besides playing football and field hockey in school. But a career in luge, one of the world's oldest, fastest, and most dangerous winter sports, was unheard of at the time. Few in India even knew what it was.
Luge is said to have originated in Switzerland in the 16th century and was popularised by hotel owners who built tracks for tourists to use. Lugers lie on their backs on small sleds and use their bodies to navigate their way down an icy track at a speed of as much as 150km/hour. The sleds have no brakes, so it requires training and practice to avoid serious injuries.
The first international luge race was held in Davos in 1883, but it wasn't until 1964 that it became an Olympic sport. Between 1964 and 1988, Germans were the top lugers, winning 15 out of the 21 gold medals available.
But how did an Indian become an international luger?
When he was a teenager, Keshavan's boarding school had received a letter calling for winter sports athletes, and he signed up to be part of a training camp, thinking it would be for skiing. But the camp was actually part of the International Luge Federation's programme to make the sport more popular in developing countries. With the support of Austrian coach Gunther Lemmerer who participated twice in the Winter Olympics, Keshavan got his first taste of luge, sparking his interest in the sport.
While attending another luge training camp, this time in Austria, he ended up breaking his foot during his first race. But his timing was good enough to suggest to Lemmerer that he could potentially qualify for the 1998 Winter Olympics to be held in Nagano in Japan. And sure enough, he did.
At the age of 16, Keshavan was the only Indian athlete who qualified for the games, and the youngest ever in luge. A week before the event, he told the New York Times that he dreamed of one day winning India's first medal at the Winter Olympics. While he didn't place at the 1998 Olympics, he did go on to make a name for himself as a champion luger in Asia, winning 10 Asia Cup and Asia Championship medals between 2005 and 2016. He also participated in the Winter Olympics another four times.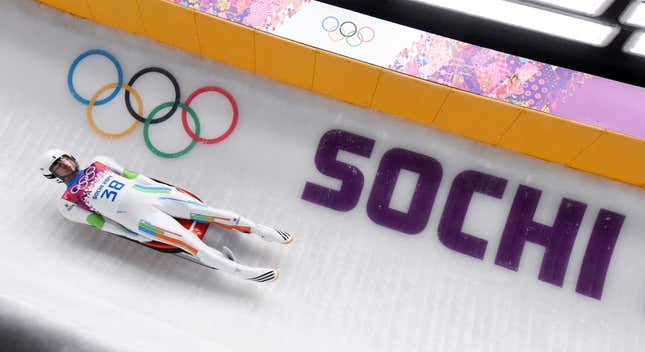 But despite these successes, Keshavan has struggled to find support for the sport in India, particularly from the Indian Olympic Association.
Fighting for funds
In recent years, the now 36-year-old has been very vocal about the challenges of raising funds to buy equipment and hire qualified trainers in India. And he isn't the only one. While cricketers earn crores in endorsements and attract top sponsors, other athletes have battled institutional neglect, forced to rely on their own resilience and, more often than not, makeshift equipment. For instance, Dipa Karmakar, the first Indian gymnast to qualify for a women's vault final at the Olympics 2016, began her training on equipment fashioned using discarded scooter parts and crash mats.
In 2002, Keshavan was offered a chance to compete as a luge rider for Italy which promised him access to high-quality facilities and training, and even eventual citizenship. He declined, determined to represent India all the way, even as the country's own Olympics authority, the scandal-ridden Indian Olympic Association, failed to provide support.
Apart from a few sponsors, such as Hero Electronix and Hero FinCorp, both units of the motorcyle maker Hero Group, Keshavan has largely relied on crowdfunding for support. Before the 2014 Winter Olympics in Sochi, he raised Rs10 lakh ($15,540) through the Indian crowdfunding platform Ketto. According to one of the platform's co-founders, supporters included Bollywood actors Abhishek Bachchan and Freida Pinto, and the tennis player Leander Paes. Still, he's often had to cut back on costs, for example by renting or borrowing equipment.
In 2014, Keshavan travelled to the US to train with its Olympic luge team, and later received support from their coach, Duncan Kennedy, a former luge rider who participated in three Winter Olympics. Kennedy launched another crowdfunding campaign for Keshavan last year, this time on GoFundMe.com, to gather enough money for his sixth Olympic effort.
This year, the Indian sports ministry provided him with Rs20 lakh, but, he told Quartz, that was just three weeks before he left for the Pyeongchang Olympics. Moreover, the Indian Olympic Association itself hasn't ever given him any funding, he said. There has to be more advance planning and funding, says Keshavan, otherwise the money is of little help when it comes to equipment and training. "We have to start talking in terms of four-year, eight-year plans," he says. "In Olympic sports in general there has been a marked change over the past 20 years… the change has been much slower in Winter Olympics."
But this might change too. Keshavan told Quartz that officials at the IOA have asked him to consider starting a development programme for luge in India. The Indian Olympic Association didn't immediately respond to a request for comment.
At Pyeongchang this year, it's likely that a lot more Indians will be paying close attention to the luge event, with Keshavan competing this weekend, as well as to Jagdish Singh's cross-country ski competition. But Keshavan himself is now looking beyond the medals: He's focused on supporting other Indian athletes through the Olympians Association of India, of which he's founder and president. And he's already introducing new generations to luge through training camps.
But Keshavan knows as well as anyone that India still has a long way to go before it can win at the Winter Olympics.
Update, Feb. 9: This story was updated with comment from Shiva Keshavan.