Like many from the post-Partition generation of the Indian subcontinent, the Punjab National Bank (PNB) has been a survivor. Seventy years after independence, the bank is just about afloat, weighed down by its bad loans and buoyed by a string of bailouts.
Born of India's freedom struggle, PNB was established in modern-day Lahore, Pakistan, in 1895, and has coursed through several crests and troughs over its 120-year existence.
However, the bank's rich history has been besmirched by the $1.77 billion (over Rs11,000 crore) fraud it reported on Feb. 14, besides its gigantic pile of toxic loans, has come as a rude shock. Diamond trader Nirav Modi and his maternal uncle Mehul Choksi, also the chairman of jewellery retailer Gitanjali Group, are alleged to have duped the lender over a period of seven years in connivance with at least two of the bank's employees.
While the Central Bureau of Investigation and the Enforcement Directorate probe the fiasco, here's a look at how PNB came to be India's second largest state-owned bank.
A stellar history
Lala Lajpat Rai, a stalwart of the Indian struggle for independence, played a key role in PNB's birth. After a fellow member of the Hindu revivalist movement, Arya Samaj, mooted the idea, Rai took it upon himself to spread the word on establishing an organisation run by Indian money and men.
In May 1894, the bank's founding board was set up and included the who's who of the day, like Lala Harkishan Lal, one of Punjab's earliest industrialists, and Dayal Singh Majithia, founder of the English-language daily, The Tribune. When the first branch opened a year later, with a capital of Rs2 lakh and working capital of Rs20,000, Rai was also its first account holder.
PNB's other customers over the years included India's first prime minister, Jawaharlal Nehru, and Mahatma Gandhi.
Like other banks around the time, PNB faced its share of hardships. From tiding over the global economic crisis of 1929 to shutting down 92 offices, accounting for over 40% of its total deposits, following Partition in 1947, the bank always came through. In its first 60 years, PNB set up over 270 branches, with deposits totalling over Rs60 crore.
Months before Partition, PNB's registered office was shifted from Lahore to New Delhi.
In the 1950s and 1960s, it consolidated its position further by merging with others lenders, including Bharat Bank and Indo-Commercial Bank—it has merged with seven other institutions over its lifetime. In 1969, under Indira Gandhi's prime ministership, PNB, along with 13 other banks, was nationalised. Together, these banks controlled around 70% of India's deposits at the time.
Today, PNB has nearly 7,000 branches in India alone, and is among Forbes's list of world's biggest public companies.
Dismal state of affairs
The past decade has not been very encouraging, though. In recent years, India's public sector banks have been bogged down by inefficiency, indiscriminate lending, and corruption.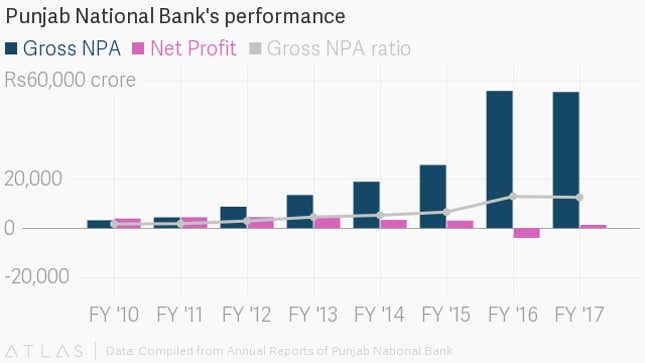 Between 2010 and 2015, state-owned banks, including PNB, resorted to masking their bad loans by hiding about half (pdf) of their stressed assets. So, in December 2015, the Reserve Bank of India (RBI) announced more stringent norms for banks' asset evaluation.
Following this directive, PNB's gross non-performing assets (NPAs) more than doubled (pdf) to over Rs55,800 crore ($8.7 billion) for fiscal 2016. It was one of the 25 state-owned banks to report losses that year at Rs3,974 crore. For the quarter ended March 2016, PNB's losses were the highest ever reported by any Indian bank in history. The bank has also written off loans worth over Rs9000 crore in the financial year 2017.
The government, of course, had to step in. Apart from the funds already infused into PNB so far since 2015, the government will add another Rs5,473 crore by March 2018.
Just when PNB's fortunes seemed set to to turn around, the $1.77 billion fraud hit the bank like a ton of bricks—a figure that accounts for nearly a third of the lender's market value.
Having survived many such crises in the past, can PNB can wriggle its way out this time?