It's a tranquil day at the Royal Calcutta Golf Club. Golf may not have caught fire in the country, but around these parts, it is of utmost importance.
The surrounding regions are also named accordingly, "Golf Greens" and "Golf Garden," in a testament to the course's pride of place in the city's colonial past. The 'Royal' as it is known, was started in 1829, and is widely considered as the first golf club outside the British Isles.
Heading towards the entrance of the course, some men wearing "Titleist" caps, play cards on the side of the road. They have their own colourful vocabulary, using words such as puro (pro), ballin (hole) and chipput (chipping).
These men know the course better than most players. They've spent a majority of their waking lives on the course and some were even born on it.
This is the extraordinary story of Caddiebasti, where the enthusiasm for golf exists in abundance. But it is gradually winding down.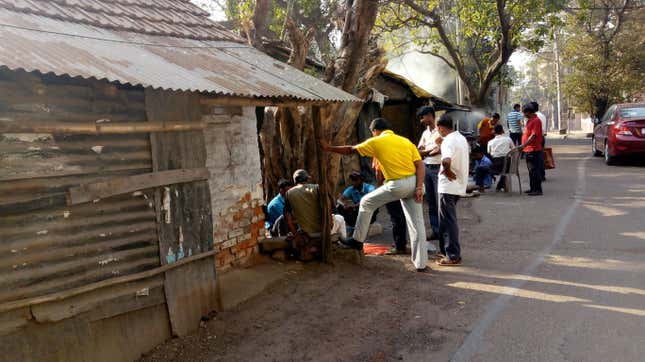 Caddies turned golfers reduce
It's not just about the golfing culture; their sporting pedigree is reflected in the number of trophies that caddies-turned-golfers from the area have won for themselves. This might seem implausible given the current perception and state of the game in India, but back when golf courses weren't as heavily restricted, caddies ruled the roost in Indian golf.
In 1991, 115 out of 126 professionals playing on the Indian circuit, had started their careers off as caddies. At present, less than a quarter of the 600-plus pros playing in the country started off as caddies or other golf course employees.
Back in Caddiebasti, a man who wishes to be referred to only as "John," agrees to help us understand the area better. The veteran caddie is ubiquitous in Caddiebasti; everyone knows John and refers to him as such. Local residents estimate that John has been caddying at RCGC since 1983 and knows virtually every inch of the course and the neighbouring areas.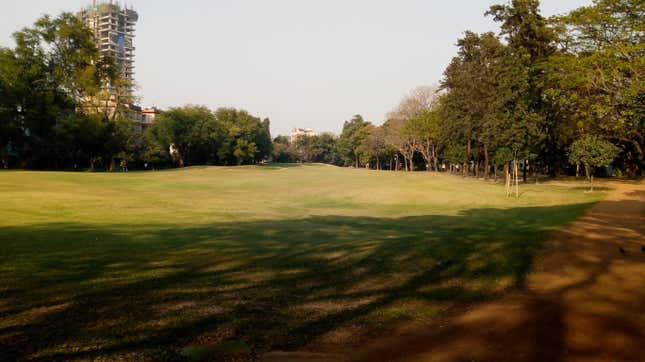 Originally located at the site of many paddy fields, the course is wave-like across its outline and consists of long fairways, sequestered by water bodies.
The course is a favourite haunt for non-golfing sportspersons who visit the city for a short while. Before John can help us figure out Caddiebasti, he must serve as caddie for ATK player-manager Robbie Keane and other members of the team. For him, one round fetches him anywhere between Rs300 ($4.68) and Rs750.
John shows a lack of interest in the "footballers" nor does he show an inclination to find out more about Keane and Co. For him, this is just part of the job and piques no interest. Instead, we head to the ninth green, passing myriad bunkers and a few huts built on the course.
SSP 'Chipputsia'
He points to a clump of trees and a clearing beside them, "That is where Ganesh Prasad's (Chawrasia) quarters used to be. SSP lived with his family here; his father used to work on the course as a greens-keeper."
Young Chawrasia used to gather huge branches that would fall off trees and use them to work on his swing practise. Peering over a nearby water body, John recollects, "Some balls would land here and he would promptly retrieve those."
Out here, SSP is known as Chipputsia—because his main strength, according to John is his "chipping" and "putting."
The Ali house
The course is a sight to behold, yet the curious engine that drives the daily operations and supply the bulk of the manpower lies a short walk away. As we pass by the members' lounge, the caddie's shed is at the club's entrance; we follow the Golf Club Road to a maze of serpentine alleys housing many tiny, patched-up, tiled settlements.
This day is one of mourning for those in the area; and as a funeral procession crosses our path, John reminds himself that he must visit the deceased's family later and offer his commiserations.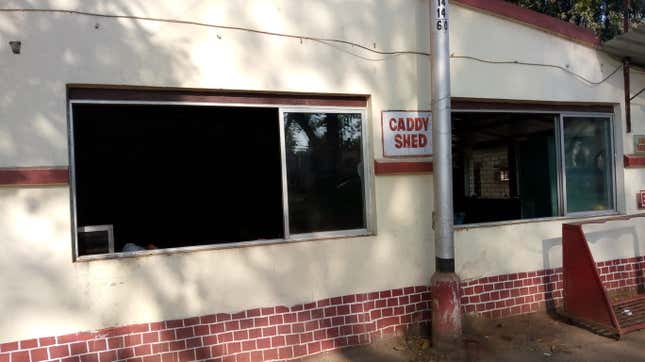 Continuing down the cobbled passageways past a narrow assembly of tin-foiled single room bivouacs, we head towards the Ali household, home to four golfing greats, Rizwan, Firoze, Chini and Rafique Ali.
We encounter Aruna Das sitting near the Ali household, chatting with some old friends. Her son, the 34-year-old Shankar Das, is one of the last to have broken out of Caddiebasti and is currently ranked third on the PGTI Order of Merit. "He doesn't live here anymore but he started off playing with them (local residents)," says Aruna.
At the Ali household, Chini's son Akbar dusts off an old cupboard full of trophies. Old clippings of Chini's picture at the Indian Open, from the popular magazine Sportstar are neatly arranged kept in a file.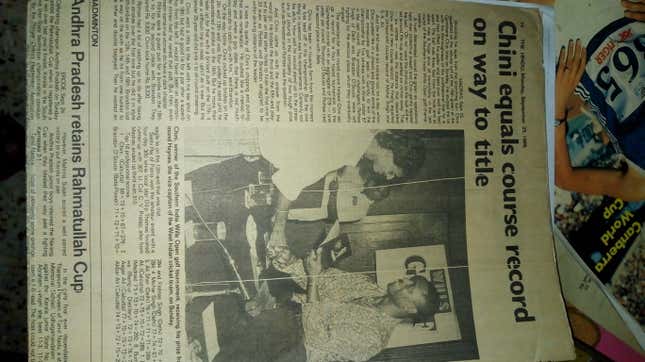 Akbar recalls that Rizwan and Chini were the earliest to start out, as Feroze, who won the Asian Tour Championships and the Indian Open followed. Today, Rafique coaches at the Royal. This is the house that boasts the highest number of medals in the locality, also known as Madartala, but there are many with their golfing origins here. Madartala was once home to a spiritual leader Mother Baba and hence the name.
Jamshed Ali (unrelated to the afore-mentioned Ali brothers) became the country's first Arjuna Awardee for golf and also became the first Indian to play on the PGA Tour and many followed in his footsteps. Raju Ali and Shankar Das are two of the more contemporary golfers on the circuit. Prior to them, Yusuf Ali, Asghar Ali, Mohammad Khokon and Mohammad Sanju had made their way to the upper rungs of the PGTI circuit.
Caddie Invitational stopped
As we leave the Ali household, John reveals that he was a player on the domestic circuit for about four years before returning home. "I played in Delhi and other places outside Kolkata. I earned enough outside and decided to come back. I was happy to."
Growing up, John had easier access to the course as an alternate entrance near Madartala meant that dozens of young caddies would play, often given clubs by members who saw them as promising golfers.
Rafique Ali also points that the caddie tournaments have shut down. "There used to be a Caddie Invitational open previously. The best three caddies used to be rewarded and they would be given wildcards and monetary support to play a few tournaments. They haven't held one since 2006."
Admitting that not as many golfers come from the area as they used to, John tries his best to explain this peculiar phenomenon. Could this provide deeper insights into the esoteric yet powerful force that drives the love of the sport here?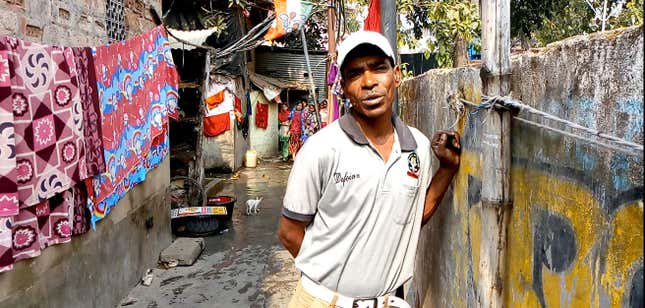 In conversation with John
How is golf such a big part of life here?
"Why didn't your parents put you into sports?"
Perhaps they weren't sure of my sporting abilities and didn't think I could make it big.
"Wrong. Your parents are office-goers themselves. They envision the same future for you. Here, these kids are born and bred golf. Not so long ago, when houses were closer to the course, they could tell that a ball had landed on the roofs by the noise. They would collect the balls to re-sell it to the members."
But, do as many still take up the game?
"Now, we give them the option to study. Some choose to but others stay back at home. Then they see us work at the course and they start doing odd jobs. We tell them to keep the money. They can use it to go play tournaments. Once you start winning, the pay-offs are really high. Look at sportspersons around the world. They don't have to worry about their finances. How much are [Lionel] Messi's feet worth?"
What if they feel that they don't like the sport?
"For them, the golf course becomes a second home, spending so much time there. They eventually fall in love with it, start playing after the members leave. They play, despite putting in long shifts during the day."
At this point, a 15-year-old carrying a set of clubs stops by. John's son is leaving for Chandigarh to play in a domestic tournament.
"When he told he wanted to come back home and discontinue his studies, I was furious. Then he told me he had a plan to play golf. Here, if one is into golf, the others know that this boy is serious. As a parent, I know that most aspiring, serious golfers stay clean and away from bad company. This season, he's borrowed a set of clubs and will play a few tournaments. Initially, he told me he would give it two years to see if he could play at an acceptable level. I told him, take five, it takes time for the game to develop."
Life on the greens
Back at the course, the card games go on as caddies prepare to head off for the day. Rafique Ali reminisces modest beginnings while walking on the course, "The first golfer was a caddie called Lalchand, sometime in the British era. In those days, if they broke a club, they would have to use a steel coil to repair it. I bought my first set of clubs after my first tournament win."
"Back in the day, it was like a theme park, children used to play a lot of sports inside the course. Now, access for caddies playing after-hours is restricted. The course fee, Rs7,400 per round, is too steep. The club does still support promising golfers."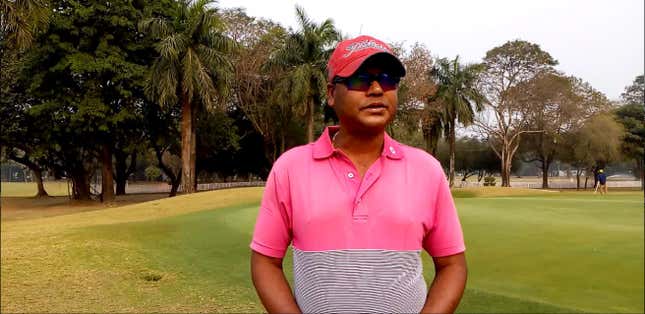 As it goes dark over the course, the young caddies state that 'SSP' still comes back and hangs out every time he is in town. For them, he is a pro player, their latest benchmark, a goal to look up to. Fathers and grandfathers also narrate tales of Jamshed, Feroze and Basat Ali.
They head back, their rounds for the day finished. In between those 18 holes of the Royal, amidst all that green yardage, lies the shrinking anomaly that is Caddiebasti, filled with masters of making the cut.
This post first appeared on Scroll.in. We welcome your comments at ideas.india@qz.com.