Small towns are the heart of India's thriving online video-content space.
In 2017, India's online video consumption rose almost five times, according to homegrown over-the-top (OTT) platform Hotstar's India Watch Report 2018. And while metros only witnessed a 3.5 times increase, the biggest jump, 4.3 times, came from smaller cities that have a population of between 100,000 and one million.
Two such small towns in Uttar Pradesh—Moradabad (22 times) and Allahabad (13 times)—clocked the highest growth rates in video watch-time in 2017 compared to a year ago.
"Three years ago, most new data users would start with messaging, do text search, move on to social platforms, and a few brave ones would watch video on the mobile network," Ajit Mohan, CEO of Hotstar, wrote in the report. "This pyramid has been completely inverted. In a world that does not fear data charges, video is very often the first port of call for new data users." Nine in 10 Indians watch videos on their smartphones, Hotstar's report said.
People in smaller towns of the country often stay up as late into the night as those in the bigger metros. In fact, on average, residents of relatively smaller cities like Uttar Pradesh's Kanpur and Maharashtra's Pune stay awake far later than those in bigger urban centres like Bengaluru and Mumbai, Hotstar's analysis of when people switch off their devices reveals.
In addition, in 2017, women in smaller cities came online faster than those in big cities. For instance, West Bengal's Siliguri, which has fewer than half-a-million people, saw the number of online female video viewers leap up 6.5 times. In both Tamil Nadu's Kanchipuram and Jharkhand's Ranchi, the number grew 5 times each.
Among the various states, the time Jammu & Kashmir spent watching videos increased over eight-fold between 2016 and 2017. Sikkim followed with a 7x growth rate. Other northeastern states like Assam and Manipur, too, expanded their video watch-times significantly.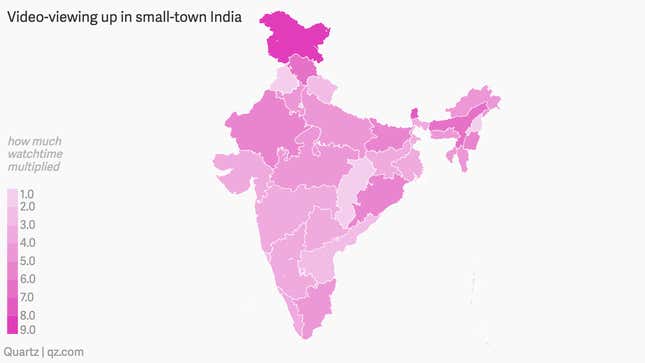 Now showing
Online is no longer just a place for short, viral videos: Up to 96% of the videos viewed on Hotstar are longer than 20 minutes, the report said. The average user on the platform consumes 3GB of data per month. "Users from small cities average as much data consumption as those in metros," Hotstar said.
Referring to the viewing trends that defy stereotypes, Hotstar said that many men love television soaps while women dig action films. Half the viewers for Hindi daily show Yeh Rishta Kya Kehlata Hai are men while 18% of watch-time for Baahubali 2: A Conclusion came from female viewers.
Though English-language digital content like Narcos and Stranger Things have ardent watchers among India's youth, they are also fans of Hindi drama.
Seven in 10 Hotstar users with the Rs199 per month premium membership who watch English shows and movies also view multiple other genres and languages. For instance, 26% of those watching Game of Thrones also watch Hindi TV shows.
Moreover, language is no bar for viewers in the 1.3 billion-strong nation with regional content finding audiences beyond its home ground. A quarter of the watch-time for Telugu movies comes from north and west India and 20% of the movie watchers in the national capital consumed content in south Indian languages Tamil, Telugu, and Malayalam.
The trend holds true in reverse, too. "Ernakulam and Kozhikode watch more Ishqbaaaz than Vanambadi," Hotstar noted, referring to how the two Kerala towns watched more of Hindi daily soap than Malayalam shows. Three in 10 viewers in neighbouring Tamil Nadu also watched Hindi TV shows.