India's 4G availability is robust, but the data speed is simply painful.
India is ranked 14th in the world for 4G accessibility, according to new research by data analytics firm OpenSignal. Users in India have access to network 86.26% of the time. This ranking is based on 4G data usage on nearly five million devices in 88 countries between Oct. 01 and Dec. 29 last year.
However, the country has a dismal download connection speed of 6.07 megabits per second (Mbps) when connecting to long-term evolution (LTE) networks, a standard for high-speed wireless communication. India's "4G networks lacked the capacity to deliver connection speeds much faster than 3G technologies," the OpenSignal report says.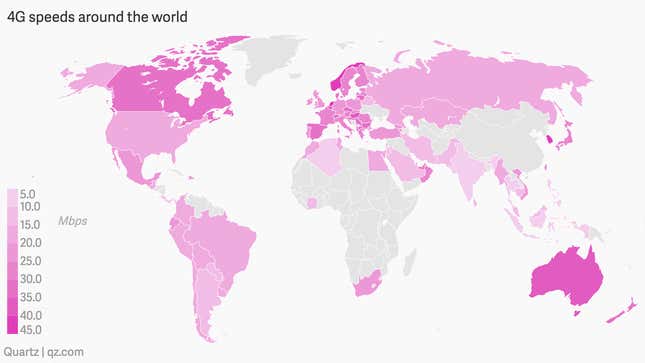 4G network speeds are affected by a range of factors such as "how much spectrum is devoted to LTE, whether it has adopted new 4G technologies like LTE Advanced, how densely networks are built and how much congestion is on those networks," the report says. India, unfortunately, is lagging on many of those accounts.
One of the reasons for companies going lax on 4G speeds could be expensive airwaves.
For instance, telecom firms unanimously boycotted the 2016 spectrum auction of the premier 700 MHz spectrum meant for LTE networks. They argued that the base price of the auction, Rs11,485 crore a unit, was too high.
Besides, few networks implement advanced technology.
"Airtel combines 2300 MHz and 1800 MHz spectrum for LTE-A. New entrant (Reliance) Jio was also reportedly testing this, but there is no official word on this yet," digital and telecom news site Medianama wrote.
The cheap data boom, courtesy Jio, has only worsened the network congestion—a problem the Mukesh Ambani-led firm is now trying to solve using over 200,000 public wifi hotspots to reduce call drops and improve data speeds.