Acting legend Sridevi died after suffering a cardiac arrest in Dubai on Saturday (Feb. 24). She was 54. The movie star is survived by husband Boney Kapoor and daughters Jhanvi and Khushi. She was in Dubai to attend the wedding of her nephew, Mohit Marwah.
Sridevi was renowned for her naturalistic acting abilities, her comic timing, and her graceful dancing skills. She was among the few female stars in Hindi cinema who could steer a movie's commercial fate on her own merit. She starred in some of the biggest hits in the 1970s and the 1990s, and won acclaim for her sensitive portrayals of women thrown into challenging situations.
Sridevi made an impact right from when she first appeared on the screen as a child. Her final release was Ravi Udyawar's crime procedural Mom in 2017, in which she plays a mother who seeks revenge for her daughter's rape.
Born Shree Amma Yanger Ayappan in Sivakasi in Tamil Nadu on Aug. 13, 1963, Sridevi began her career at the age of four in the devotional film Thunaivan. She continued to appear as a child actor in Tamil, Telugu, Kannada, and Malayalam productions, and would become a star in these languages as an adult. Among her acclaimed films as a child were Poompatta (1971) and Badi Panthulu (1972).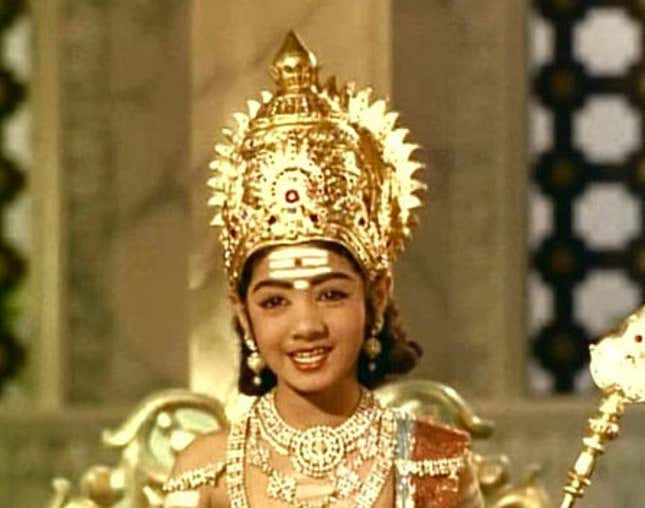 Sridevi's first appearance in a Hindi movie was in Julie (1975), starring the southern star Lakshmi as the titular Anglo-Indian heroine. Sridevi played Julie's younger sister, Irene. In 1976, she got her first leading role in K Balachander's Moondru Mudichu, which inaugurated a fruitful phase with the director and her co-stars Kamal Haasan and Rajinikanth.
Sridevi's acting prowess was on display very early on in her career. She shone even as a child actor, and in Moondru Mudichu, she is in top form as Selvi, who avenges her lover's death at the hands of the evil Prasath (Rajinikanth) by marrying Prasath's father.
The collaboration between Sridevi, Kamal Haasan, and Rajinikanth produced some of Tamil cinema's best-loved films. These include Gaayathri (1977), in which Rajinikanth once again plays the cruel husband to Sridevi's virtuous wife, Kaavikuyil (1977), and Priya (1978). In 16 Vayathinile, also starring Haasan and Rajinikanth, she plays a jilted woman who stands up for her beliefs.
The Sridevi-Haasan chemistry enlivened the popular classics Sigappu Rojakkal (1978), featuring Haasan as a serial killer and Sridevi as his wife; Varumayin Niram Sivappu (1980), in which she is the sympathetic lover of Haasan's unemployed graduate; the vigilante-themed blockbuster Guru (1980), and Meendum Kokila (1981), where she plays a dutiful wife who wins back her husband who is infatuated with an actress.
Sridevi's confidence and self-assurance shone in these male-centric films. She was often cast as the voice of conscience and the empathetic foil to the angst-bitten hero, and she admirably held her own. Her performance as an emotionally regressed child-woman in Balu Mahendra's Moondram Pirai (1982) is counted as one of her finest.
Sridevi also notched up credits in Malayalam, Kannada, and Telugu in the 1970s and 1980s, making her one of the most hard-working actresses of those decades. She was paired with Telugu legend NT Rama Rao in Vetegaadu (1979), Sardar Papa Rayadu (1980), and Justice Chowdhury (1982). In between, she made a soft landing in Hindi films through Solva Savan in 1979.
The year 1983 presented two different examples of Sridevi's acting range: Sadma, Balu Mahendra's remake of Moondram Pirai, and the potboiler Himmatwala. Sridevi achieved acclaim with Sadma and stardom with Himmatwala—the latter was the first of many remakes of southern potboilers in which she was paired with Jeetendra.
A string of such remakes followed, featuring Sridevi alongside Hindi cinema's leading men, including Mawaali (1983), Inquilaab (1984), and Tohfa (1984).
Although the remakes often featured Sridevi as a glamorous shrew waiting to be tamed by the virile hero, her acting and dancing skills were proving to be popular with Hindi audiences (her dialogue was dubbed by former child actor Naaz). She began to be called the "No. 1 heroine," a title she wholly earned with Harmesh Malhotra's blockbuster Nagina (1986). As the shape-shifting heroine who is actually a snake in human form, she dominated the screen over leading man Rishi Kapoor.
In between the non-stop cycle of hits and flops, Sridevi appeared in some of Hindi cinema's most well-regarded films. In Shekhar Kapur's Mr India, she turned out a superlative performance as a scatter-brained reporter who falls in love with a vigilante who has the power to turn himself invisible. The role encompassed Sridevi's flair for drama, comedy (she imitates Charlie Chaplin in a sequence), dance, and sensuality. The Hindi movie trade called it "Miss India."
In 1989, Yash Chopra reinvented Sridevi's image in the love triangle Chandni. Cast in the mould of the eternally sensuous Yash Chopra heroine, Sridevi turned out a memorable performance as the woman who loses her first love (Rishi Kapoor) and nearly gets hitched to another man (Vinod Khanna) before fate intervenes.
In the book, Yash Chopra Fifty Years of Cinema, the director told British film scholar Rachel Dwyer that he had originally intended to cast Rekha for the part. "I like working with Sridevi," he told Dwyer. "She says, 'You do what you want.' We got a totally new look. Jewellery, hairdo and costume…She is a damn good actress. She puts something extra in her work. I could notice this the first day I started working with her in Chandni. She comes a step further. Never knew what she was doing. She didn't know (the) language, (the) assistant told her dialogues. But she contributes so much to each dance, emotion. All have something extra."
Sridevi's other film with Chopra, the incest-themed drama Lamhe (1991), wasn't as popular as Chandni. Sridevi plays two roles, a woman whom Viren (Anil Kapoor) loves, and her daughter, who loves Viren. Despite its failure, Lamhe boasts of another one of Sridevi's powerhouse performances, and ranked for Chopra as two of the best films he directed (Silsila being the other one).
Sridevi's stardom was at its peak in 1989—she starred in Chandni, Guru with Mithun Chakraborty (with whom she was rumoured to have had a secret wedding), and one of her best films, Chaalbaaz. A comedy about twins separated at birth and swapped in adulthood, Pankaj Parashar's movie also stars Sunny Deol and Rajinikanth, but it is a Sridevi show all the way.
In 1992, Sridevi and Amitabh Bachchan reunited for Mukul Anand's heavy-hitter Khuda Gawah, an epic set in Afghanistan and India. Once again, Sridevi played a double role of a fierce mother and her equally spirited daughter.
Roop Ki Rani Choron Ka Raja (1993), produced by her future husband Boney Kapoor, was a massive flop. Sridevi's star was on the wane. Madhuri Dixit had arrived on the scene, and matched Sridevi at least in her terpsichorean skills. Although Laadla (1994) and Judaai (1997) were big hits, Sridevi, who married Boney Kapoor in 1996, decided to step away from the arc lights after a career that had spanned three decades. (Meri Biwi Ka Jawab Nahin was released in 2004 after a 10-year delay).
In 2012, she made a grand comeback in Gauri Shinde's English Vinglish as a shy housewife who enrolls for English-speaking lessons during a visit to New York. The character of Shashi Godbole was said to correspond to Sridevi's reserved personality in real life. She appeared in a forgettable role in the Tamil film Puli in 2015, but returned with a bang in Ravi Udyawar's vendetta-themed Mom in 2017. The actress also reportedly plays herself in Aanand L Rai's upcoming movie Zero, starring Shah Rukh Khan.
Sridevi rarely gave interviews, and kept away from media gossip that circulated over the years about her affair with Mithun Chakraborty and then Boney Kapoor, who left his wife to marry her. She had a reputation for being a spontaneous and obedient actress who took very few takes to achieve the desired performance, was a professional on the sets, and submitted to her director's orders.
In a rare interview with the Filmfare magazine, Sridevi spoke of missing out on an education for a career in films: "I was a good student. for a while my parents did make me cope with school and films simultaneously. When we'd go on outdoor shoots, a teacher would accompany us. But after a point, this wasn't practical. I had to choose between studies and films. I chose films." 
Sridevi was awarded a Padma Shri in 2013. She won numerous awards for her performances over her lifetime. Her dance numbers, many of them choreographed by Saroj Khan, are among the cultural touchstones of the 1980s, the decade when she was truly "No. 1."
In Mira Nair's Salaam Bombay! (1988), a little girl in a brothel dances to the great dance number Hawa Hawai from Mr India. In Sachin Kundalkar's Aiyyaa (2012), Rani Mukerji's film-crazy character pays tribute to the sensual song Kaate Nahi Kat Te, also from Mr India. Tumhari Sulu (2017) pays homage to Sridevi by recreating Hawa Hawai.
In Sridevi's later years, most of her interviews centred on her daughters. Jhanvi Kapoor will make her debut in the movie Dhadak in July. In a conversation with Scroll.in while promoting Mom, Sridevi said, "I cannot expect my daughter to be the way I was with my mother at their age. Both my daughters have been brought up with certain ethics and values and know where to draw a line. I am a cool mom, but, there is always a but. Yes, there are more professional managers and crew and filmmakers, but there is absolutely no substitute for hard work. It is not something Jhanvi can take for granted. And also luck. And my daughters know where I came from and they know where to draw a line.
This piece was first published on Scroll.in. We welcome your comments at ideas.india@qz.com.