Operational efficiency is hardly the forte of state-owned airline Air India.
A glance at its performance shows that the government's plan to sell its stake in the carrier may just be what the airline needs.
Take on-time performance, for instance. This parameter measures the timeliness of the departure and arrival of Indian flights. Not surprisingly, Air India falls woefully short. Among all airlines, Air India had the worst on-time performance in 28 of the 44 months from June 2014 to January 2017, according to India's directorate general of civil aviation.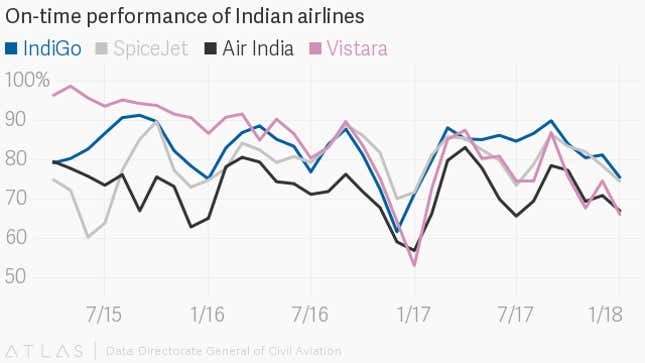 The average on-time performance of the best-performing airlines, IndiGo and Vistara, was 83.4%, while Air India's stood at 71.9%.
Air India's average performance is also the worst compared to five other major Indian airlines like GoAir, SpiceJet, and Jet Airways. Perhaps, in IndiGo or the Tatas, two of the companies keen on buying Air India, lies its hope of redemption.