Can India's seemingly insurmountable socioeconomic problems be tackled using artificial intelligence (AI)?
The answer may lie somewhere in the future—but one Indian-American billionaire duo has decided to make a start.
Last month, US-based philanthropist brothers Romesh Wadhwani (70) and Sunil Wadhwani (64) established India's first AI research institute in Mumbai, looking to deliver scaleable, tech-led solutions to the country's ills like inadequate healthcare and educational facilities by honing the AI ecosystem.
Their institute, Wadhwani AI, was launched on Feb. 18 by prime minister Narendra Modi and is being set up in Mumbai University's Vidyanagari campus in Kalina. With over four decades of experience in the US, running various tech enterprises and philanthropic organisations, the Wadhwanis expect the institute to mirror the likes of San Francisco-based non-profit OpenAI and MIT's Allen Institute for AI.
The brothers have funneled in Rs200 crore ($30.7 million) towards the project, roping in P Anandan, a computer vision and AI expert who founded Microsoft Research India, as its CEO.
But why India?
"When setting up an institution focused on solving challenges for the underserved, the best place to be is, in fact, a developing economy," Sunil Wadhwani told Quartz. In 2014, Sunil had founded the India-based healthcare non-profit Wadhwani Initiative for Sustainable Health (WISH Foundation). "India was a natural choice because we are from India, we understand the environment in India, and we already have non-profits in India," he added.
Technology for social good
Wadhwani AI aims to use technology to serve the bottom of the pyramid.
"There's lots of research being done in AI at MIT, Carnegie Melon, or companies like Facebook, Amazon, Google," Sunil said. "But there's little or no research on how to apply AI to accelerate social development."
Fittingly, a day before its launch, Wadhwani AI hosted a summit at the Indian Institute of Technology Bombay (IIT-B), bringing together 75 AI researchers, social sector luminaries, and government functionaries, to identify the various issues with potential AI solutions. These problems pertained to infrastructure, agriculture, health financial inclusion, water, and more.
Some ideas discussed included using AI to make educational content available in local languages and dialects, facilitating the early detection of diseases in remote rural areas, and providing accurate crop-yield predictions.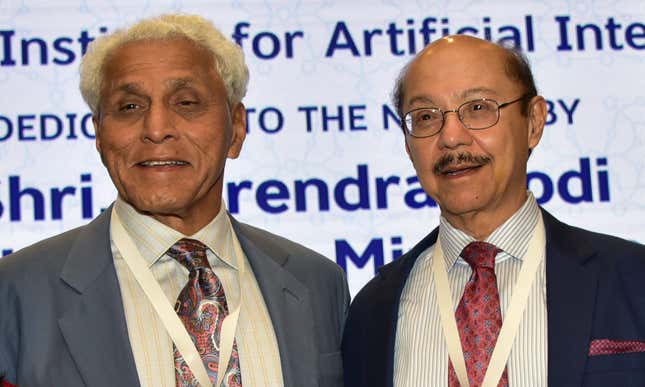 The organisation is yet to lock in its first project but Sunil expects AI solutions deployment by the end of its first year, even if on a pilot basis.
Though the Wadhwanis' funds should suffice for nearly a decade, they're also hoping that government entities and partner corporations will extend support.
A communal effort
Several young entrepreneurs in India have been experimenting with AI for a while now, but these efforts have largely remained siloed and haphazard.
"There are several researchers and practitioners working on areas of AI for social good, but most are working in isolation or tiny groups of two to three people at different places," Sunil said. "We want to become the hub of this global ecosystem, helping develop AI policies and a talented pool of researchers."
So far, Wadhwani AI has put together a team of 10 people, but aims to have a full-time staff of up to 50 researchers. They will be supplemented by faculty and doctoral students from myriad universities.
However, given the dearth of good AI talent in India, the institute is likely to struggle for growth. Unlike the US, China, or other developed countries in Europe, which have hundreds of educational programmes in data science and AI, India virtually has nothing. Though it churns out over a million engineering graduates every year, a dismal 4% of AI professionals in the country have worked on cutting-edge technologies like deep learning and neural networks.
To break the talent barrier, Wadhwani AI will work with institutions like Mumbai University, IIT Bombay, IIT Madras, and others to set up masters programmes in data sciences and AI and help them with curricula, faculty skills, and funds.
Anandan is optimistic about the temporary roles at least. "Here's an opportunity for bright, young people—the top BTechs, IIT grads, and so on—to spend up to two years working in a social domain," he said.
Another key shortage India faces in AI research today is that of data. Where available, their quality is often questionable.
"Wadhwani AI will work with partners to create an ecosystem for collecting, storing, and sharing data for social good," Anandan said. "One advantage of trying to do for social good is that everything we'll do, we'll do in the open, within limits of rights and privacy."