On Sunday, March 11, the heads of around 40 countries landed in India for the first official summit of the International Solar Alliance (ISA), a non-profit treaty-based group of 121 countries promoting the use of solar energy.
They put their heads together to discuss the ISA's goal of making solar power, technology, and financing more accessible to different countries, an idea that Indian prime minister Narendra Modi first presented at the United Nations Climate Change Conference in Paris in November 2015. Launched officially in December 2017, the ISA is a treaty-based organisation bringing together resource-rich countries on one platform.
With the headquarters of the ISA in Gurugram, India now has the opportunity to take charge of leading the global energy transformation from using fossil fuels to adopting cleaner sources of energy. This comes even as India chases the world's largest renewable programme, targeting 175 gigawatts (GW, or 1,000 megawatts) of renewable power by 2022 against its current capacity of around 60 GW.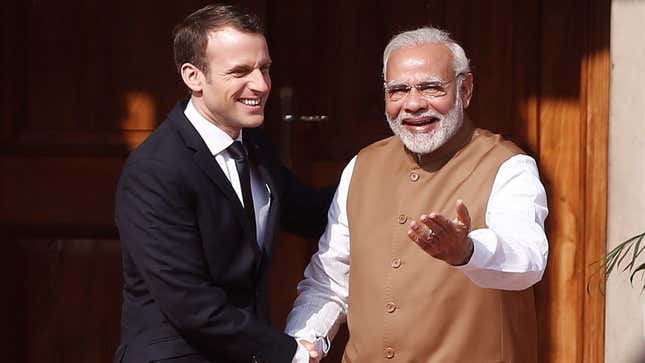 "With the US withdrawing from the Paris Agreement, there is a seat open at the head table of climate leadership and India is very well poised to take that seat. With the ISA being here, if the ISA will prove itself to be a game changer in the way energy markets evolve, in giving more people access to energy…then India emerges as a leader of climate action," Kanika Chawla, a renewable energy expert at Delhi-based nonprofit Council on Energy, Environment, and Water, told Quartz.
The ISA aims to create 1,000 gigawatts (GW, or 1,000 MW) of solar power capacity by 2030, and mobilise $1 trillion for this. As part of this, 121 different projects will be signed during the Indian government's flagship renewable energy event, RE-INVEST, set for April, said Upendra Tripathy, ISA's interim director general.
It will also work on training people in renewable energy-related skills and create a network of resources.
The organisation is also working on other projects, such as the one to promote the use of solar pumps in farms, replacing diesel ones, or the one to procure financing for member countries, or those to promote the use of mini-grids. At Sunday's conference, the ISA launched a project to develop rooftop solar power. Also on the cards is a project to develop solar energy storage for use in mobility, Tripathy said.
After initially allowing China to get ahead, India seems to have made amends by taking charge of the ISA and the solar power development mission. It remains to be seen whether India can pull this off, or if it will only be hot air.