Nearly 50,000 protesting farmers, who shook the Maharashtra state government over the weekend by marching into Mumbai, returned home on the night of March 12 following what looked like a victory. Their primary demand was for a transfer of title for the land they cultivated, to which the government agreed. They then called off the protest and were allotted a special train to take them back home, about 180 km away near Nashik.
As the farmers take blisters and government assurances back, hope floats that such a march won't be necessary again.
However, as it often does, the big picture cloaks a lot more than it reveals. For, even if the government were to deliver, will that end the farmers' troubles?
Here are the stories of some individuals and what made them march to Mumbai.
Ramdas Gangurde (65), Gangurde village (45 km from Nashik)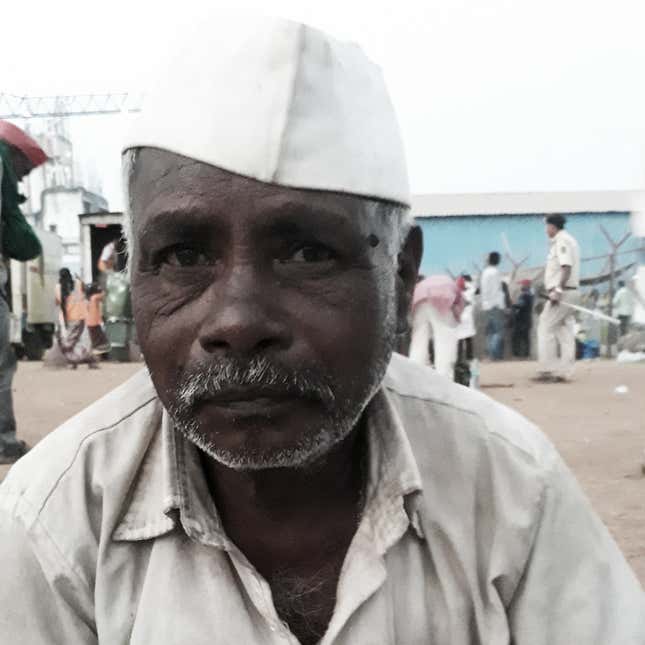 Gangurde speaks very little, and is not excited by the commotion and hubub at Mumbai's Azad Maidan. He is not impressed by the media swarm in the ground either. He has unpaid loans of Rs70,000. He owes them to the local transport operator who takes the produce to the market. The transport operator does not levy interest, but takes the money from the sale of the produce until the loan is repaid. Therefore, even if the government were to waive off loans in six months as promised, it wouldn't make a difference to his life. However, getting legal rights to the three acres of forest land, where he cultivates tomatoes, chickpeas, and paddy, will help him. He had marched to Mumbai in solidarity and with hope.
Gangurde earns between Rs50,000 and Rs60,000 ($920) every year from his farm produce. He borrows another Rs7,000 or Rs8,000 every year from the local cooperative society to sustain his family of four. He just hasn't managed to escape the vicious debt cycle in years.
Kamlibai Kadali (50), Pangarbari village (80 km from Nashik)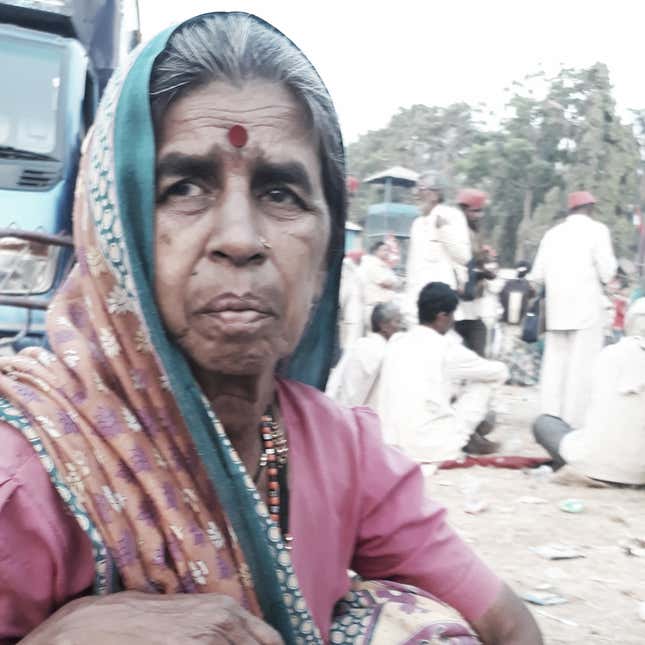 Kadali's husband is old and sick. Two sons, one aged 32 and the other 27, are farm labourers who make Rs60 for a day's work. For every two months that they are continuously employed, they remain jobless for twice the amount of time. The two men could not join the protest in Mumbai as it clashed with the rare opportunity for work and wages. Kamlibai has little hope of sustenance for her family from agriculture. Therefore, her first demand is for a raise in monthly allowance under the Sanjay Gandhi Niradhar Anudan Yojana from Rs600 to Rs2,000. The state government scheme is designed to aid people who are disabled, destitute, suffering from a major illness, widowed mothers, or a family with an annual income of less than Rs21,000.
MS Bhusare (65), Kumbhale village (62 km from Nashik)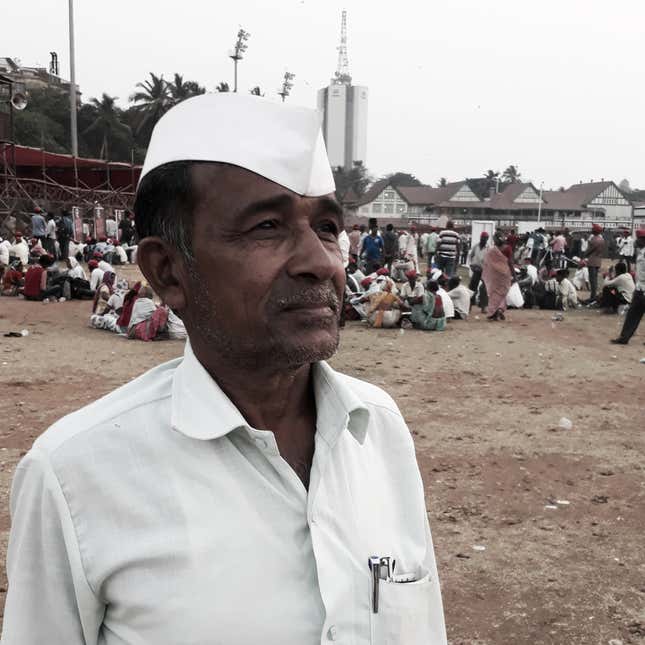 Bhusare's father died amid a battle to own the three acres of forest land he cultivated. Bhusare has continued farming on the land—and the fight. He even joined the local cadre of the Communist Party of India (Marxist) in the hope that it will help his cause. The party's candidate, Jiva Pandu Gavit, continues to hold the assembly seat for the constituency, winning it seven times in a row. However, after decades of failed attempts, the Bhusare family's dream remains unfulfilled. At 65, comrade Bhusare still has some fight left in him. He speaks firmly and from the gut. While his two sons are toiling away for daily wages at private firms in Nashik, Bhusare had walked to Mumbai to lend his support for the agitation.
Vishnu (32) and Nivriti Pawar (26), Pangarbari village (80 km from Nashik)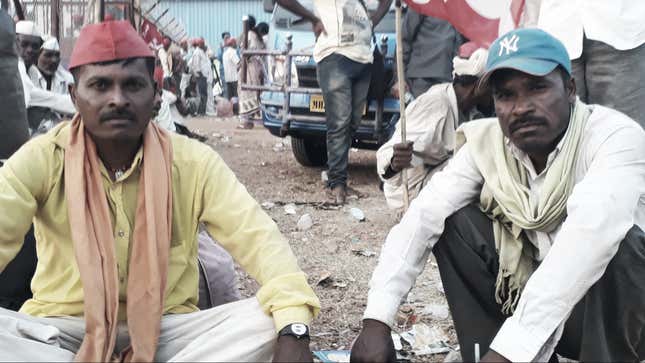 The Pawar family has grown to 11 today from the two in early 1950s when they first sought to own the five acres of forest land they cultivated on. Both Vishnu and his sister had been kept away from school due to poverty. Nivriti, who won the game of chance, went on to be a graduate. But he still earns his livelihood in daily wages from manual labour. With Vishnu's three kids and Nivriti's two added to the family fold, the earnings have been stretched too thin. That has strengthened their resolve to win the land rights denied to them for three generations. "They have given to us in writing. If we do not get the rights to the land in six months, our next protest will topple the government," an agitated Nivriti said.
Ratanmaunji Gangurde (64), Hathgad (70 km from Nashik)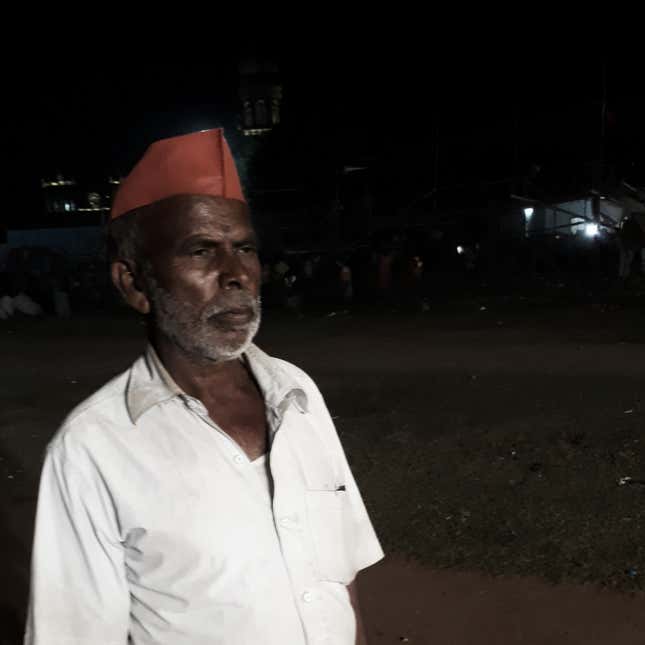 "No land, no loan," Gangurde said with a mischievous smile across his face. The two acres he tills are parched. He could never avail a loan to irrigate because the land is not in his name. The silver lining, though, is that he has no debt. Shuffling between agriculture and daily labour, Gangurde has managed to stay afloat. He even managed to get his daughter married a few years ago, spending about Rs30,000 for the occasion, entirely from his savings. He has sent his son off to Pimpalgaon Baswant where he works on grape farms for Rs60 a day. However, Ratanmaunji wants the rights to the two acres that has been the family's since his father's time. He dreams of a well that will revive the land and feed the family as well as it has in the past. But to dig a well, he needs a loan and to get a loan, he needs the land to be in his name.