A section of India's consumer goods firms—those selling goods of daily use like flour, rice, soaps, and shampoo—was hopeful about financial year 2019. They expected the approaching election year to help them tide over a long dry period since the government is expected to splurge to woo voters.
However, the consumer staples sellers' hopes could be dashed if a report by financial services firm Jefferies is anything to go by.
"(Demand) recovery will be gradual and (we) expect that growth can improve from high single-digit to lower double-digit," a March 13 report by Jefferies said, referring to financial year 2019. The recovery in rural markets will be "mild," analysts said in the report.
Desperate firms
Over the last three years, growth has tapered for some of the country's largest consumer staples makers, especially in rural areas. The reasons for this weakness are many, including below-normal rainfall, the November 2016 note-ban, and the new goods and services tax regime (GST).
Companies and investors have been eyeing the upcoming elections and better-than-normal monsoons to revive consumption. Typically, ahead of elections, governments boost public spending, mostly on public infrastructure and the agrarian economy, to woo voters. This, in turn, helps consumers spend more on staples, benefiting companies at large.
However, Jefferies has argued that these hopes are misplaced. "History doesn't suggest any drastic jump in the overall volumes of the consumer companies in the year preceding the election year," the report says.
Jefferies looked at historical data from 1997 to 2014, which included four election years, and volume growth of top consumer companies such as Hindustan Unilever, Dabur, Emami, Colgate, and Britannia which sell goods of daily use such as soaps, shampoos, and packaged food.
The following chart summarises the firm's findings.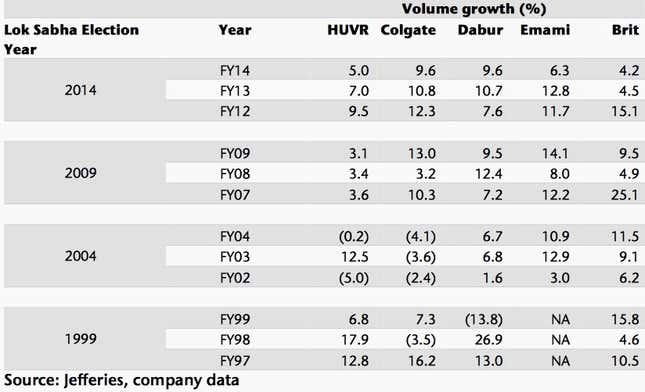 What this means is, once again, the monsoon will determine the strength of India's rural economy. And consumers there make up to 50% of the revenues for these firms. "We believe another year of normal monsoon will clearly help to uplift sentiment and rural cash flows thereby aiding rural recovery. On the other hand, a weak monsoon in FY19 could dampen a fragile recovery," the report says.
Other factors cited include the return of normalcy post-GST and new product launches. The gradual price cuts post-GST will, however, only have a "gradual" impact on volume growth, it says.
In all, Jefferies expects that financial year 2019 "will certainly be better on the top-line front compared to financial year 2018 provided there are no black swan events."