India's bracing for a huge jump in air traffic. And the country needs new airports, terminals, more parking space for planes, and more personnel to ensure the safety of millions of passengers and their smooth travel.
To deal with the projected 55% rise in passengers, the Indian government has planned to nearly triple its spend on upgrading airport infrastructure till 2022, compared with that of the previous four-year period, according to a senior official of the Airports Authority of India (AAI), the Indian government's airport development arm.
"The AAI has planned to spend over Rs21,000 crore ($3.2 billion) between 2018 and 2022 on building new terminals and expanding existing ones," the official told Quartz. The body spent Rs6,300 crore in all on infrastructure between 2013 and 2017, according to its annual report (pdf) for financial year 2017.
But will that be enough?
Some of India's most important airports, like those in Delhi and Mumbai are operated by private firms even though they are still regulated by the AAI.
In all, Indian airports, the private ones included, can handle under 300 million people a year. This number is expected to cross 400 million in the next three to four years, the official said.The AAI wants to accommodate 56 million passengers, over half of the projected increase, at its airports.
In this situation, nearly 40% of India's busiest airports, including those in the national capital and Chennai in Tamil Nadu, are likely to be stretched beyond their existing capacity in the next few years.
"The sector is growing at 20% year-on-year. If you look at the figures, any airport will reach its maximum capacity in the next three to four years. Delhi is…already in need for an expansion to handle about 15 million more passengers. Chennai will also need a capacity of 5 million more passengers," said Mark Martin, head of aviation consulting firm Martin Consulting.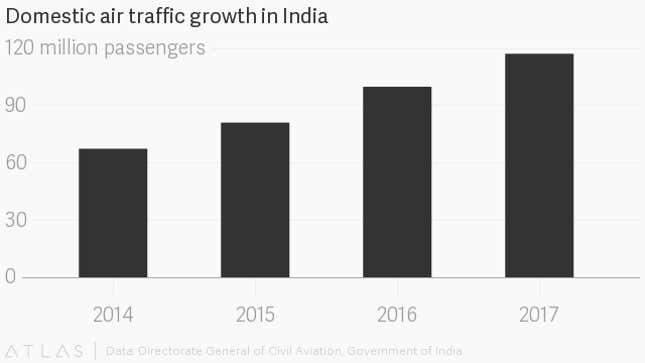 Meanwhile, passenger traffic is rising even outside the biggest cities. So, by 2022,the AAI also plans to set up new terminals in nine airports, including those in Guwahati and Ahmedabad.
"In the next financial year, we will be starting projects of new terminal building of more than Rs15,000 crore ($2.3 billion)," the official said. In any case,the AAI's Rs21,000 crore plan includes the expansion of existing terminals in eight airports, like those in Chennai and Jaipur.
After all, these facilities need to be ready for the rapidly growing fleet sizes of airlines, too.
The number of India's civil aircraft is expected to more than double over the next four years, with airlines adding over 500 planes to their fleets, the official said. As of now, there are around 450 planes (pdf) in the country. The AAI now wants to create 27 new parking lots to accommodate over 270 more planes, the current capacity being 630.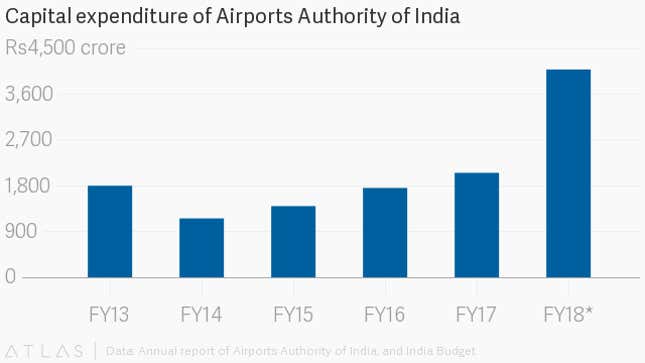 Another reason why the AAI needs to beef up its capacity is air traffic management.
The authority provides air navigation services and oversees air traffic control (ATC) in India. ATC is one of the two key factors affecting timeliness. This one factor caused 17% of all the flight delays in January 2018 and 19% in December 2017.
As traffic rises, the government must delegate the AAI's work to improve management, Martin said.
"There was a proposal to make air navigation services autonomous of the AAI. The government needs to take a step on that. Air navigation has to be separated, not necessarily privatised," Martin said.
The blueprints are in place for both the infrastructure needed and its management. The government now needs to act to keep the already sorry situation from worsening.