E-commerce major Amazon and iPhone maker Apple may have stepped up investments in India in recent years, but the country is finding fewer mentions in their CEO's speeches than before.
The heads of the two US-based companies mentioned India less frequently in their recent interactions with analysts, according to an analysis of transcripts of 40 quarterly post-earnings calls by CB Insights.
The New York-based research firm analysed 1,171,165 words across 10 years of transcripts from Facebook, Apple, Microsoft, Google, and Amazon. Earnings calls, where a company's management discusses its financial performance with industry analysts, typically give the audience a peek into its broader strategies and direction.
While mentions of India have gone down significantly for Amazon and Apple over the last year, CB Insights said, tech giants Google and Microsoft spoke more often about Asia's third-largest economy.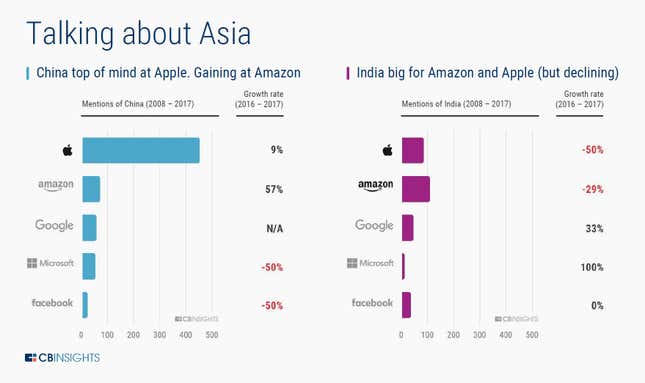 "Apple's iPhone remains too expensive for most Indian consumers, while Amazon faces tough local competition in the country," CB Insights said in the report. Indeed, over the last year, Apple has had a tough time in India: Revenue growth fell and it has also been losing out to Samsung and other Android-based devices.
But this doesn't imply that Apple hasn't been paying close attention. "We are investing in India…We've already launched an app accelerator centre. That's on top of working with the channel and looking at expanding our go-to-market in general. And we began to produce the iPhone SE there during the quarter…I'm very, very bullish and very, very optimistic about India," Apple CEO Tim Cook said during an Aug. 01, 2017 earnings call, according to CB Insights.
E-commerce giant Amazon has challenges of its own. In India's rapidly growing online retailing market, Amazon has had to battle India's e-commerce poster boy Flipkart.
Despite pouring in billions of dollars into India and taking efforts to win over customers, Amazon has stayed on its toes. Softbank-backed Flipkart appears to be inching ahead of Amazon in several aspects such as raking up higher sales in India's top e-commerce categories, winning the trust of Indian shoppers, and even working up a stronger data-driven foundation.
"As (Amazon) looks to expand its e-commerce marketplace in the country it must navigate challenges such as logistics, payment methods, and local competitors—issues that are not as significant when selling high-end hardware products," CB Insights said in the report.