As more and more Indian firms look to leverage big data for various aspects of their businesses, data science and analytics professionals are having their day in the sun.
In 2017, the median annual salary of an Indian data analyst rose 8% year-on-year to Rs12.7 lakh ($19,000), according to a study by Gurugram-based education and training platform Great Learning and online publication Analytics India Magazine.
The number of data experts earning over Rs15 lakh a year increased from 17% in 2016 to 21% in 2017, it says. Close to 40% of these experts earn an annual salary of over Rs10 lakh.
The study is based on information from job portals, salary aggregators, company websites, and interactions with analytics professionals, companies, and recruiters. Data analytics roles include engineers working with big data, predictive modelling, and data mining. These require knowledge of computer languages like R, Python, and Hadoop, among others.
The increment in data professionals' salaries comes at a time when most of the engineering talent in India is struggling to even keep their jobs. In 2017, the $160 billion Indian IT industry laid off over 56,000 employees owing to automation. Increments at IT companies have also been delayed and muted. For instance, the country's second-largest IT services company, Infosys, deferred its annual appraisals by three months. Even when it did roll out hikes in July 2017, they were as low as 5%, with even top performers getting only a 9% raise.
In contrast, data professionals are high in demand across industries. The telecom sector pays them the highest at around Rs18.6 lakh per annum—the lowest being IT (Rs10.2 lakh). Below is the kind of salaries data professionals made across several industries in 2017: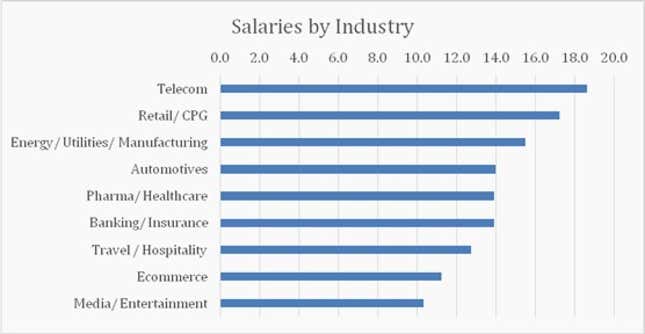 If forecasts are to be believed, the salaries will only rise further in this segment as the Indian data analytics industry, worth $2 billion today, is expected to grow eight-fold to $16 billion by 2025, according to IT trade body Nasscom.
However, this is hardly good news for women. Like most other technology jobs, female data analysts earn 32% lesser salaries compared to their male counterparts, the study found.