Tucked inside the Institute of Cultural Research in Kankurgachi, a neighbourhood in northeastern Kolkata, is one of the most unique museums in the country—one that showcases 46 models of boats that are native to Bengal, and through them reflects an aspect of the region's heritage that is fast disappearing.
The Heritage Boats of Bengal museum is the brainchild of Upendranath Biswas, formerly the joint director of the Central Bureau of Investigation and the former minister for backward class welfare in the West Bengal government. The man who brought down Lalu Prasad Yadav in the fodder scam, Biswas is also a caste historian in his own right and has a deep interest in boats.
"I was born on the banks of the Madhumati (a river in present-day Bangladesh)," said Biswas. "I am familiar with all the rivers of East Bengal. My father was a merchant and we used to own boats. As a child, I have seen boat races in East Bengal. If we were to step back in time by only a hundred years, in Bengal, for transport, for business, there was no option other than boats. You will find the term 'nou-sadhan' in many texts about Bengal."
Biswas points to archaeological evidence in places such as Tamralipta and Chandraketugarh that prove, he says, that Bengalis were a sea-faring people. Despite this history, though, there was no maritime museum in the state.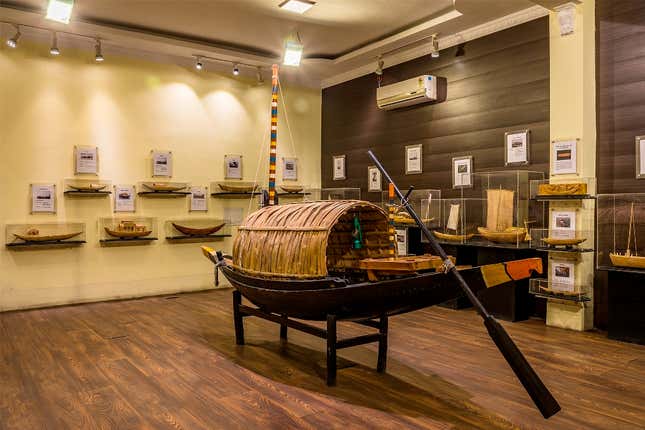 Rivers as lifelines
To assist him in setting up a museum that would showcase the traditional boats of Bengal, Biswas roped in Swarup Bhattacharyya, an anthropology researcher who has studied boats almost his entire academic career. They had become acquainted at an exhibition of boats that Bhattacharyya had organised at the Indira Gandhi National Centre for the Arts in Delhi in 2006.
For the museum, they found craftsmen from Dinajpur who created the 46 model boats from photographs, though Bhattacharyya believes that this number is too little when compared to the 176 models on display at the Dhaka National Museum.
But why does one province have so many varieties of boats?
"This is riverine country," said Biswas. "What we know and think of as Bengal is actually a large river delta."
Bhattacharyya explained further: "You will find different kinds of rivers in Bengal, from the shallow, rapid streams of North Bengal, to the Hooghly of Kolkata, with its slow and stately gait."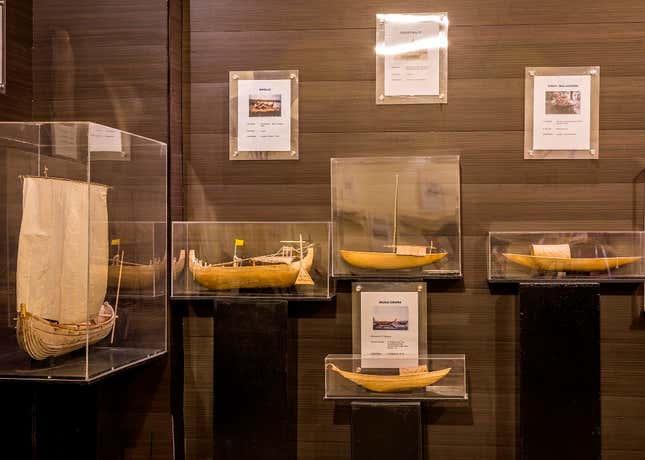 Each kind of river demands a specific boat. "If I were to go to a boat-maker today and ask him to make me a boat, the first question he would ask me is, on what river would the boat operate," said Bhattacharyya. The dinghy, commonly seen at the ghats of Kolkata, works fine in the waters of the Hooghly, whose current is weak. "But it would be useless in North Bengal because a dinghy cannot travel against the current due to its shape."
To navigate the waters of North Bengal, a boat like the flat-bottomed kosha is ideal. It does not get grounded in shallow waters, and its pointed front cuts through water, allowing it to move with ease against the current.
Similarly, the geometry of a boat depends on the work it is meant for. One meant to carry hay is different from a boat meant to transport wood. "Hay is piled high on top of the deck, creating a very high centre of gravity, leading to a somewhat unstable boat," said Bhattacharyya. The boat maker's solution is to create a wide, flat-bottomed boat, known as the khorokisti, which remains stable no matter how much hay was loaded on top. By contrast, wood, he said, is loaded both below and above deck. Since it is much heavier than hay, maintaining buoyancy is the primary challenge. Wood-carrying boats, such as the dholai, therefore, have much deeper, V-shaped hulls.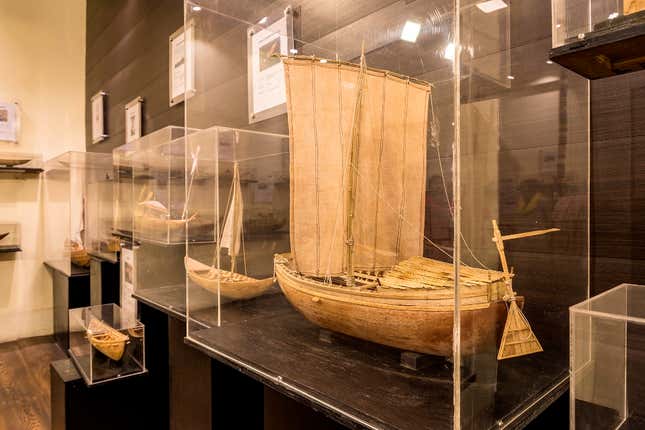 Vanishing legacy
Like much of Bengal's heritage, Bengal's boats, too, are disappearing.
"Boat-making as a craft is passed on through the guru-shishya tradition," said Bhattacharyya. Bengal's boat-makers, who are traditionally Hindu, rarely have a formal education. But through years of apprenticeship, they can lay down the exact specifications of a boat purely by eye. As the demand for boats decreases, though, so does the urge to learn this skill.
The village of Balagarh in Hooghly district was once the biggest hub of boat-making in Bengal. Its boat workshops began shutting down, as men found more gainful employment in fields such as construction, says Bhattacharyya.
Modern transportation systems are also to blame for the dwindling number of indigenous boats. The Khara family of Tetulberia once brought in hay to places like Shibpur and Kumortuli in Kolkata, where it was used for idol-making. "Even as a child, I would see boats carrying hay on Kolkata's ghats," said Bhattacharyya. "In fact, that is why we have so many ghats named Bichali Ghat because the Bichali or hay would be unloaded here. Hay now comes on lorries."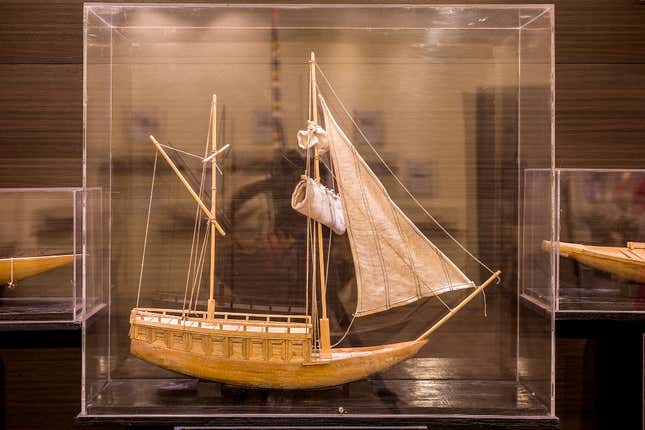 Similarly, a change in beaches has caused the patia boat—a small fishing vessel seen on the stretch of the coast between Digha in West Bengal to Dhamra in Odisha—to be a rare sight on Digha's beaches. The patia would remain stable in the ocean but was small enough to be carried in on human shoulders and left on the beach once work was done. But now, boulders and wave-breakers have been placed on these beaches, making it impossible for the patia to be parked. It has now been replaced by mechanised fishing trawlers.
Hiding in the names of the boats themselves are interesting nuggets of Bengal's past. The khorokisti, for example, gets its name from the Persian word "kashti" (for ship, or boat), which may indicate that the boat's origins were Persian.
Another sailboat from Midnapore, with an uncanny ability to sail against the wind, is named sultani, but what connected it had to the sultans of Bengal remains unclear. The sultani is one of the only boats in Bengal that is skeleton-built – a frame is constructed first, and the hull is added later on top. This is contrary to almost all other Bengali boats, which are shell-built, with the frame being added once the hull is ready. Bhattacharyya says that this points to the foreign origins of the boat, since medieval Mediterranean boats were skeleton-built.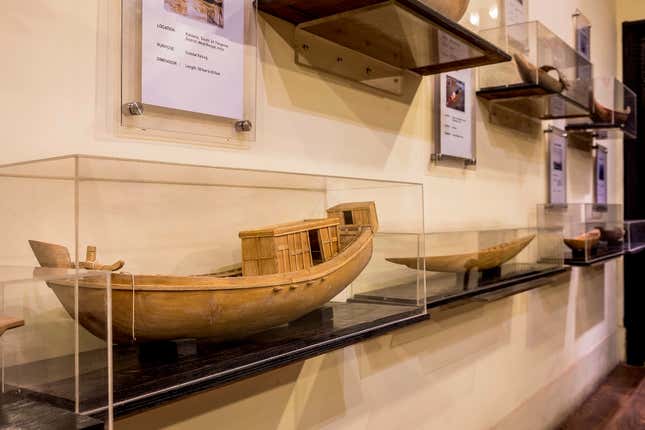 Race against time
Around 1997, Bhattacharyya remembers seeing some 15 khorokistis at the Bagbazar Ghat. By 2005, the number had come down to five—"Today there are none." The rapid disappearance of Bengal's boats caused him to begin their documentation on his blog Noukoghor.
Biswas talks of reviving boat-racing in places such as Bongaon and Ranaghat but even Kankurgachi's Boat Museum, inaugurated by Biswas in 2014, receives few visitors due to a lack of publicity. Although entry is free, the museum is closed on weekends and public holidays, leading to a further drop in footfall. Sampa Chanda Sinha of the Cultural Research Institute is quick to point out that attendance surges during special programmes such as The Arts of Banga, which showcases the state's unique handicraft traditions, going up to as many as 30-40 a day. Nonetheless, the boat museum is an important step towards documenting Bengal's history.
The final question is about a kind of boat that every Bengali child has heard of, but never seen—the legendary Mayurpankhi, a boat with the head of a peacock, used by royals such as the princess Vidyunmala in Sharadindu Bandopadhyay's work of historical fiction, Tungabhadrar Teere. Did such a boat ever exist? Bhattacharyya points to a painting by Flemish marine painter and journeyman Frans Balthazar Solvyns as the only evidence.
This post first appeared on Scroll.in. We welcome your comments at ideas.india@qz.com.