Just over a year after its rival Christie's decided to stop holding live auctions in India, Sotheby's is gearing up to begin.
The world's oldest fine arts auctioneer will hold its inaugural Indian live auction in Mumbai in December 2018. Titled Boundless: Mumbai, the sale will be led by a painting by Tyeb Mehta, Durga Mahisasur Mardini, which depicts the goddess Durga defeating the buffalo demon Mahishasura. It was commissioned from the artist in 1993 and will be appearing on the market for the first time.
The live auction, which will include items specially curated for Indian collectors, is a step forward for the country's art market. Valued at Rs1,460 crore (around $219 million) in 2017, according to a recent KPMG-FICCI report (pdf), this market declined 6% year-on-year following demonetisation and the launch of the goods and services tax (GST). Under the latter, many artworks now fall under the 12% tax bracket, making them more expensive than before.
But with rising incomes and an ever increasing population of high net worth individuals, there's a lot of scope for growth in India. At the moment, the country's auction market is dominated by local house Saffronart and Christie's, which continues to play a key role through online auctions. So its new series of live auctions could help Sotheby's close the gap.
In an interview, Gaurav Bhatia, managing director of Sotheby's India, told Quartz about the resurgence in India's art market, and how its art infrastructure sorely needs to catch up. Edited excerpts:
Given that Christie's stopped live auctions in India last year, why is Sotheby's launching its this year?
Sotheby's has been involved in India for many, many years. We've had a long history of collecting in India, and we have an ever-growing client base here. In the past five years, the number of Indian participants across all Sotheby's global sales has almost doubled. Indian clients have spent in excess of $250 million in our auctions. It shows a certain robustness in the market. It's no longer about speculators, it's about genuine art collectors who buy art for the love of it.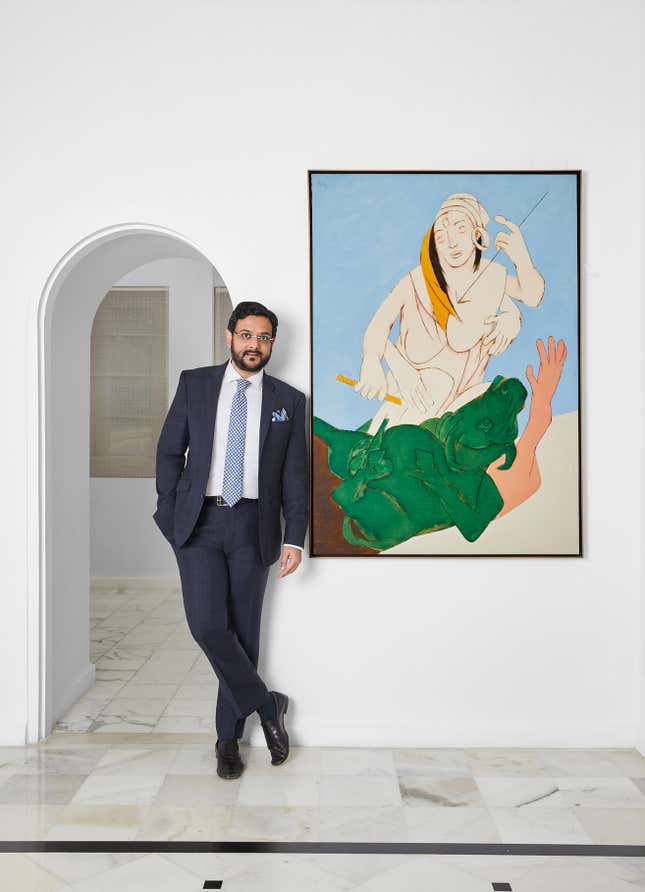 A recent report (pdf) said that 2017 wasn't a good year for India's art market. Are you seeing a recovery?
We're definitely seeing growth. The South Asian auction market itself was up 17% in 2017. It does show that despite the hiccups of demonetisation and GST, when blue-chip works come to the market, they do get grabbed. What really has helped, apart from the fact that private wealth has been continually increasing in India and newer collectors are coming in, is that the base is becoming stronger. That's because we have biennales, we have art fairs, private museums. I think these are all shaping the collectors' minds and giving them the kind of exposure they need. Also, Indian artists are being recognised internationally and institutionally, so that's really giving the Indian customer a lot of confidence.
Who are India's new generation of collectors? Who is Sotheby's targeting?
I think it's a very eclectic range of collectors; I think age is no longer a question. Today we have very, very young as well as established collectors. We have certainly tried to target them, giving them accessible auctions. Last year we had our first online auction of South Asian art with obviously much more affordable estimates; it was targeted at the younger bidders across the world. And the sales saw participation from over 11 countries.
So how does Sotheby's rate India's market in comparison to other countries? 
The Indian art market is relatively nascent. Auction houses only came here around 15 years ago. But I think our modern artists have achieved solid records in millions of dollars. I think we are definitely seeing that modern and classical Indian art (are) appreciating. We achieved a record for Bhupen Khakhar last year which was almost Rs10 crore. So, slowly, the market is going up; there's certainly a lot more engagement, and all of this leads to a strong market.
What are the hurdles to growth?
I think in terms of just the infrastructural base, we have the lowest number of museums in the country. The culture of going to a museum and engaging with art is far less than in a lot of western as well as Asian countries. While China has opened 3,000-plus state-owned museums and 500-plus private museums, we have fewer than 800—and if you ask me, not more than 10% are worth visiting. In our quest for double-digit GDP growth, are we really excluding cultural growth? I feel sometimes Indians hugely underestimate cultural capital.
That said, we're seeing a lot of private initiatives. We have a small number of citizens who are redefining the art space. Sunil Kant Munjal [joint managing director, Hero MotoCorp] has created this wonderful ecosystem of art in Goa called Serendipity; Sanjay Reddy [vice-chairman, GVK] has given his heart and his art to the Mumbai airport; the Jindals have adopted Hampi. So responsible citizens are now giving back, and one is seeing that change.