Half of India's bank accounts are, in fact, rarely used.
Around 48% of the country's bank accounts have seen no transactions in the last one year, the World Bank says in its Global Findex database report released last week. India has the world's highest share of inactive accounts, about twice the average of 25% for developing economies.
The reason may be the Narendra Modi government's flagship financial inclusion scheme, Pradhan Mantri Jan-Dhan Yojana (PMJDY), which aims to have a bank account for all Indians.
"Launched in August 2014, the programme (PMJDY) had brought an additional 310 million Indians into the formal banking system by March 2018, many of whom might not yet have had an opportunity to use their new account," the report says.
As of April 18, these additional PMJDY accounts had cumulative deposits of Rs81,002.64 crore.
Yet, about 66% of the inactive account holders in India have a mobile phone that can be used more efficiently as a banking channel. "This represents an opportunity for expanding the use of accounts through digital technology," the report adds.
Overall, only 36% of the account owners use their bank accounts to make or receive e-payments, it says.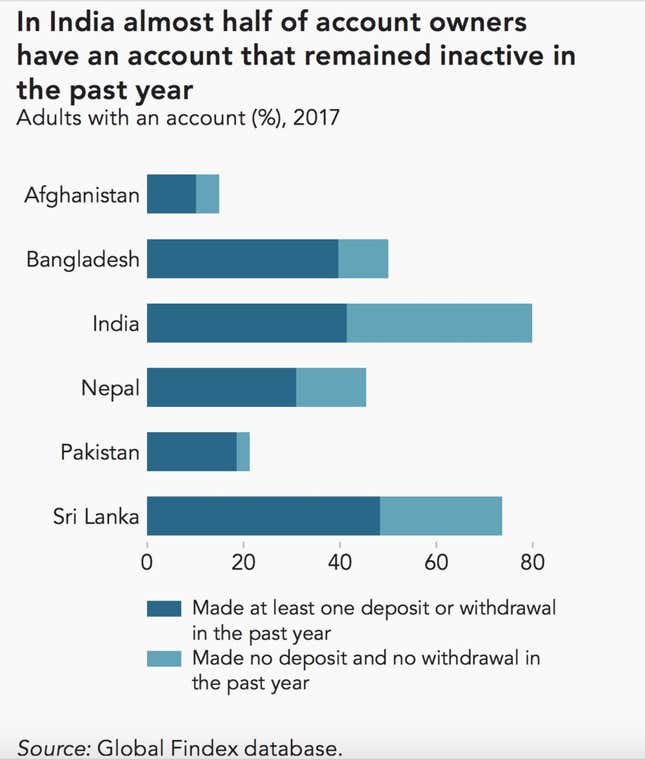 Meanwhile, the number of Indians joining formal banking has been increasingly steadily, with about 80% of them having an account in 2017 compared to 53% in 2014. The World Bank credits the government's controversial 12-digit unique identification number, or Aadhaar, for this growth.
"In India, where 90% of unbanked adults reported having proof of identity issued by the national government, recent research suggests that government-provided biometric identification cards were among the factors enabling a rapid decline in the number of adults without an account," the report said.
But despite the government's efforts, formal banking is still out of reach for 190 million Indians, the world's second-largest unbanked population behind China's.