In 2014, Gaurang Poddar landed a job at Ernst & Young (EY) in New York after graduating with a degree in mechanical engineering and business administration from Carnegie Mellon University.
Then the H-1B visa ground him down. The uncertainty in the timeline of securing the much sought-after visa and the procedural delays eventually forced him to return to India in mid-2015, although he had another 17 months left under his existing visa.
"I was afraid I'd get too comfortable earning a good salary, so it was better to quit while I still could get out," said Poddar, now 25.
After working at a few startups, Poddar teamed up with Mihir Modi, another H-1B reject, when setting up his own cryptocurrency startup in Mumbai. A 2016 graduate from New York University's Stern School of Business, Modi, too, had a job at EY in New York, but also headed back because of visa troubles.
"The H-1B visa application process had a direct correlation to the jobs one would look for, and whether or not the company would sponsor," 23-year-old Modi explained. "(At) NYU's career fair…more than half the companies were not open to speaking to international students, as they were not able to provide sponsorship."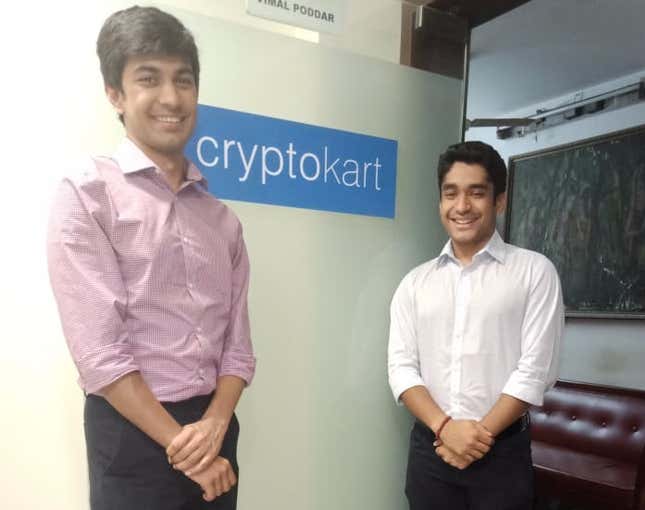 Poddar and Modi are among a clutch of highly qualified young talent from India steadily abandoning the great American dream, thanks to president Donald Trump's restrictive immigration policy. The decision is made easier by the rising entrepreneurial wave in India.
The number of US-based Indians seeking jobs back home grew more than 10-fold between December 2016 and March 2017, according to data from consulting firm Deloitte.
And it is not just the US. Countries including Australia, New Zealand, the UK, and even Singapore are slowly shutting their doors to immigrant talent.
But the scenario is bleak in the US as the Trump administration also plans to dump the International Entrepreneur Rule, which enables foreign-born entrepreneurs to build US-based businesses.
"The bottom line is: If we turn away immigrant entrepreneurs, we lose out on US innovation, job creation, and competitive advantage longer term," said Kate Mitchell, co-founder and partner at Scale Venture Partners and former chair of the National Venture Capital Association.
After all, first-generation immigrants create about 25% of new firms in the US, with the share exceeding 40% in states like California and New York, according to William Kerr of Harvard Business School (pdf). Most foreign-born entrepreneurs in the US have roots in India and even rank among the biggest job creators in that country.
The notable ones include Vinod Khosla, co-founder of Sun Microsystems (acquired by Oracle), Excelan's Kanwal Rekhi, and Hotmail founder Sabeer Bhatia. Jyoti Bansal's company AppDynamics, which was bought by Cisco for $3.7 billion in 2017, employs an 1,800-strong workforce of mostly Americans. Not to forget that two of the biggest tech firms, Google and Microsoft, are helmed by Sundar Pichai and Satya Nadella respectively.
It is now highly unlikely that the likes of Poddar and Modi would join this list anytime soon. Instead, they might end up following the career trajectory of Kunal Bahl, co-founder of Amazon-rival Snapdeal, who gave up his job at Microsoft and returned home, unable to get an H-1B visa in 2008.
Riding the startup wave
Back home, Modi was sure about one thing: not working with a big-name brand. He wanted to dive into India's booming entrepreneurial scene. "A startup allows one to really put one's own thinking into practice," he argued.
So Modi joined cryptocurrency startup Cryptokart, which was founded by Poddar and his father in 2017, as its business head. And despite the recent chaos following the crackdown by the Reserve Bank of India against such exchanges, their firm is optimistic and will continue with crypto-to-crypto dealings. In fact, they even have plans to expand outside India.
Others have also come back and prospered. Parag Agrawal, another Stern graduate, returned to India in late 2015 and ended up as vice president of marketing at Pune-based e-commerce startup RainCan, which sells fresh products such as milk, tender coconut, chaas (buttermilk), and dahi (yoghurt).
Agrawal didn't even apply for the H-1B; he always wanted to be part of the startup community. "And it was well established that no startup would sponsor an H-1B application," he told Quartz.
India's startup ecosystem is currently the world's third largest (pdf) in terms of the number of firms, employing around 100,000 people (pdf). Slated to remain one of the world's fastest-growing major economies for the next few years, the country is adding thousands of startups (pdf) each year, and foreign investing majors like Tiger Global, Softbank, and Alibaba are pumping millions of dollars into the ecosystem.
Poddar, Modi, or Agrawal may well return to the US for their graduate degrees someday, but settling down in America is no longer the plan.
"The opportunity and success we were all seeking in 2012 (when we started college) no longer lies in the West," Agrawal said. "I look at India as the new land of opportunity."