In 2006, the Melbourne-based documentary filmmaker Danny Ben-Moshe was given a newspaper clipping by his Indian research assistant. Spotted by the girl's father, who knew Ben-Moshe was Jewish, it was an obituary for a veteran Indian actress who had made her name playing the vamp in Bollywood movies of the 1950s and 1960s. Ben-Moshe was shocked to discover that the woman known by her stage name Nadira was born Florence Ezekiel in Israel, and that she was Jewish.
"I'd always known there were Indian Jews but I had no idea there was an Indian Jewish superstar," he recalled in a recent interview with Quartz.
Ben-Moshe had never watched a Bollywood movie before, but he knew that the lesser-known story of an Indian Jewish superstar would make for a fascinating film. So, he set out to India to do some research. Over the next 10 years, he would learn about a number of other forgotten Jewish stars, from Pramila to Rose Ezra to the pioneer who blazed a trail for them all: Sulochana, otherwise known as Ruby Myers.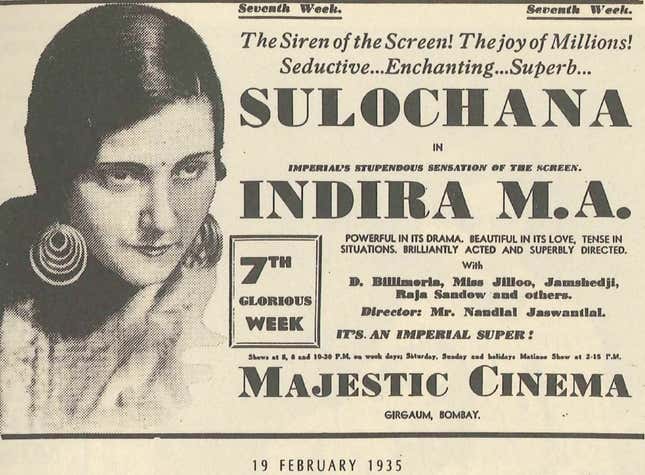 His documentary, Shalom Bollywood, came out in 2017, and it traces the rise of Jewish girls in the cinema industry at a time when most Indian women, notably Hindu and Muslim ones, couldn't even dream of being seen on the silver screen. Because of India's conservative culture, it was men who played women's roles in the early days of Bollywood.
But with the dawn of the silent era in the 1920s, things began to change as Sulochana become India's very first female superstar, known for movies such as Wildcat of Bombay, in which she played eight different roles, as well as for being among the first in the country to own a Rolls Royce.
Like Rose Ezra (popularly known as Miss Rose in the movies), who would also go on to become a star, Sulochana was from the cosmopolitan Baghdadi Jew community, which traced its history in India back to the late 18th century. Rose's cousin, Esther Abraham, would also join the industry, going by the more stage-friendly name of Pramila. In the 1930s and 1940s, these Jewish starlets would redefine Indian cinema, besides becoming the heart of the party scene.
Ben-Moshe's documentary shows how India's independence from British rule in 1947 marked the beginning of a golden era in the movies. The 1952 hit Aan introduced Indians to a new Jewish star, Nadira, who would go on to establish herself as the "quintessential vamp," the bad-girl foil to the docile heroine, decked up in a glamorous dress and smoking a cigarette. And the 1950s would also see the rise of Uncle David (David Abraham), a lawyer-turned-cinema legend who would act in over 100 movies. His breakthrough role was in the 1954 film Boot Polish, in which he played a handicapped Christian man who teaches two abandoned children how to earn a living by shining shoes.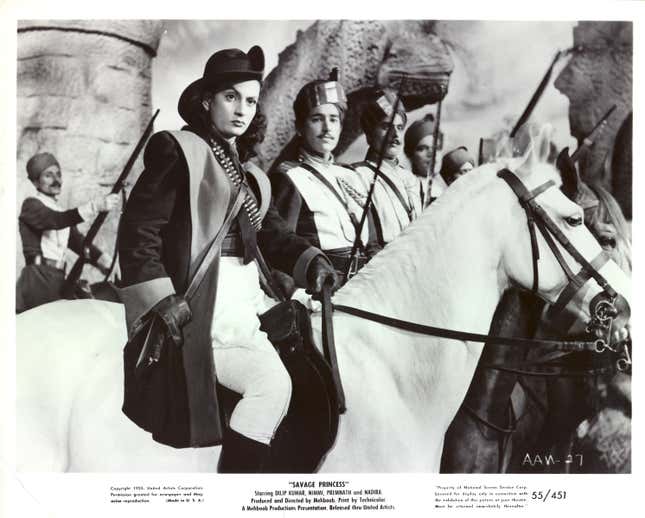 The stories of these improbable stars are told through conversations with their descendants scattered all over the world, including Pramila's son, the actor and screenwriter Haider Ali, and Rachel Reuben Cohen, Rose Ezra's granddaughter, who now works as a film editor. Ben-Moshe says it took years to track these relatives down, but the other struggle was finding archival footage of the Jewish stars' classic films.
"It was really a nightmare in terms of dealing with institutions in India," he said. "They either wouldn't help me or would want a bribe." He added that it took a long time to find out who had master copies of the films, and there were many that he wanted to get but simply couldn't.
Nevertheless, the documentary does feature some fascinating black and white clips from the golden era of Jewish stars in Bollywood. But it also explains how the good times came to an end in the 1960s and 1970s, as Bollywood became a more popular career choice among other Indian women. Now, there was a lot of competition, and the legendary Jewish starlets found themselves older and less in demand. The 1980s and 1990s were marked by the deaths of Sulochana and Rose, but by then they had been largely forgotten by the industry they helped transform. And the Jewish community itself had become tiny, as many emigrated away from India.
Today, there's hardly any trace of Bollywood's Jewish connection, a quirk of historical and cultural circumstance, as Ben-Moshe puts it, that couldn't possibly have happened at any other time or place. Modern-day Bollywood is now full of female superstars, but the era of Jewish ones is long gone. 
"I did look (if) was there anyone up and coming, (any) aspiring Jewish Bollywood star," Ben-Moshe said. "I didn't find anybody."