A few years ago, a fresh-out-of-college screen-writing graduate, Harshvardhan Kapoor, went to filmmaker Vikramaditya Motwane with a script. Motwane got other ideas, though. He asked the young man to give a screen test for his upcoming film Bhavesh Joshi, which is set to release today (June 01).
"He gave me four scenes to read and I loved them. I kind of went from being reluctant to auditioning to then wanting this to be my first film," said Kapoor, who had studied acting for a year within his four-year programme at the Chapman University in Orange County, California. However, the verdict on his audition was negative—he was still too raw, too inexperienced.
Meanwhile, there was another seed sprouting. Rakeysh Omprakash Mehra of Rang De Basanti fame offered Kapoor Mirzya. In December 2015, Kapoor proposed bringing Bhavesh Joshi back to life. "It took me over four years to convince him (Motwane) I was the right guy for the film," Kapoor said.
Quartz spoke to Kapoor about his fledgling career, his filmy family—veteran Anil Kapoor is his father and Sonam Kapoor his sister—and the future he imagines for himself. Below are edited excerpts from the conversation.
How did you get into acting?
During my undergrad, I took acting electives for two semesters. That's when I realised here is something I can do. I trained with theatre actor Alok Ulfat for three months. I trained with casting director Mukesh Chhabra also. Then eventually, I signed Mirzya.
Mirzya failed at the box office. What do you think went wrong?
What we were trying to do is reinvent the musical. I believe it has one of the best soundtracks in recent times. If you watch it as a student of films, there's a lot of brilliant elements in there. But they somehow didn't come together in a wholehearted way.
What did you take away from the experience? 
There's the process which nobody can take away from you, the learning, the skills that you acquired, that you got to work with an an Oscar-winning writer and a BAFTA-nominated director in your first film.
Only 10 films a year work, but I don't believe that the rest of the films are not good.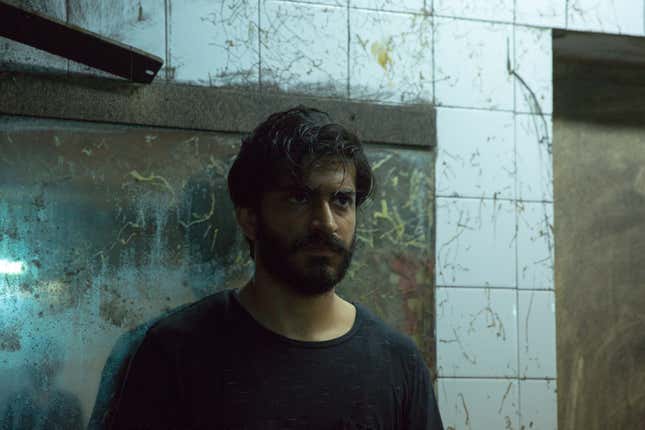 How important is it for you that Bhavesh Joshi does well at the box office?
Bhavesh Joshi could be a genre-breaker because we're used to seeing larger-than-life superheroes. This is a realistic Vikramaditya Motwane-Anurag Kashyap-style neo-noir drama.
The (box office) numbers, for everybody, mean different things. For my father, where he's had so many successes and failures, it doesn't really affect him. Amitabh Bachchan is at that point. Then there are some people that only want numbers…they like that kind of massy cinema.
I'll tell you why I need numbers. If Bhavesh Joshi does decently, it liberates me to sign two or three more films that are very much in my hemisphere.
In what way have things changed from when your father began his career to when you started out?
He wanted to kind of build an empire for the family. It was about survival and stuff. I think my father's time was very different. I think audiences are not as forgiving today.
Do your sensibilities align with your father's when it comes to picking scripts?
When he read the script of Mirzya, he was very scared because he said it's too abstract. But I was too passionate about it. Bhavesh Joshi I told him I want to do before Mirzya released. He said don't do it, wait for Mirzya to release. Thank god I didn't listen to him. It's like a constant battle in a way.
Do your sisters Rhea and Sonam guide your decisions in any way?
Sonam is in her own world, and she's done all kinds of films. But I also think it's easier sometimes for a heroine to fit in a lot of films…for example, a Padman is not driven by her, right? So she doesn't have to be there for a 100 days. Heroines can be more free. For me now, the whole film will hinge on my shoulders…So, I don't really take advice from her.
Rhea's a producer. She has more marketing feedback as opposed to creative feedback with script and stuff. Our films (Bhavesh Joshi and Veere di Wedding) are releasing on the same day, so she's too busy and she couldn't help us.
What's the one thing you don't like to do to market a film?
What I don't like is going on reality television shows. We all can't be reduced to this to sell our films. Maybe for a big Rs80 crore or Rs100 crore film with like a Salman Khan or a Shah Rukh (Khan), it makes sense.
So what's the fix?
Let's find innovative ways. Let's reach out to young kids on digital. I'm saying you can't market every film in the same way. I mean it's 2018.
Who has gone successfully against the grain?
Farhan Akhtar did it with Rock On. He did it with Bhaag Milkha Bhaag. He tried with Karthik Calling Karthik. So I really appreciate that guy. Aamir Khan has done it at a much larger scale because he's such a star.
Do you see yourself treading the same path?
All of us put together, we can create those films, but how do you convince people to buy the tickets? It will just happen over a period of time because what I'm doing does not lend itself to overnight success.