Mumbai is bracing for its annual tryst with the monsoon—and indications are that it could relive the catastrophic 2005 flooding this weekend.
On June 06, the India Meteorological Department (IMD) warned that India's financial capital will receive "extremely heavy" rainfall between June 09 and June 11, and asked residents to avoid the outdoors on those three days. IMD isn't the only forecaster making that call.
Earlier this week, private weather forecaster Skymet, too, warned that the city could witness the worst rains since July 2005 when rainfall of over 900mm was recorded in a single day. That deluge caused deadly flooding and landslides that claimed the lives of hundreds of people.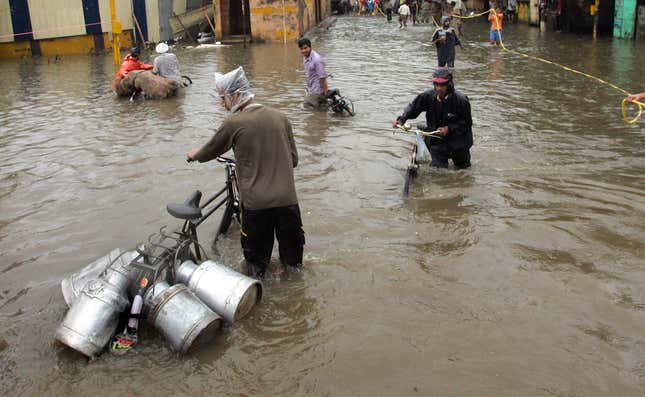 "That time, rainfall was more than 900mm in 24 hours. This time, (an) almost similar amount will be there but it will be distributed in five days from June 08 to 12," Mahesh Palawat, Skymet's chief meteorologist, told Quartz. "There will be on-and-off showers, it will not be a continuous affair."
He explained that this year's heavy rains are the result of a low pressure system expected to develop over the Bay of Bengal, which will combine with cyclonic circulations over the Konkan coast, Goa, and Andhra Pradesh.
Every year, the monsoon rains bring Mumbai to a standstill. The city's inefficient drainage system is simply no match for the downpour, leaving several areas of the city severely water-logged and flooded. Because of this, thousands are usually left stranded when it rains heavily, turning railway stations and even arterial roads into filthy swimming pools. The death toll often mounts by the day as residents risk being washed away or losing their lives in landslides.
This year promises to be no different: Palawat says that, as usual, the city will be flooded and local trains and buses will be stalled.
Many residents have routinely expressed their frustration with the civic authorities' lack of preparation for the annual turn of events. However, this year, the Hindustan Times newspaper's monsoon audit showed that the Brihanmumbai Municipal Corporation's efforts have improved, with some work being done to unclog drains and repair the pot-holed roads.
The city is still far from safe, though. For the fact remains that Mumbai is by design vulnerable to extreme weather. Rampant construction, ignoring the city's natural drainage systems, and large land reclamation projects have put it especially at risk. And it only gets worse every year.