Northeast India is inundated, again.
Over the past few days, floods have hit several states, claiming the lives of at least 25 people and displacing hundreds of thousands of hapless citizens.
In Assam, the biggest state in the region, the deluge has reportedly affected nearly 550,000 people (pdf). Due to the heavy downpour, many roads and bridges have already been damaged, even as the Brahmaputra river, which flows through the state, has been inching towards the danger level.
The neighbouring states of Manipur and Tripura have also been affected, with flooding forcing thousands into relief camps. However, the situation is said to be improving in these states, with river levels slowly receding.
In recent years, deadly floods have become almost an annual occurrence in Assam. Last year, three waves of floods claimed the lives of at least 84 people and displaced thousands. Most parts of the Kaziranga National Park also went under water, drowning over 100 animals, including seven rare rhinos. The state witnessed deadly floods in 2016 and 2012, too.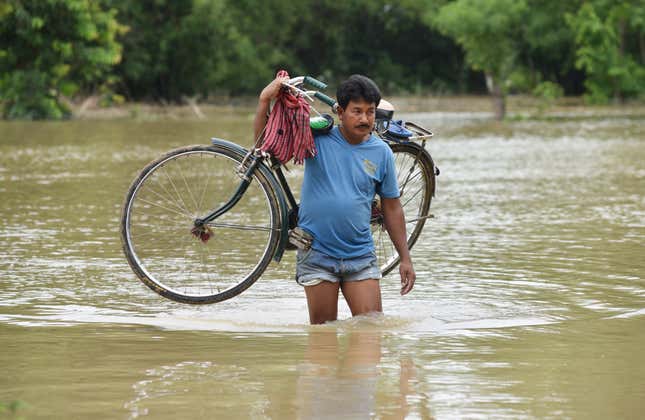 The damages suffered by Assam due to flooding every year are a staggering Rs128 crore ($19 million) on average, with around 2.6 million people being affected, according to data from the Central Water Commission.
Though rainfall is partly to blame, experts have argued that the situation is aggravated by human intervention. The flooding itself is primarily caused by breaches in Assam's embankments which are reportedly in dire need of reinforcement. But the construction of many dams and rampant encroachment of river banks and wetlands, besides a lack of proper drainage, make things worse.
Government action has for long been restricted to providing post-flood relief. Some 62 schemes prepared by the state water resources department to address flooding have been pending with the central government for years, according to The Assam Tribune newspaper.
So, every year, thousands are forced to move into relief camps. This year is no different.
Private weather forecaster Skymet expects heavy rainfall to continue over the coming days. As before, though, the ordeal isn't likely to be restricted to flooding alone. In its aftermath comes the spread of diseases like malaria and Japanese encephalitis. With woeful health care facilities in the region, people are all the more vulnerable.