India has the world's second-largest internet population. It is also the biggest smartphone market after China. However, its internet users are a tiny sliver of its 1.3 billion people.
India, along with Tanzania, featured at the bottom of a ranking of the internet usage-to-population ratio, Pew Research Center's recent findings show. In both countries, just one in four adults accessed the web. In comparison, South Korea, the most heavily connected society, has 96% of adults using the internet.
Pew's results are based on interviews conducted in 38 countries between March and April 2017. The sample size in each country was around 1,000.
Another measure of internet penetration is smartphone-ownership. India stood last in line on this metric, too, with just 22% of its adult citizens owning such devices, according to Pew.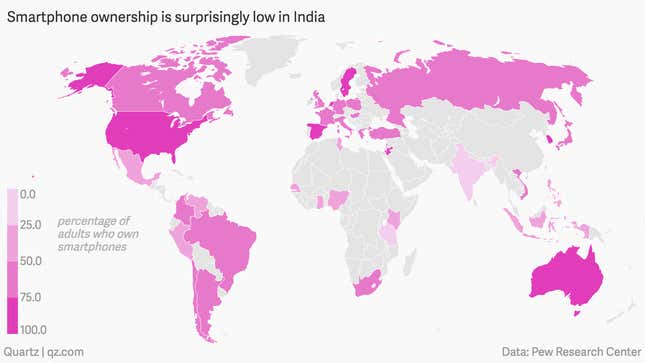 And it doesn't help that smartphone adoption in India has also stalled.
In the first quarter of 2018, smartphone sales plateaued while those of feature phones doubled, Counterpoint Research data show. However, this doesn't necessarily mean people lack web access. The recent proliferation of cost-effective 4G-enabled feature phones in India is likely bringing more people online.
However, the country's overall internet penetration nearly plateaued between 2017 and the year prior. And despite the upward climb of social-media users in the country, just one in five Indian adults use the likes of Facebook and Twitter, the Pew data revealed.
Weak numbers are just one of the shortcomings as far as internet penetration in India is concerned. It is also rife with inequalities. Not surprisingly, younger and more educated Indians make up for most of the user base, Pew found, while women are being left behind. "Men are at least 10 percentage points more likely than women to own smartphones in India, Mexico, Ghana, Kenya, Chile and Hungary," Pew researchers Jacob Poushter, Caldwell Bishop, and Hanyu Chwe wrote.