It has been a wretched year for Indian banks with a string of high-profile frauds.
In fiscal 2018, they registered over 6,000 cases of fraud, leading to a total loss of more than Rs30,000 crore ($4.37 billion), according to the financial stability report (FSR) released by the Reserve Bank of India (RBI) on June 26.
In the previous financial year (2017), banks reported 12,533 cases of fraud leading to losses of Rs18,170 crore, according to a report by Institutional Investor Advisory Services, a proxy advisory firm. The previous FSR didn't specify year-wise losses caused by frauds.
India's public sector banks (PSBs) in the eye of the storm accounted for over 85% of the frauds, although they only disbursed 65% of the total loans. This is despite the fact that both private banks and the government-owned banks need to follow the same benchmark to prevent frauds.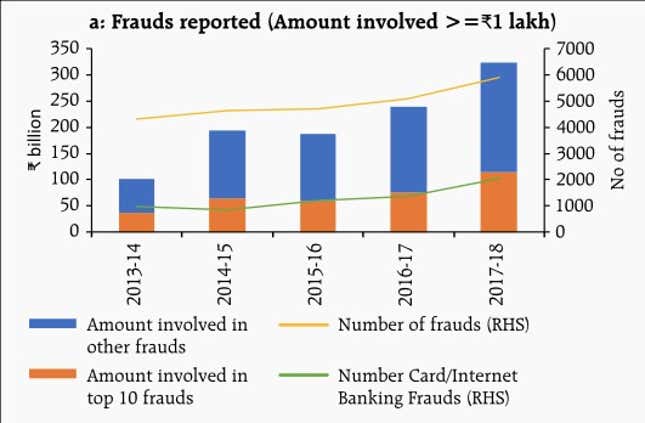 In February, India's largest banking scam of nearly $2 billion was unearthed at Punjab National Bank, the country's second-largest PSB. Two diamantaires, Nirav Modi and Mehul Choksi, allegedly in collaboration with some bankers, had defrauded the lender for over seven years.
The list of other high-profile fraudsters includes the owners of Rotomac Global, manufacturers of a popular brand of ball-point pens, who were arrested for duping seven different banks of over Rs3,700 crore. Simbaholi Sugars, one of India's largest sugar refineries has also been accused of siphoning off over Rs100 crore. Also featured is C Sivasankaran, former promoter of telecom firm Aircel, who, along with 15 other bank officials, has been booked by investigative agencies for duping another PSB of over Rs600 crore.
Besides, there has also been a significant uptick in card and internet-related frauds, the RBI noted, without specifying a number.