A 40-year-old Indian movie production house is challenging the world's largest video streaming platforms, Amazon Prime Video and Netflix, with more local content than the two American players together host currently.
The on-demand platform of Mumbai-based Eros International has already amassed a library of over 11,000 film titles in India, the biggest such share of OTT (over-the-top) movie content. This year, Eros Now will spend at least $50 million on producing originals, from films to episodic content to short-film material, CEO Rishika Lulla Singh told Quartz in an interview in May.
The company now has 100 million subscribers. Of these, eight million are paid users, which the company plans to increase to 16 million by the end of March 2019.
Below are edited excerpts from Quartz's conversation with Singh and the company's chief operating officer (COO) Ali Hussein.
How has the jump from films to the digital space been for Eros so far?
Singh: Technology is in the DNA of Eros. Basic things that seem antiquated today—video, VHS, DVD—we pioneered those. Since we launched Eros Now in 2012, we were clear that this is the way forward and we have what it takes to make this a success, purely because of the market share we hold of actual releases—it's a minimum of 30% over the last five years. You can't compete with the library size of what Eros and Eros Now have.
How has Eros's film production background helped in making web content?
Hussein: OTT platforms don't produce content internally. They are working with producers and external teams. That's where our background helps. Historically, we've been working very closely with the fraternity.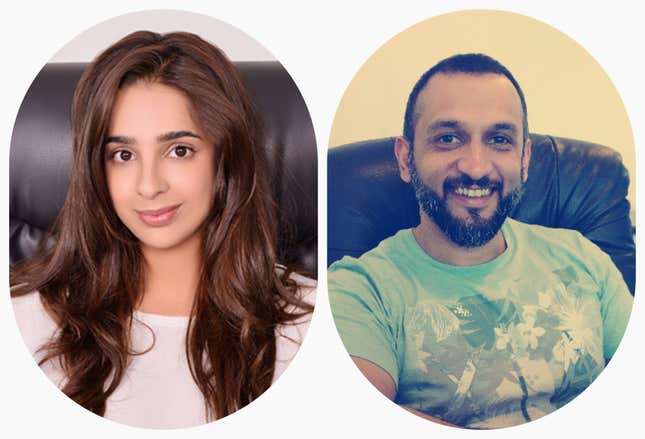 How difficult has it been to get big stars on board for online content?
Singh: Producing a web series from a talent perspective was viewed as "It's like making for television, my prestige factor goes down." We've seen that change.
From an industry standpoint, footfalls in theatres are declining and the quality of content on digital platforms has drastically improved. Talent in this country is intelligent. You don't need to explain that to them. They understand.
TV mogul Ekta Kapoor said films are for communal viewing and the web is for individual viewing. Being a film giant first, do you agree?
Singh: Why do people say it's individual? What stops you from viewing content on our platform on TV in a family setting? It does become individualistic when you have a slightly more colourful content bucket that people are more afraid to watch in public settings. We're conscious that there is a young India and then there's India. You have to make sure that your content is catering to everyone. Only 7% of our library is in English; 66% is in Hindi. Between 30% and 35% is regional.
Netflix is often criticised for being pricey. What is your approach to pricing?
Singh: The free model allows access to basic content like trailers and short films. For Rs50 per month, users can access the entire content library but with no functionality. Full-blown functionality, like offline downloads, subtitles, and high-definition viewing comes in the Rs100 per month bouquet.
How do you measure success on the web?
Hussein: We have different shades of programming. For instance, if we launch a song from an upcoming Eros movie, it brings us a significant amount of organic traffic, which then seeds into our web programming. Online content can't be measured apple-to-apple to movie tickets. But because we're an OTT player, content has a shelf life. There's an amortisation. Customers stick on to the platform and pay for it over a period of time.
With so much competition in the space, what sets you apart?
Singh: What we're doing is what HBO did for America in terms of providing that quality of content. What they did with Game of Thrones changed the game completely. We're not scared of experimenting or failing. We've canned a bunch of web series because they were not up to the mark.
Hussein: You see a lot of global solutions available today. Even Indian companies are relying on third parties to design their tech. We do everything in-house. We want to immerse ourselves and understand the tech and customers instead of being at an arm's distance.
Will that be enough to come out on top?
Singh: This country has seen many changes in terms of connectivity—of barely being 3G to jumping onto 4G. Things like demonetisation have begun to address the payments issue. I think it's just a case of who emerges and holds ground over the next few years.
There's a huge pie and there's enough for everyone. Our USP is film and entertainment and that is where we sit strongest in terms of library sizes. Hotstar is very event-focused, and it has the HBO alliance. Voot is an extension of what's happening on television, dressed up in a kid's outfit. Our directions and sensibilities are completely different.
Hussein: And if you look at TV, we've got four or five large general entertainment channels coexisting. As this space grows, we'll find ways to identify our niches and coexist, too.
What challenges still stand in your way?
Singh: We can't make quality content quick enough. Digital consumers have an insatiable appetite. The challenge is how do you make someone feel full?
Hussein: Piracy is an important one we need to figure out.