In 1956, a young graduate of Mumbai's JJ School of Art walked into Air India's art department and asked if the company would buy some of her paintings of Indian women. The officials there agreed. The artworks were eventually printed on the menu cards given out to passengers. They would even go on to decorate the airline's booking office in London, a trend that spread to its outposts across the world.
The artist was the now well-known B Prabha, and the purchase of her paintings marked the beginning of Air India's illustrious years of art collecting. The resulting treasure, possibly worth millions of dollars today, includes the works of legends such as MF Husain and VS Gaitonde, making it one of India's most important art collections.
But that's not all: Between 1956 and the mid-2000s, the company also acquired scores of textiles, sculptures, wooden carvings, glass paintings, and other objects—all of which it used to present India to the world as a society steeped in culture.
"At that time, Air India was one of the few airlines from this part of the world," said Uttara Parikh, who spent over 30 years at the company after joining its advertising department in 1967. With stiff competition from biggies like American Airlines, it needed to find a way to stand out. It zeroed in on heritage. "The way we could be different and what nobody could copy was to be Indian. So Indian art became a vehicle for promoting our Indian-ness," she explained.
The process became more organised by 1960 when the company allocated a budget for purchasing art and began maintaining a detailed, handwritten register of all the items it owned. As Air India grew, it sent paintings by Indian artists to hang behind the counters at its proliferating booking offices around the world. Sometimes, it would even send over the artists themselves to paint murals there, and offered flight tickets in exchange for paintings.
Those were the glory days, when the airline was known for its spectacular service under the watchful eye of founder JRD Tata. Perhaps the most talked about sign of the times were the wacky ashtrays it commissioned from surrealist master Salvador Dali, which it gifted to a few hundred lucky first-class passengers. The unique design of the artefact, reportedly inspired by the magic of India, featured a round porcelain shell surrounded by a serpent and supported by an elephant on one side and a swan on the other. In return, Dali is said to have asked for a baby elephant, which Air India flew to Europe, along with a mahout, from Bangalore (now Bengaluru).
Sadly, the good times didn't last. By the 2000s, the company's finances had taken a beating, and losses were mounting. Today, over a decade after it was merged with Indian Airlines, the national carrier is drowning in debt and the government is scrambling to find a buyer. In all this confusion, the fate of the company's historic art collection is up in the air, though as recently as last year, plans were underway to establish an Air India museum.
What happened to the museum?
In 2016, before the Narendra Modi government embarked on its privatisation plan, Air India was letting out office space in its iconic Nariman Point skyscraper to raise funds. So the company tapped both Parikh (now retired) and art historian Meera Dass to assist in safely moving its artwork from the 18th floor to the first. Together, they worked to classify and cross-check each and every piece, but Dass soon realised that the modern artworks were only the tip of the iceberg.
"The Air India collection is not just a 100 pieces of the finest artists' paintings. There is of course oil on canvas and acrylic on canvas, but the story doesn't end there," she told Quartz. There are also calendars, posters, and diaries featuring the work of iconic Indian artists and photographers of the 1950s, 1960s, and 1970s, not to mention an enormous collection of rare textiles. "Every piece has a story behind it," she said. For example, the airline still has a collection of sketches made exclusively for it by renowned Goan cartoonist Mario Miranda.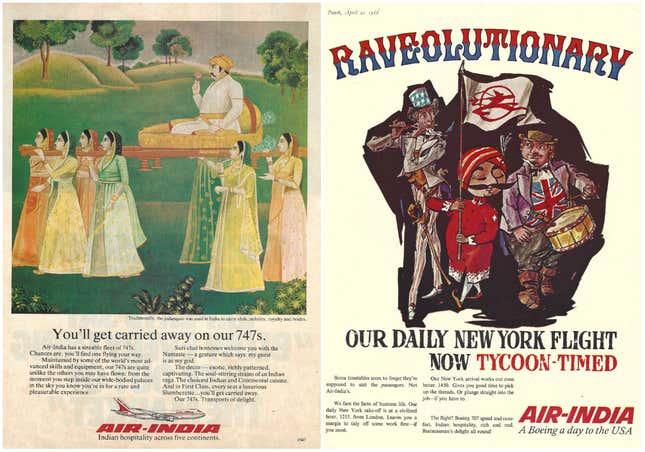 So it was decided that all this valuable material deserved a museum of its own. It was to be located over 20,000 square feet on the first floor of the Nariman Point building, and a tender was even issued in 2017. Dass and Parikh helped the company put together a plan, organising all its material by theme and sourcing funds from the ministry of culture.
But as 2018 rolled in, the tide turned. Air India's managing director changed and the Indian government's plans to privatise it were in full swing, stalling the eagerly-anticipated museum.
Meanwhile, stories had spread about the collection being in a bad shape after a Jatin Das painting commissioned in 1991 was found to be stolen by a former employee. Das had complained that his work was found on the open market, but when the painting was eventually returned it was reportedly in "torn condition." Other artists like Anjolie Ela Menon also said their work had been mishandled and even lost over the years.
All this was a sign of how much things had changed at the legendary institution.
"Air India in the past had given me free tickets to hold exhibitions abroad. Many things they had supported for many artists, but that culture has gone," Das told Quartz. "Once I asked them to give me a list of my works. Another large work, where is it? They don't know where it is. Then they say, send an email, (it) could have been burnt off in the terrorist attack! Like it's a cup of tea they're talking about." (Air India's Nariman Point office was one of the targets of the 1993 Mumbai serial blasts.)
However, Dass and Parikh maintain that Air India's collection is meticulously packed and recorded. The company, Parikh says, has two huge registers dating back to the 1960s with details of each and every item, including the date it was bought, the cost, the name of the artist, and where it was sent. Many of them have also been photographed as part of the record, she added.
"There is conservation work required, there is cleaning required because the paintings are 60 years old. (But) by and large, the paintings are well-kept," Dass said. 
However, their fate is uncertain now. Despite repeated attempts, Quartz was unable to get a response from Air India's communications team and managing director.
What lies ahead?
At the moment, the collection is stored in the Nariman Point building, located in a neighbourhood that's just been named a UNESCO World Heritage Site. The government may reportedly sell the iconic structure itself, which further reduces the possibility of a museum there. Earlier this month, the Press Trust of India reported that Air India is in talks with the ministry of culture to hand the collection over to the state-run National Gallery of Modern Art, which has outposts in cities like New Delhi, Mumbai, and Bengaluru.
But that's hardly the ideal situation, according to Parikh.
"When you look at all the various branches of the collection, it's so impressive all together. I'm afraid once you start distributing it…that Air India identity is going to get fragmented," she said. 
Ultimately, it is about much more than just priceless paintings. It's the story of a legendary company and its lost aesthetic sensibility. It's also a big part of the story of post-Independence India itself, Dass says.
"What it deserves is an entire first floor to display all the wares. This is the minimum I think the country can do for it," she said. "Air India's story deserves to be narrated as Air India's story in its totality."
Feature and inline images courtesy airindiacollector.com.