Beyond investing billions of dollars in its own India arm, Amazon seems to have other plans for the country, too.
On July 30, Gurugram-based mobility startup Shuttl said it had raised $11 million (Rs75 crore) in a funding round. Amazon Alexa Fund, the Jeff Bezos-led firm's $100 million venture capital arm that invests in voice-technology companies, led the round which also had Japan's Dentsu Ventures as a participant.
Shuttl is an app that allows commuters to book seats in shuttle buses.
This investment comes after the Seattle-based retail major, earlier this year, plowed money into Bengaluru-based lending platform Capital Float and Mumbai-headquartered digital insurance firm Acko.
Investments in companies, which do not directly align with Amazon's core business, hint that the American giant wants to go beyond just online retail in India.
"Almost all investors, whether institutional or strategic, are investing in ecosystems and not merely companies. Softbank is doing it, Alibaba is doing it, Flipkart-Walmart is doing it. Ola, Uber, Oyo, Airbnb are doing it," said Ankur Nigam, a partner at management consulting firm KPMG. "In a market that is significantly price-elastic, that's the only way to make sure that there's a path to profitability where you can see margins from a variety of linked businesses."
Shuttl's plans
Shuttl co-founders Amit Singh and Deepanshu Malviya have known each other since 2012 when they started working together at e-commerce site Jabong. In 2014, the Indian Institute of Technology Delhi, grads quit the company to found their own startup. However, their ventures—a mobile content platform and app for inter-city cabs—did not take off.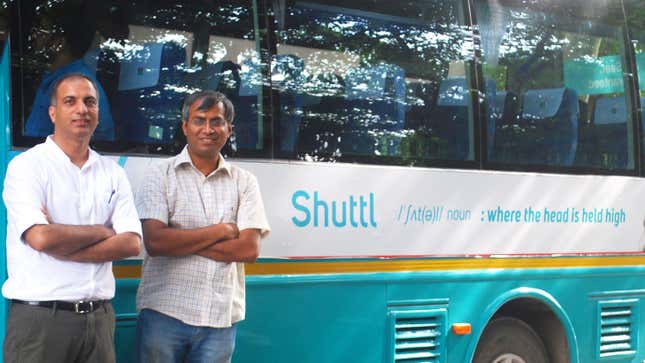 The Shuttl app was launched in April 2015 when shared ride-hailing like UberPool and OlaShare had not even started out. The business, which began with two rented Toyota Innovas, quickly shifted to bigger buses as demand grew.
In June 2015, Shuttl raised $3 million from Sequoia Capital. Six months later, other marquee investors like Lightspeed Ventures and Times Internet joined Sequoia for a $20 million funding round.
"The (other) options we have today are over-priced or over-crowded," Singh said, referring to cabs, cars and public buses. "At Shuttl, we are trying to reduce congestion in cities via a seat-based smart bus option. We're also taking women's safety very seriously."
Currently, the company covers 150 routes and operates a fleet of 800 buses, serving 45,000 rides daily in Delhi-NCR, Kolkata, and Pune. Shuttl has around 200 employees, of which nearly half are in engineering roles. With the newly-infused funds, the company is looking to double its engineering team size over the next six months.
So far, Shuttl has been relying on hyperlocal awareness drives and ads on its own buses to grow its business. But going forward, it plans to spend on marketing—offline as well as online—to grow its business faster.
Geographical expansion is on the cards, too, Singh said, without sharing details.
Shuttl's service for office-goers mirrors Amazon's commute plans for its employees back home. "There is talk of Amazon taking Amazon Ride, its shared shuttle service launched in Seattle to multiple different locations," said Sandeep Murthy, partner at VC firm Lightbox. "Shuttl would make a natural partner in that alliance."
In fact, analysts expect a sea of opportunities for Amazon beyond just shared mobility.
What drives Amazon
Amazon's investment is perhaps an attempt to spread itself across the booming Indian market.
Although the company's core competency is selling products, it is also heavily involved in distribution, logistics, warehousing, and so on. "Transport sits right in there," said Yugal Joshi, vice-president at consulting and research firm Everest Group.
"I think Shuttl can be a crowd-sourced platform for Amazon to deliver its products to customers" by giving passengers a discount if they are willing to carry an Amazon packet or by leveraging algorithms so one passenger can deliver to another in the bus, Joshi said. Amazon already ties up with local kirana stores as well as entrepreneurs and home-makers to make deliveries.
It could also leverage the downtime that commuters have on buses to lure more users towards its media business. "For example, it could use the free wifi on the bus to let users watch Prime videos and show them ads," said Anindya Ghose, the Heinz Riehl professor of business at New York University's Stern school of business.
For India's young demographic, videos are often the first introduction to Amazon and then they start shopping on the portal, too, Akshay Sahi, India's Amazon Prime head, had told Quartz in an interview last month.
KPMG's Nigam outlines some other potential synergies between Shuttl and Amazon:
Voice-recognition tech: Shuttl uses voice recognition technology called "Chirp," which verifies passengers by sending a sound from their mobile phones to the driver's version of its app. This may be potentially useful to Amazon's voice-assistant Alexa since it's a natural extension of its business model

Amazon Pantry: The average person who takes a Shuttl to work and back has high likelihood that his or her day is fairly predictable. Given this routine, Amazon can easily allow customers to place an order in the morning and deliver the groceries at the bus in which the customer is expected to travel in evening. It helps avoid the hassle of making a trip to the supermarket and enables a doorstep-delivery of sorts without the customer having to be at home for the goods.