By the age of 17, Malini Agarwal had enjoyed most of the perks of being a "diplo-brat."
As the daughter of an Indian diplomat, the Allahabad-born had lived in relative luxury, travelling all over the world from Somalia to Lebanon and Greece to the Ivory Coast. Settling in New Delhi in the mid-1990s, she eased her way into college-level dancing and was soon scouted to tour the country with the biggest pop stars of India.
"I remember thinking I never want to stop dancing, it's the best thing ever," Agarwal, now 41, told Quartz. "But then my mother said…you can't do this forever. Do you want to get a real job?"
That was 24 years ago.
On Aug. 28, her lifestyle and entertainment content platform, MissMalini Entertainment, raised Rs10.4 crore ($1.5 million) from Orios Venture Partners and New Enterprise Associates (NEA). The money will be pumped in to expand content, technology, analytics, and sales operations at the firm. It will also be used to launch products in vernacular languages.
MissMalini was among India's first digital media houses, and is the go-to destination for all things Bollywood and fashion. It reaches over 40 million people each month across its multiple properties. Agarwal is counted among the most influential women in Indian media and even made the Fortune India's 40 Under 40 and GQ 50 Most Influential Young Indians lists.
Today, MissMalini.com alone receives between three and four million unique visitors a month. Some 30% of its readers are non-resident Indians from the UK, the US, Canada, Australia, and South Africa. Over two-thirds of its readers are women.
"MissMalini has been at the centre-stage of this transformation (of digital entertainment) from the very beginning, enabling Malini and her team to understand the pulse of her readers—creating and curating content in the most consumable manner," said Rehan Yar Khan, managing partner at Orios.
From a team of two a decade ago, the firm now has 75 employees, predominantly women, especially at the mid and senior levels. For Agarwal, a self-made woman entrepreneur, empowering women around her has been a top priority.
Dreaming big
After completing her A-levels from the British School in New Delhi, attending Delhi University's Maitreyi College, and gallivanting around the country with pop singers like Anamika and Shibani Kashyap, Agarwal's first brush with a real job came in 1998 at a website in India's capital.
There she wrote a daily primer for the city—stuff like what's happening around the place and where to eat.
In 2000, Agarwal visited a friend in Mumbai and instantly fell in love with the city. Soon she moved there with Rs40,000 ($568) in her bank account, sharing an apartment with six girls—and a pigeon—for Rs625 a month.
After working as a copywriter at an ad agency, Agarwal moved to write for Mid-day's lifestyle section and then headed MTV India's romance and sexuality section. By 2004, she was juggling a radio gig from midnight to 4am alongside this nine to five job; she switched media fully a short while later, joining Radio Go 92.5 FM.
On the side, Agarwal wrote a popular gossip column for Mid-day called Mumbai 24 with Malini. That gave her a lot of heartburn, though.
"I feel annoyed when I write my column and it gets edited so much," Agarwal remembers telling her friend who, in turn, suggested that she write her own blog. So, with a membership costing roughly $10 a month, Agarwal set up a WordPress Account in 2009.
Miss Malini was born.
Miss Malini
In the west, the likes of Perez Hilton and TMZ were already famous, covering showbiz.
However, the digital boom that made them big names was yet to arrive full-throttle in India.
Agarwal, meanwhile, was determined that her blog serve as a window to the world of young Indians. From celebrity gossip to fashion tips to city happenings, MissMalini.com touched upon a wide variety of topics, intending to reach women across all age groups.
The effervescent anime logo for the website was meant to represent the "missing piece for the millennial" in Indian media, "something between Chhota Bheem and Amitabh Bachchan," she said.
Many of her early assignments were a kind of barter. The One Drop Foundation in the US sent her a camera for writing about saving water. A denim brand flew her to Delhi and gave her a pair of jeans on the condition that she'd review them. "At the time, there were no bloggers in India so I guess I'd pop up," Agarwal said.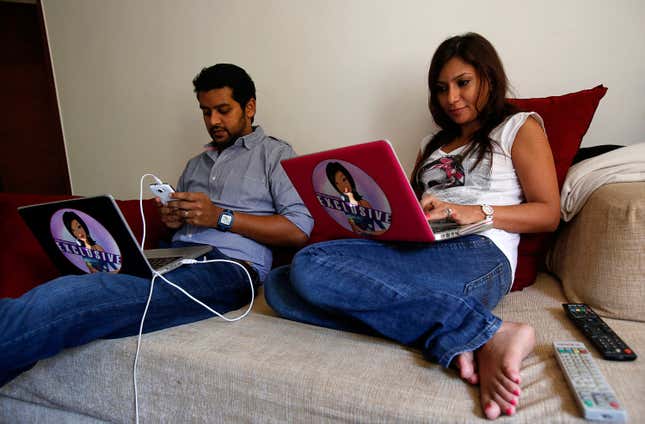 In 2011, Agarwal went full-time.
Her co-founder, Mike Melli, began handling her business and Nowshad Rizwanullah (now her husband) became CEO. The next year, guest contributors came onboard. Social media began taking off and the company started making content specifically for these channels.
Agarwal even published a book, titled To the Moon, about her journey.
After 2010, when the buzz around internet companies was picking up, Miss Malini raised a small seed funding round led by Rajan Anandan of Google India. Though she didn't disclose the exact amount, she said, "We survived on that small round, maybe worth about a crore (rupees), being profitable for all these years."
Last year, they raised another $1.7 million from NEA, among others.
Diversity is key
Agarwal, however, has been careful not to put all her eggs in one basket and has diversified.
Besides banner ads and sponsored content on the website, her ad agency has also produced videos for firms like online furniture retailer Pepperfry and commercials for music-streaming app Saavn. Her production company has made five episodic series for TLC,  VH1, and Zoom.
The flagship site, too, has evolved over the years. "I can't say I didn't ever write gossip or blind items, but we're careful now," Agarwal, recounting the furore that followed the website inadvertently look-shaming Tamil movie star Rajinikanth by releasing photos of him without his wig. "Ripping people apart for one clickbait story is not OK. That's what killed Princess Diana."