The work culture at India's large corporates, especially in the technology industry, has often been criticised for being toxic and demoralising.
It's particularly hard for the junior employees, whose concerns often go unheard. "They lack vision, will throw you under the bus if things go south, lack mentorship skills and are (sic) will preach BS philosophies that will take you nowhere," one Amazon employee said about Indian managers on Blind, an anonymous social network for professionals.
But times are changing.
In recent years, Indian firms have taken a "360-degree" approach to gathering feedback on employees. This means that instead of the age-old practice of seniors reviewing juniors, now even subordinates are encouraged to give feedback on their managers.
Already, companies like electronics major Havells, the consumer goods major Hindustan Unilever, and the State Bank of India have adopted such systems. Now, India's $150 billion IT outsourcing industry is starting to take a leaf out of their book, and even taking the practice a notch higher.
For instance, the country's second-largest IT services company, Infosys, has developed a digital crowdsourcing platform called Manager Quotient (MaQ) to collect feedback on managers in order to hold them more accountable and make life smoother for lower-level staff.
Using an online platform betters the "frequency, ease, and measurement of this feedback," said Kamal Dutta, managing director, India, for the US-based online learning platform Skillsoft.
Managing managers
The brainchild of Nandini S, senior vice president and group head of organisation development, human resources, at Infosys, MaQ helps managers self-evaluate on an on-going basis.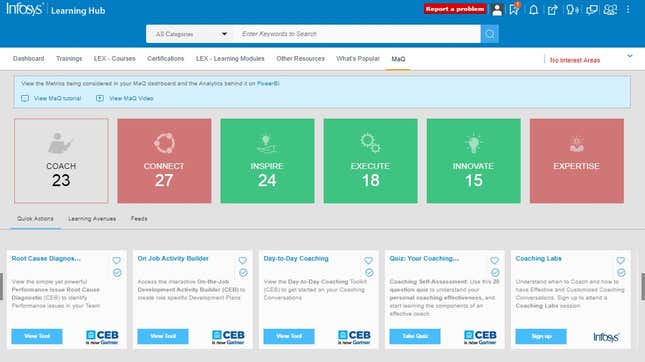 The MaQ dashboard crowdsources a team's feedback on a manager across various competencies: how they inspire their team, coach teammates, connect with them, innovate, and execute their project. The data points for the various metrics are gathered from employee engagement surveys as well as exit interviews conducted during the year.
"Managers play a very important role. We needed a way to make them play their role in a much more focused way," Krish Shankar, group head of human resources at Infosys, told Quartz.
The aim is to help manager-level employees recognise their strengths and weaknesses. The assessments indicate which areas they are doing well in, highlighted in green, as well as which ones need to be improved, demarcated in red. Tips and fixes are also suggested by the platform.
MaQ was rolled out across Infosys as a pilot a year ago. For the last nine months, it has been fully deployed for the company's around 18,000 managers, across the globe. Around 60% of them have utilised the platform and believe it has helped them improve, Shankar said.
"A lot of companies today are collating peer feedback, feedback from subordinates and also from reporting managers. Like we have a system of rating products we buy on Flipkart and Amazon through a star-rating system, such platforms are a unique way of assessing employees," said N Shivakumar, business head of recruitment process outsourcing at Teamlease Services.
Another Bengaluru-based IT firm, Mindtree, has also been gathering feedback about its managers. The company worked with both non-anonymous feedback collection methods as well as anonymised, digitised ones. Both yielded drastically different results.
"The real issues wouldn't come up in a non-anonymous feedback because employees were afraid of being judged or ridiculed," said Anish Philip, assistant vice president for people function at Mindtree. "(Where) feedback is anonymous, employees are much more inclined to share valuable information and give actionable observations. What makes the data even more valuable is that we correlate it with moods and we track the reasons registered (so) managers get a detailed report of how their team is feeling and why, along with useful, anonymous feedback." 
But such systems aren't without flaws.
All is not well
An attempt to get a 360-degree feedback can get derailed if the evaluation criteria are not laid out specifically.
"Any gap in framing the right questionnaire for the feedback survey could have serious implications and derail the whole programme," said Tonmoy Shinghal, co-founder and COO of talent assessment firm Mettl. "No matter how brilliant a tool is, if the questionnaire is not well curated, the programme will be a failure."
With anonymous feedback collection, there's also a danger that employees may offer critical or negative feedback for reasons that are personal in nature. On the other hand, employees may shy away from saying anything negative about colleagues they consider friends, as per Debra Steele, director of marketing and communications at the Council for Adult and Experiential Learning (CAEL), a Chicago-based non-profit working towards adult learning and workforce development.
There's also a chance that some people don't use the platform at all. Mindtree's Philip admits that their feedback methods don't clock 100% participation. "Low response rates could be one downside of such online tools but even that is being solved through easy-to-use, highly engaging, and gamified platforms," said Singhal.
Consequently, such review systems may tilt in favour of the most popular employees rather than the most competent ones.