This post has been corrected and updated.
The #MeToo movement, which exploded in India late last week, is taking down powerful men in its wake.
On Oct. 8, the country's leading comic content-production house, All India Bakchod (AIB), said two of its four co-founders will be stepping down until further notice for their roles in alleged cases of sexual misconduct.
AIB co-founder and CEO Tanmay Bhat stepped down following a sexual harassment allegation against comic Utsav Chakraborty, who had appeared in AIB videos. In a November 2019 Twitter thread, Chakraborty disputed the allegations, and pointed to an audio recording that allegedly implicates his accuser.
Separately, an anonymous woman leveled allegations of sexual harassment against Gursimran Khamba, another AIB co-founder. Khamba released a personal statement denying that he had violated consent but in the interim, he has been sent on a temporary leave of absence from AIB until there is more clarity on the matter.
"We cannot overlook Tanmay's role and in the light of this, he will be stepping away from his association with AIB until further notice," Vidhi Jotwani, head of human resources at AIB, said in the third statement from the company since allegations were first levelled against Chakraborty. "Truthfully, we do not know what this means for the future of AIB or whether there is one."
On Oct. 04, writer Mahima Kukreja accused Chakraborty of sending her unsolicited pictures of his genitalia in 2015. She also said that she had informed one of AIB's head honchos about the incident but the company continued to work with him on a freelance basis. Bhat admitted on Twitter that Kukreja had confided in him, and apologised. That tweet was later deleted.
AIB's announcement comes after the comedy collective was fiercely criticised on Twitter for being hypocritical.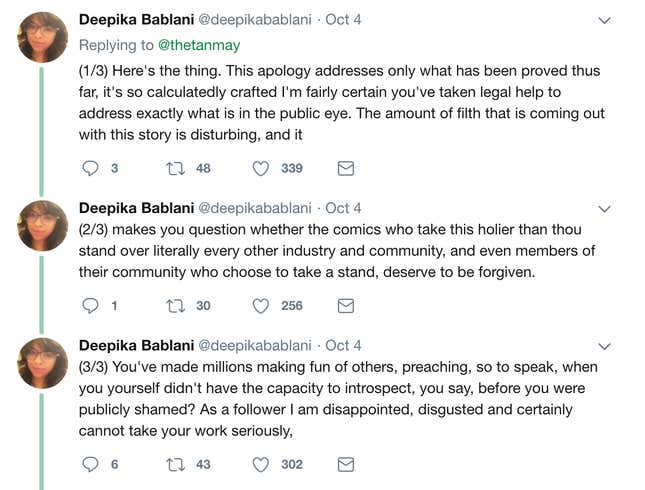 The #MeToo storm is also tearing through Indian journalism.
The Hindustan Times newspaper's chief of bureau and political editor, Prashant K Jha, has stepped down after Avantika Mehta, a former reporter at the paper, accused him of making sexual passes over text messages even after she made her discomfort known.
Meanwhile, Bollywood actor and filmmaker Rajat Kapoor has been accused of harassing two women. A journalist claimed Kapoor asked her if she was "as sexy as (she) sounds" and if she'd tell him her "vital stats." An assistant director said he persistently asked her to shoot with him in an empty house. Then, a third woman said Kapoor called her 17 times and confronted her after they exchanged contacts for work.
On Oct. 06, Bollywood director Vikas Bahl (of Queen fame) was accused of forcing himself upon a crew member and then masturbating in front of her in May 2015. Subsequently, Phantom Films, a production house he set up with three others—Anurag Kashyap, Vikramaditya Motwane, and Madhu Mantena–was dissolved. Following the revelation, Bahl was reportedly also dropped from a show he was supposed to direct for Amazon Prime Video.
This article has been corrected to reflect that Utsav Chakraborty was accused of sexual harassment, not assault, and updated to reflect a statement from Chakraborty.