For nearly two years, Indians have been targeted by a digital influence campaign that has likely been orchestrated by the Iranian state, or by actors affiliated with it.
On Oct. 16, Twitter released two large archives in order "to improve public understanding of alleged foreign influence campaigns." One of the datasets contains around one million tweets from 770 now-deleted accounts that Twitter believes originated in Iran. The other consists of 9 million tweets thought to be linked to Russia's now-notorious Internet Research Agency.
While the Russian archive has received more press since the disclosure, the Iranian archive deserves close attention as well, especially because of how linguistically diverse it is.
Twitter's dataset on the Iranian influence campaign contained over 4,100 Hindi tweets. While Quartz counted 17 handles that had posted in Hindi at least once, the vast majority of the tweets were posted by two handles—one created in January 2017 and one created in May 2018. The tweets in Hindi stretch to the end of this August—the point where the entire dataset stops.
The engagement data Twitter disclosed about the Hindi tweets, however, shows that the content got very few retweets, likes, and replies. But experts caution that Iranian influence campaigns have already shown great capacity for improvement in their operations.
A Reuters investigation of the Iranian influence campaign, which preceded Twitter's disclosure by over a month, drawing on independent research and a report by US-based cybersecurity firm FireEye, discussed how operatives were targeting users on various social media networks, including Facebook, YouTube, and Instagram, in addition to Twitter.
The campaign, Reuters revealed, was also circulating messages in 11 languages, including Hindi.
The IUVM network
Most of the Hindi tweets link to articles on IUVM Press Hindi, a website that is part of a network called the International Union of Virtual Media. Ben Nimmo, a senior fellow at the Atlantic Council's Digital Forensic Research Lab who has researched the Iranian dataset extensively, has described IUVM as an "Iranian messaging laundromat," which "repackaged content from Iran's state channels" without flagging where the content was coming from.
IUVM has a Hindi portal with content that seems to have been largely plagiarised from sources across the web, including BBC Hindi. The headlines, however, are generally altered slightly from the original source.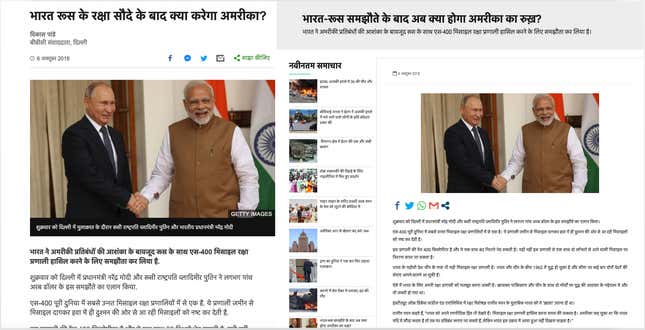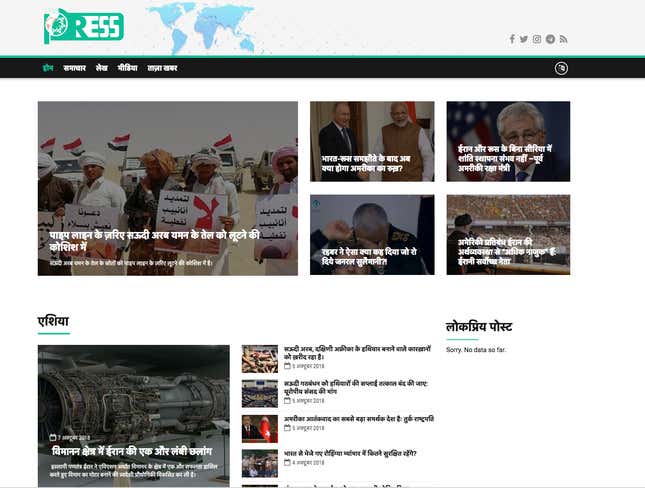 Most of the tweets, especially the ones from 2017 and early 2018, follow the same format: a headline from IUVM Hindi, followed by a link to the relevant article. Very often, these tweets were for articles related to positions commonly associated with Iran's foreign policy, such as opposition to Saudi Arabia's war in Yemen and Israel's treatment of Palestinians. A visceral dislike for the US surfaces regularly as well; almost 300 of the tweets began with the Hindi word for "America" or "American."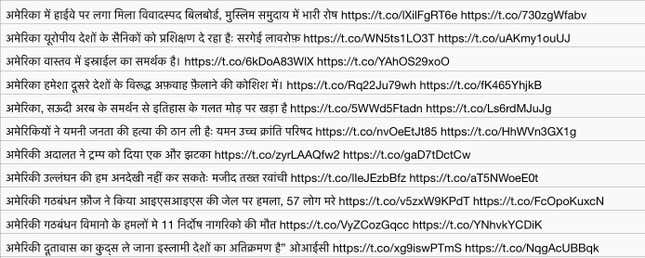 Sometimes, however, IUVM news articles address Indian affairs—most often on contentious religious issues. One tweet from June 2017 references an IUVM article, seemingly plagiarised from The Siaset Daily, recounting an incident where an Indian student leader compared the Hindu nationalist Rashtriya Swayamsewak Sangh to ISIS. Another article discusses how a Delhi college cancelled a talk by a prominent parliamentarian from Narendra Modi's ruling Bharatiya Janata Party.
Why India?
It is too early, at this point, to determine what the Iranian influence campaign's end game is for India, or what its operations are like.
Darren Linvill, a Clemson University professor who has been tracking the IRA's activity for years, said that influence campaigns' objectives often seek not to push one particular political agenda, but rather to entrench divisiveness.
"If you can get a country fighting amongst itself, then they're not going to be paying attention to you, they're not gonna be making any kind of policy or political forward movement," Linvill told Quartz. "I wouldn't be surprised if Iran is interested in doing that in India—taking advantage of particular divides that exist."
Countries like Iran and Russia "see India as a democratic threat," especially given its massive electorate and growing political influence around the world, said Dipayan Ghosh, a researcher at the Harvard Kennedy School's Shorenstein Centre.
Iran, Ghosh added, may be "concerned that India could conform with the West, conform with NATO, the United States, Western Europe, and maintain its strong commitment to democracy. I think they're very concerned about that, and they don't want to create a home base for their rivals in the middle of Asia, in a country that's tremendously powerful. So there's every reason for them to try to sow chaos."
In terms of campaign strength, Linvill expects that the 4,100 Hindi tweets that Twitter's data dump has disclosed may just be the tip of the iceberg. "Because why bother sending out just 4,000 tweets in Hindi? That's nothing," he said. "There's almost certainly more now, because if Iran bothered to hire a Hindi speaker, they are probably still employing them."
Shifting Twitter tactics
The Iranian campaign's Hindi tweets, especially the early ones, performed dismally—it was rare to see one get even a single like or retweet. The account they were tweeted from had only 16 followers at the time of Twitter's takedown, and likely even fewer for most of its life. Second, there was little in those tweets to engage others, such as hashtags, conversational language, or commentary.
This basic "headline+link" template, Nimmo told Quartz, was used for many of the Iranian tweets in other languages as well. "They're viewing social media as a secondary tool whose purpose is to get people to look at the website rather than using social media as an engagement tool," he said.
Tactics shifted on May 15, 2018, when the influence campaign created another account from which to regularly post Hindi content. It never became popular, but it had 741 followers at the time Twitter deleted it, in comparison to the previous account's 16. The creation of the second account also resulted in more tweets being posted overall; while 2017 saw an average of 200 tweets being posted per month, 2018 saw an average of 243 per month.
While the tweets posted by the newer account often contained links to IUVM Press Hindi, they also had slightly more success with engagement. One reason for this, perhaps, is that the newer tweets often used hashtags to capitalise on trending topics.
These hashtags were often politically inflammatory, such as #CongressKilledDemocracy and #NamoDobara (roughly: "elect Modi again"). These were posted alongside #KashmirKaBetaBurhan, on a tweet on July 09, 2018, the day after the second death anniversary of Kashmiri militant Burhan Wani:
#तुर्की में #सऊदी #अरब के विरुद्ध #प्रदर्शन  #display #against #SaudiArabia  in #Turkey  https://t.co/43WVa1ygu7  #KashmirKaBetaBurhan  #NamoDobara  #CongressKilledDemocracy  #MondayMotivation  #India #FelizSábado #musicday #RUSCRO #SaturdayMorning #ODTÜ #magliettarossa #Israel https://t.co/Ado05A5W8c
Other hashtags that related to Indian political issues included #PetrolPriceHike and #PetrolPrice (19 times), #BharatBachao ("Save India"; 16 times), #TalkToAMuslim (six times), #RahulGandhi (the Congress party president; 22 times), #YogiAdityanath (a BJP chief minister; eight times), and many more.
"Adding hashtags often gives a message a particular sway with people and has a psychological influence over people in a very subtle way," said Ghosh. Over time, he said, it "has a pretty big impact, and can drive people into the filter bubble…so I think there is a very well reasoned and concerted justification for a disinformation operator including a divisive hashtag."
The influence campaign, including its liberal use of hashtags, has extended to other social media platforms as well. 
Instagram and Facebook
The Twitter and Facebook accounts listed on the IUVM Press Hindi website no longer work (as Reuters reported, the sites took them down after they were notified about them), but the website's Instagram profile is still live. The page has 979 followers and its posts, which most recently were averaging around 50 likes each, date as far back as May 2018.
These Instagram pictures, like the tweets, mostly pertain to matters of Iranian foreign policy. Several images posted about India tie into this; for example, a cartoon commends the Narendra Modi government for purchasing oil from Iran despite pressure from the US to refrain from doing so.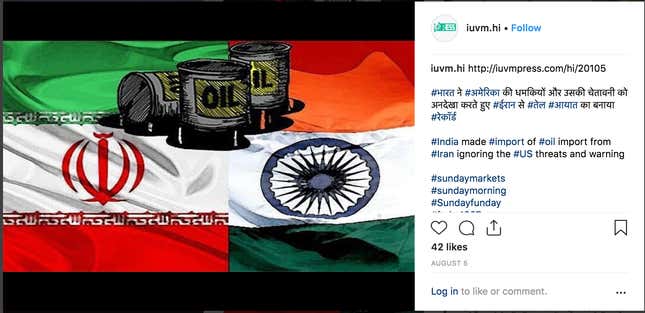 Some of the posts, however, are related to India's domestic politics. These, more so than the tweets, sometimes show a bias against prime minister Modi. One of the very first posts on the page celebrates the BJP's loss in the Karnataka assembly elections, saying that India's public will soon demand a "Modi-free government."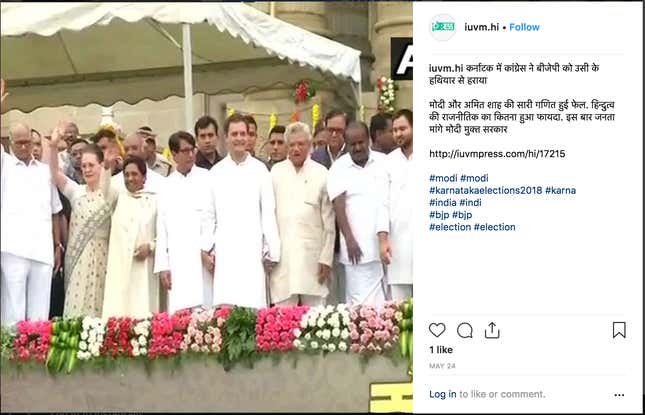 But, at least in Twitter's dataset and on this particular Instagram page, the influence campaign's stance on India seems far more muted than its stances on other foreign countries, such as Saudi Arabia and Israel.
Facebook, of course, has also seen Iranian influence campaigns. In the past months, the social media giant has made repeated announcements about how it has removed pages linked to influence campaigns from its platform.
On Aug. 21, it announced it had taken down around 600 accounts and pages from operations engaged in "coordinated inauthentic behaviour" from around the world, including some from Iran. More recently, on Oct. 26, it announced the removal of multiple such Iranian accounts on both Facebook and Instagram. "While we have found no ties to the Iranian government, we can't say for sure who is responsible," the post stated.
Facebook shared some information about 24 of these accounts, including 14 on Instagram, with the Atlantic Council's Digital Forensic Research Lab, where Nimmo works. A piece he wrote after this details the ways in which the Iranian operations observed this time around are more sophisticated than those that came earlier:
These accounts masqueraded primarily as American liberals, posting only small amounts of anti-Saudi and anti-Israeli content interspersed within large volumes of divisive political content such as race relations, police brutality, and US president Donald Trump. This evolution of tactics from previous more blatant pro-Iranian messaging suggests the operation had learned from earlier takedowns.

These assets were designed to engage in, rather than around, the political dialogue in the United States. Their behavior showed how much they had adapted from earlier operations, focusing more on social media than third party websites and becoming much more engaging.
Instagram did not respond to questions about why the IUVM Hindi page had not been taken down.
Facebook's global office did not respond to a questionnaire sent about whether the Iranian influence operations it has found have targeted Indians, and about why the IUVM Hindi Instagram page was still live. A representative of Facebook India responded to the same questionnaire with a link to the company's Oct. 26 announcement and assurance that the company would post any more details when they had them.
Twitter, IUVM Press Hindi, and Iran's ministry of foreign affairs did not respond to questionnaires.
For the road ahead, Linvill believes, Twitter and other social media networks ought to be more proactive about disclosing datasets early so that researchers can try and keep pace with the changing operations of influence campaigns. He said that if the Iranian influence campaign's learning curve was anything like the Russians'—"and I would actually expect them to learn faster, because people are talking about this now," he added—"I would expect the Iranians to be learning quickly, and to be changing tactics."