Scrutiny is mounting against the organisation that helped prepare a Christian missionary for a trip that led to his death.
Around Nov. 17, John Allen Chau was reportedly killed by members of the Sentinelese tribe in India's Andaman and Nicobar islands after he attempted to "declare Jesus" to them. The 26-year-old American has been widely criticised, including for potentially exposing the tribe to deadly pathogens and violating Indian law by trespassing on a prohibited island.   
All Nations, a missionary organisation based in Kansas City, Missouri, supported Chau as he planned this fatal voyage. The website for All Nations claims that every year, its representatives train around 3,500 missionaries in 35 cities to learn "church planting," so that "churches rapidly multiply through people groups" across the world.
Chau's death has reignited a centuries-old debate within the Christian community about what constitutes responsible missionary work. In particular focus are organisations such as All Nations and their attempts  to target isolated indigenous peoples, whom they often identify as "unreached people groups."
Recent interviews with All Nations' leadership also reveal its complicity in some of the mission's key failures—for example, the fact that Chau was illegally trying to proselytise while on a tourist visa, and that the steps he took to protect the Sentinelese from disease seem to have been woefully inadequate.
Preaching to the "unreached"
After Chau's death, many Christians have publicly debated the implications of it, including whether the young missionary should be declared a martyr—someone who is killed because of their testimony of Jesus.
Many criticisms have focused on certain Christians' aim to preach to the "unreached."
"Even as an enrolled citizen of my tribe, I did not understand that the Christian faith I practiced was the same kind of faith that colonized my own ancestors. As an adult, I'm decolonizing, asking if it's possible to practice Christianity and follow Jesus in a different way. That means I must question the mission of the church to convert the 'unreached,'" Kaitlin Curtice, a native American author from an evangelical Christian background, wrote following Chau's death.
All Nations' website boasts that the organisation has "adopted 30 unreached and unengaged people groups globally." The organisation is one of the many that claim to target "unreached people groups," (sometimes abbreviated as "UPGs.")
In an interview with Christianity Today magazine, Mary Ho, All Nations' international executive leader, defines "unreached peoples" as those who are "overlooked, or neglected, that still have not heard of Jesus Christ. So, for example, we have worked in ghettoes, or among prostitutes, gangsters, Muslim refugees."

The term "unreached people groups" is used by many other organisations, too, including Georgia-based Global Frontier Missions, which asks believers to reach out to the "2.9 billion people" who  have "never heard the Gospel of Jesus Christ." The website for the US- and Canada-based organisation TEAM cautions that unreached people can be "tucked away even in countries with a large and longstanding missionary presence."
Organisations that focus on "unreached people groups" are most commonly evangelical Christian ones. All Nations' site's statement of faith identifies it as "interdenominational," or related to more than one religious denomination. Its founder, Floyd McClung, however, was a leader affiliated with Youth With a Mission, a prominent American evangelical organisation.
Race and ethnicity seem to be a major part of the conversation among such organisations in identifying and labelling "unreached people groups."
Their websites often cite data from the Joshua Project, a Colorado-based organisation that maintains a highly detailed database of ethnic groups, many of whom are categorised as "unreached peoples," for use by Christian evangelists. The Joshua Project's site even includes an interactive map of India that displays the presence of particular communities—often castes or sub-castes—and their populations in districts across India.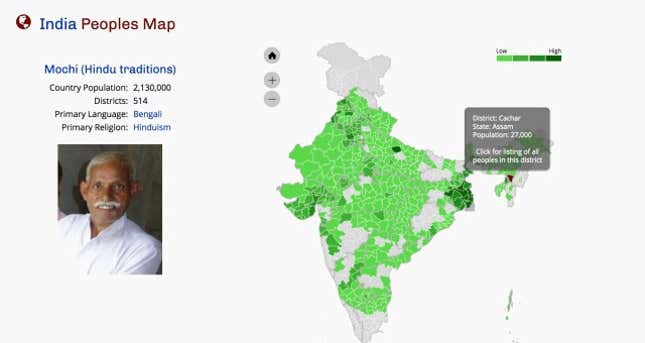 Its entry on the Sentinelese has very little information—not even a photo. "Send us a photo of this people group," the site implores.
Organisations that speak of "unreached" peoples are drawing on a line in the New Testament that describes "efforts to 'make disciples of all nations,'" said Armando Ghinaglia, a US-based clergyperson with the Episcopal Church. "That language is tremendously unpopular among mainline Protestants and rare among Catholics."
"…talking about 'unreached people' has much greater currency among self-described evangelical Protestants," Ghinaglia added, but said that even among them, groups like All Nations are not the norm.
"Within contemporary Christianity, there are many Christians who do not participate or advocate for mission work," said Jenna Supp-Montgomerie, an assistant professor of religious studies and communication studies at the University of Iowa. "There are Christians who understand there to be many right ways to live and many forms of truth, including non-Christian ones."
Thoroughly unprepared
Questions of theology aside, All Nations seems to have aided in many of Chau's poor logistical decisions.
On Nov. 22, the organisation posted a press statement about Chau, describing how he had joined All Nations in 2017 and trained to be a missionary at its North American headquarters in Kansas City, Missouri.
Almost a week later, Ho described this training in more detail in the Christianity Today interview. Chau "wanted to be sent out by All Nations," she said, because he "knew that we had people who were experts in cultural anthropology, in missiology (the study of missions), in linguistics, so he wanted to have access to some of that expertise."
Chau had been fixated on proselytising the Sentinelese since he was around 18 years old, according to Ho. "Since then, every single decision he has made has been to thoroughly prepare himself for this life-call," she said.
When Christianity Today's interviewer asked how prepared Chau was to protect the Sentinelese from health risks he might visit upon them, Ho said he "made sure that he was trained in the medical field—getting his degree in health and sports medicine, being trained in EMT (as an emergency medical technician.)" Chau also got 13 vaccines and "quarantined himself for many, many days as a preventative step," she added.
These steps were nowhere near sufficient, experts have countered.
While diseases that one can be vaccinated for, such as tuberculosis or tetanus, would have been one concern, an equally grave one when encountering isolated people is "parasites which you never suspect you are carrying," Sarman Singh, a senior professor of microbiology at the All India Institute of Medical Sciences, Bhopal, told Quartz. Many micro-organisms that are usually harmless can pose major risks to people who have been isolated from most of the world, he said.
Stephen Corry, the director of tribal-rights group Survival International, issued a statement addressing Ho's health-related arguments. In response to her claim that it is now a "different time" than it was when indigenous people were decimated by diseases carried by European colonisers, he said, "The idea that widespread deaths amongst newly contacted tribes is a matter of past history is easy to disprove…For example, the Nahua, Peru, suffered over 50% of deaths in the 1980s following contact."
As for Chau's sports-medicine degree and EMT training, "that is a ridiculous argument," Singh said. "As microbes or infections are concerned, it doesn't make any sense if he was trained or not."
Ho also revealed to the Washington Post that Chau had travelled to India on a tourist visa because missionary visas "aren't easy to come by."
While she insisted that Chau had not broken any laws, the newspaper cited a professor at New Delhi's Centre for Policy Research who claimed that he had violated India's aboriginal and forest protection laws. The same professor later asked on Twitter why Indian authorities had not yet filed criminal charges against All Nations.
Despite a representative from All Nations saying that someone from the organisation would respond to Quartz's interview request, no one replied to a follow-up email, repeated phone calls, or a detailed questionnaire.
Some Christians are also calling on All Nations to be held accountable for its role in Chau's death. "If the organisation actually sent him, or trained him in some way, then they're complicit," said Jennifer Harmon, a theologian and community faith leader from Oklahoma. "And if the law allows and permits them to be held accountable in some way, I believe they should."