Generations of Indians, before the 1990s, relied on the mechanical watches of the Bengaluru-based HMT company to tell the time.
The first challenge to the public sector company's dominance came in 1984 when the Tata Group launched its own brand of watches: Titan. In the years to come, the new company made big strides in the market, selling fashionable quartz watches that appealed to the evolving tastes of the Indian consumer.
Today, not only is Titan India's largest watchmaker but it has also expanded into jewellery, eyewear, perfume, and, most recently, saris. In all these categories, design is at the core of the business, according to Revathi Kant, the company's chief design officer.
Kant oversees a team of 75 people tasked with creating over 5,000 new pieces of jewellery, watches, and eyewear for the company's popular brands, such as Tanishq and Fastrack, every year.
A Titan veteran, she joined the company straight out of college in 1990, starting out as a market researcher. Over a decade later, Kant developed an interest in the business of design, and worked her way to the top of Titan's consolidated design team in 2017.
In a conversation with Quartz, Kant discussed the art of designing for India and how technology is changing Titan's approach. Edited excerpts:
Can you tell us about Titan's approach to design?
When we started off on our journey thirty years back, we did something disruptive. We came up with watches which were stylish. In an era where it was all HMT and functionality, we re-positioned watches as a fashion accessory from a time-keeping device.
We started as a one-brand, one-category company, and today we are a multi-brand, multi-category player. In all that we have chosen to do, design is important. It is not merely aesthetics; design finds an answer to consumer needs, and that's how we approach it. We always start with the consumer segment. 
Can you give us an example of how this works?
Let me give you the example of Mia jewellery (a Titan brand) for working women. We said, let us create every-day jewellery for her. We went and spoke to her and understood, first, why she's not wearing precious jewellery—it's not convenient, it's not comfortable, it's not affordable. The product design of Mia took into account all of these —we create jewellery which is very contemporary, she's not hung up on 22 karat. It's fine jewellery, with diamonds, but it's 14 karat, so it's far more affordable.
How has Titan's design philosophy evolved over time?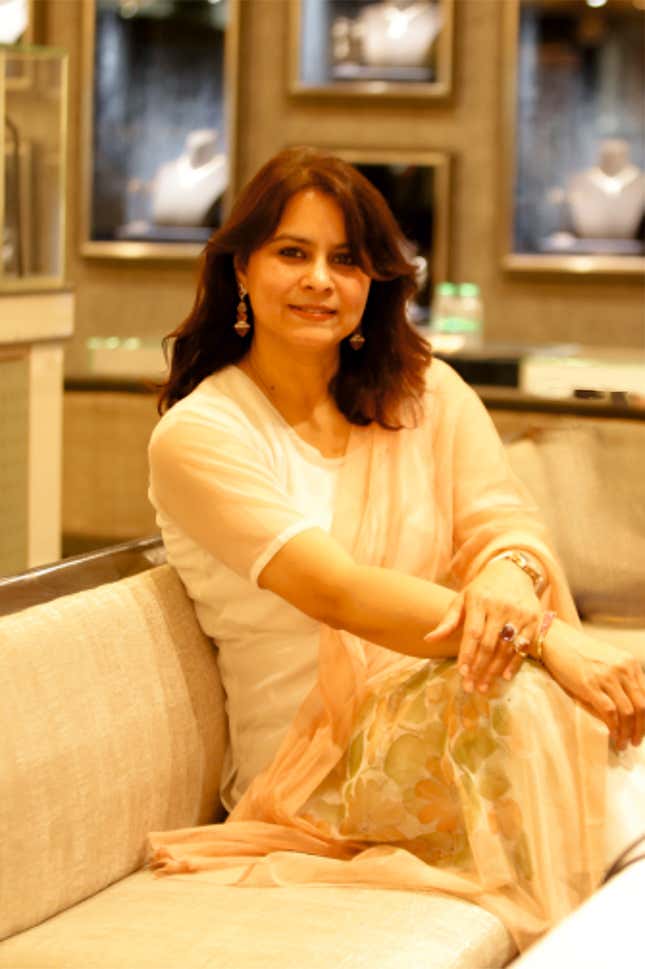 The design philosophy hasn't changed; it still is "design that inspires," and that is the guiding force. It's the process that keeps evolving.
The change in process is that a lot more of design thinking is coming in, which starts with consumer empathy and understanding. When people think of design, they think of creativity. But at the end of the day, it's a process which takes into account a lot of things: what are the consumer needs, what is your inspiration, what are the manufacturing constraints, what are the business constraints, at what price points do we need to launch, what technology is pushing you, and what is today's world. 
How is technology changing design at Titan?
Now, at least in watches, we are very technology-focused and the whole category is becoming smart. We are once again at the stage when we did quartz over mechanical and we won. Now the world is changing, smart over quartz, and the ecosystem is no longer a watch ecosystem; the ecosystem is Apples and Samsungs and others. 
The process has become more cumbersome. One is the technology which comes into the product, the other is the UI/UX (user interface/user experience) which goes into your phone. You still have to do the first bit to bring in the aesthetic piece, but to bring in the technology piece is very different. We have invested in setting up an in-house UI/UX team of talented people.
How would you say designing for India and Indians is different from other countries?
The whole thing is about the reviving of India pride. It's happening in a big way. If you were to look at apparel, the Nicobars, Good Earth, we're talking about contemporariness but there is an Indian touch to it. So this whole thing of being spirited but still rooted is very much applicable to India.
What makes India interesting is the rootedness of India and the free-spiritedness of the Western world. For anyone to be successful in India, you need to get the best of both. Today, Indian men and women want contemporary stuff. They are proud of flaunting traditions, but not in a traditional form. 'Traditional traditional' is out, 'traditional contemporary' is in. 
That is the specialty of India, it is sitting in a fusion space, and getting that right is the trickiest thing, without overdoing either of them.
What changes do you see in India's overall approach and attitude to design?
A lot of IT companies are using this word "design thinking" so rampantly, and they are popularising it. That has made people in India aware of the importance of design. The sensitivity in India towards design is on the rise. Look at the Mumbai airport, it is oozing design!
But, unlike other countries, we don't have public spaces which are good looking. If you go to a mall, you have a great-looking store but the way to the mall is full of potholes. So I think some design thinking needs to happen within our government.
We see pockets of excellence in India, the kind of cafes you see, the stores, airports. So from a business point of view, it has become so inherent, embedded, strategically important. Design is sitting at the heart of a company.