No matter how hard India tries to ban porn, Indians keep lapping it up like there's no tomorrow.
In 2018, India continued to rank third among the countries with the most number of viewers on leading pornographic website, Pornhub. This is despite the fact that it was among the many porn websites banned by the Indian government in October. Pornhub is accessible in India only through a mirror website.
In 2016, Canada had toppled India to earn the third rank after the US and the UK. But the next year India made a comeback and has held fort since.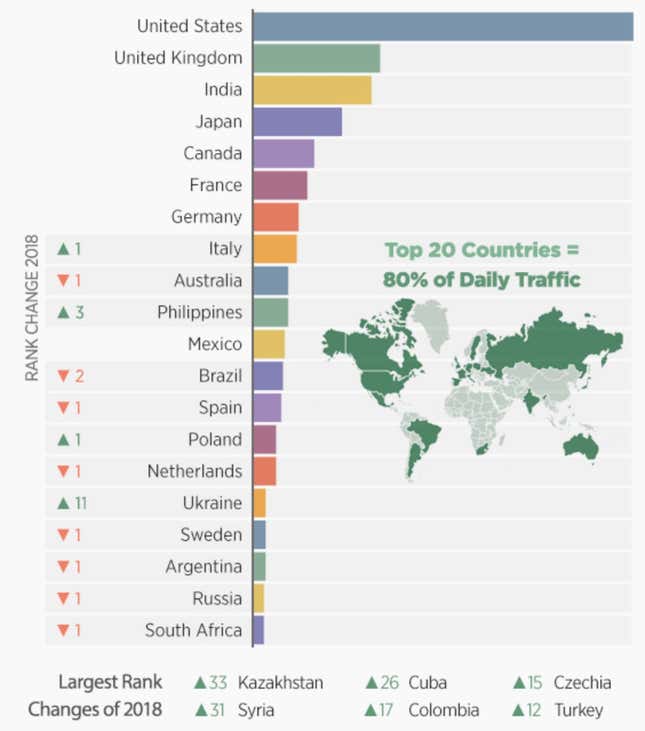 Women comprised three in 10 site visitors from India—Philippines, which had the most even male-female ratio worldwide, boasted of 38% female visitors.
On average, each visit from India lasted eight minutes and 23 seconds, not very different from last year's eight-minute-20-second engagement.
Almost all Indians viewed porn on their handsets. "With the availability of inexpensive data plans increasing in India, it's no surprise that mobile usage there reached 95% in 2018," Pornhub said in its 2018 Year in Review report. Pornhub likely has Mukesh Ambani-led upstart Jio—which disrupted India's $50 billion telecom sector with rock-bottom data prices— to thank for that.
Total visits to the world's biggest porn site globally breached the 33.5 billion mark in 2018, an increase of 5 billion over 2017.
What is India watching?
Terms such as "Indian" and "Hindi" made frequent appearances in the top search categories, signaling that a wave of internet users from India's hinterlands is coming online—and looking for homegrown porn.
The top-trending search terms in 2018 included regional searches for Bhojpuri, Gujarati, and Telugu porn.
The country's long-time obsession with pornstar-turned-Bollywood actress Sunny Leone didn't let up in the past year either. "Sunny Leone and Mia Khalifa remained the most searched for pornstars in India for the second year," Pornhub stated.