The world's largest religious festival is kicking off today (Jan. 15) in the northern Indian state of Uttar Pradesh.
For the next seven weeks, millions of Hindu pilgrims are expected to visit the city of Prayagraj, formerly known as Allahabad, for the Kumbh Mela. During this festival, devotees immerse themselves at the Sangam, where the mythical river Saraswati is believed to merge with the holy rivers Ganga and Yamuna. The mass ritual bathing, held in Prayagraj every 12 years, is an important tradition in the Hindu faith, and is believed to cleanse sins and help devotees break free from the cycle of life and death.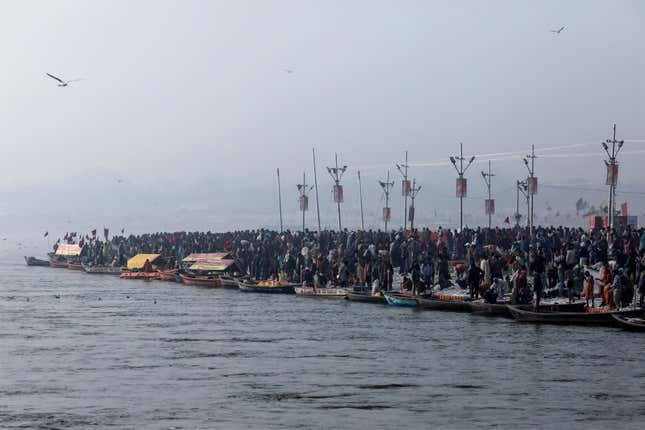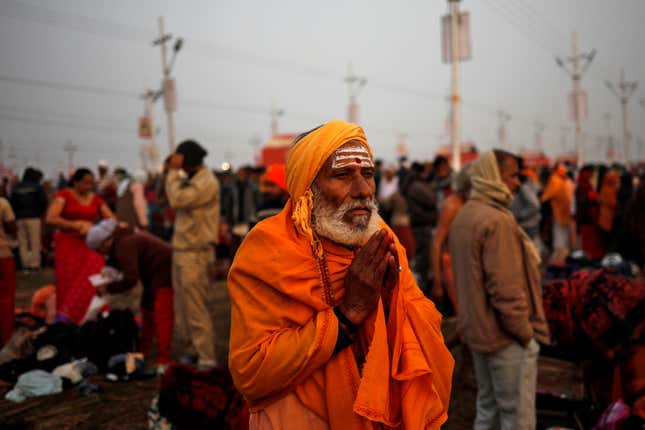 Previous Kumbh Melas have been marred by deadly stampedes, but the festival is still remarkable for the scale of its organisation, which only increases every year.
Here's how this year's Kumbh Mela stacks up in numbers:
On Jan. 15 alone, authorities expect 15-20 million people to visit Prayagraj. Between January and March 2019, the festival is expected to draw up to 150 million devotees, including a million foreign visitors.
Preparations for the festivities began months in advance. The Yogi Adityanath-led state government earmarked a budget of Rs2,000 crore ($282 million) for the Kumbh Mela, nearly double of what was spent before, and laid out some 300km of roads in the festival area, which covers over 2,500 hectares.
The railways have scheduled hundreds of more trains to ferry pilgrims to the site of the festival, and the state government has promised over 500 battery operated rickshaws and 500 shuttle buses to take people around within the area.
To cater to all the visitors, 600 mass kitchens and a food court with 40 stalls have been set up in the area where the festivities will take place.
Over 100,000 portable toilets have also been set up.
In December, the state government announced that around 4,000 wifi hotspots were being established for the Kumbh.
22 hospitals with a total of 450 beds and 150 ambulances (pdf) have been put in place for emergencies.
While most devotees stay in modest tents that are set up near the river, there are also luxury lodgings on offer for wealthier pilgrims that can cost up to Rs35,000 a night. "Tent cities" consisting of comfortable accommodation have been built and reportedly offer everything from wifi and LED TVs to coffee lounges, ayurvedic spa treatments, and yoga classes.
Such a massive gathering of people requires extra security. This year the rituals will be monitored by a force of over 30,000 policemen and paramilitary forces working out of 62 police outposts. The state government has deployed paramilitary forces, watchmen, and home guards, as well. It's also set up 40 watch towers and 1,000 CCTV cameras in the area, besides 40 fire stations.
The state government has also built 15 lost-and-found registration centres to help reunite devotees with friends or family in case they go missing in the massive crowds.