India's luxury market is getting a boost from the country's tier II cities.
High end spending in these towns grew at a rate 30 times greater than in tier I cities between 2013 and 2018, according to an analysis by credit card company American Express. Overall luxury spending in India itself grew by 4% in this period, the data showed.
The firm analysed transaction-related data from around 600 luxury goods merchants across the country for the study.
This spike in the growth in luxury spending in tier II cities came amidst "some strict measures by the Indian government in 2016 such as demonetisation, increased excise duty on gold and diamond jewellery, and increased tax on other luxury goods to curb 'black money,'" the American Express report reads. Many analysts believe the luxury market was hit hard by the 2016 rule that customers must submit their permanent account numbers (PAN) for transactions of over Rs2 lakh (around $3,000), according to a November 2018 report in the Economic Times newspaper.
India's luxury market is expected to touch $30 billion in overall value in 2018-19, compared to $23.8 billion in 2017-18, according to a Kotak report. 
What they're buying
The types of luxury purchases being made have also changed dramatically since 2013.
"While jewellery spending dominated the category till 2013, we have seen other segments, including electronic and high-end fashion, grow in share and even surpass jewellery spends in certain markets," said Manoj Adalakha, CEO of American Express India.
Tier I India also spends on luxury goods in very different ways than tier II India does. For example, luxury merchants in tier I cities—major metro areas like Delhi, Mumbai, Bengaluru, and Hyderabad—recorded over twice as much spend per merchant on jewellery in 2018 (26%) as in 2013 (11%).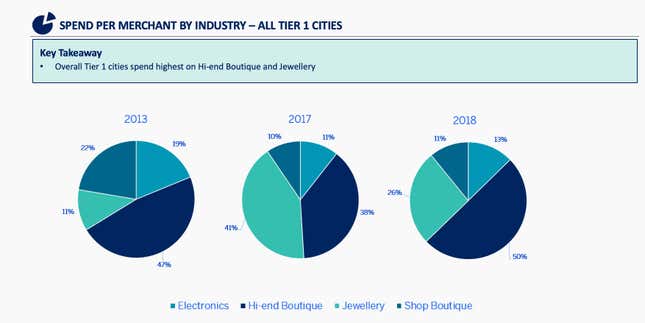 But in tier II cities like Chandigarh, Jaipur, Ahmedabad, and Meerut, jewellery spending stayed quite small at 4% of the total in 2018.
Tier II India was much more likely to spend at high-end fashion boutiques and shops.
Crazy rich Asians
American Express also studied travellers visiting India. While around 58% of the spending in this category came from people flying in from the US and UK, big spenders seem to be increasingly arriving from east Asian countries.
Travellers from Hong Kong were the third-largest luxury spenders in India in 2018. Vietnam, which took the fourth position, catapulted up from the 31st position the previous year. Taiwan, taking the 10th position, rose from 24th, while Bahrain and Australia both fell in rank, displaced by Asian countries.
The top 10 countries by inbound spend on luxury items were: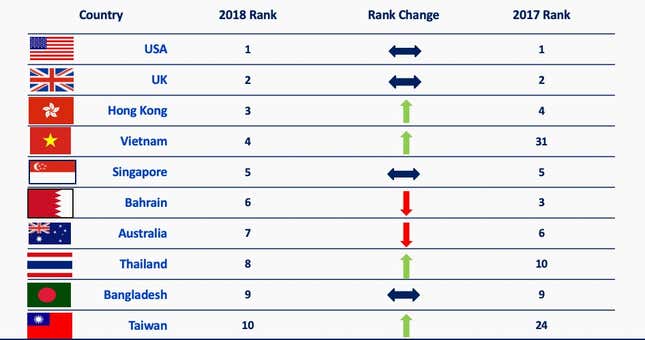 Gender gap
American Express's data also shows the differences in how women and men spend on luxury purchases. Overall, men were shown to account for 78% of luxury spending, mostly on hotels and cars.

Besides these, they were likely to spend on electronics, while women were more likely to patronise high-end boutiques.