There is more to Facebook's purge of Indian political pages than meets the eye.
The social media site's announcement yesterday (April 01) that it had taken down Indian accounts engaged in "coordinated inauthentic behaviour," and the ensuing media coverage, suggested that the development had a lopsided effect on the Indian National Congress. After all, of the over 700 political pages and accounts that Facebook said it had removed, 687 were linked to the main opposition party, while only 15 were associated with prime minister Narendra Modi's Bharatiya Janata Party (BJP). Reports, though, say that the number of BJP-linked pages taken down could be over 200, even if not specified directly in Facebook's blog post.
Nevertheless, a look beyond the mere number of pages that were affected shows that the removals have been far more damaging for the BJP.
For starters, the 15 pro-BJP pages removed were all linked to Silver Touch, an Ahmedabad-based IT firm that has reportedly developed Modi's official app, besides working on several government projects. While Facebook named only one page in this group—The India Eye—it alone had over 2.5 million followers and was well established, included in every user's default news feed in the NaMo app.
"The pro-BJP campaign was big and long-lasting. It picked up over 2 million followers, and managed to stay below the radar for years," Ben Nimmo, senior fellow at the Atlantic Council's Digital Forensic Research Lab (DFR Lab), who has researched the data extensively, told Quartz. The Congress campaign that was removed, he added, "was smaller, and its pages didn't have so much impact individually. It looks like they were trying to build up impact by running lots of micro-pages, rather than one big one."
The BJP IT cell told Reuters yesterday that the party and the app have "nothing to do with Silver Touch," though Facebook's head of cybersecurity policy had earlier said Silver Touch was associated with the NaMo app. Modi's party has yet to issue an official statement on the takedowns. The Congress has tweeted saying none of their official pages were affected, and that they were awaiting a list of accounts removed.
More right-wing losses
Twitter chatter indicates that The India Eye isn't the only pro-BJP page to have been removed.
Pratik Sinha, co-founder of fact-checking website AltNews, tweeted a list of screenshots of different individuals who manage pro-right wing Facebook pages claiming they had been unpublished.
Some of these pages are quite notable, including the one belonging to My Nation, a right-wing digital publication of a BJP parliamentarian.
Abhijit Iyer-Mitra, a right-wing defence analyst, claimed "hundreds" of right-wing accounts had been deleted by Facebook. Other major right-wing influencers initially tweeted along these lines, only to later delete their comments.
Facebook "decimated the right-wing dominance on Facebook," said one of the tweets of Vikas Pandey, a BJP volunteer and manager of the largest unofficial Modi fan page, "I Support Narendra Modi." Interestingly, he had tweeted before Facebook published its blog post. He deleted them, along with some retweets signal-boosting others' complaints, after Facebook's post appeared. When Quartz asked Pandey why he deleted them, he said he was unsure of them.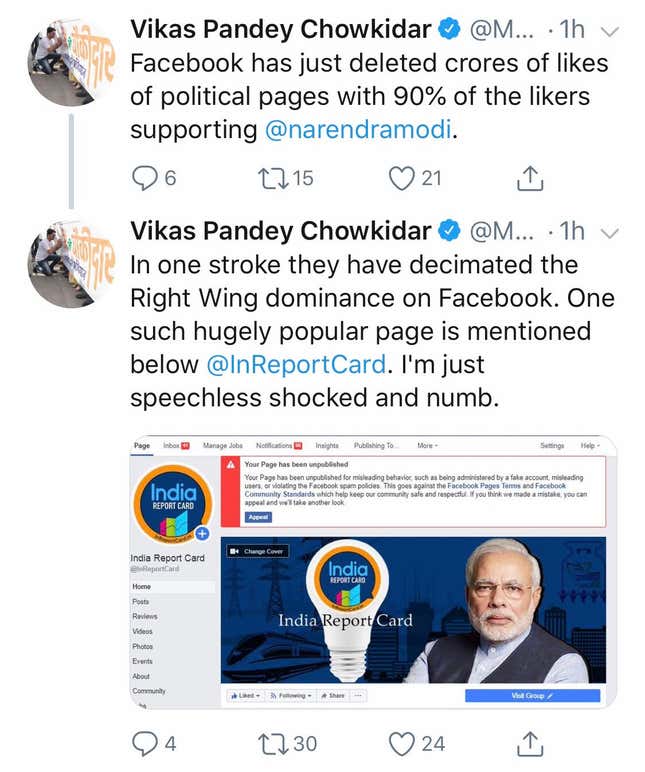 The manager of Report Card India, another unpublished page about which Pandey had tweeted, also deleted his reply to Pandey.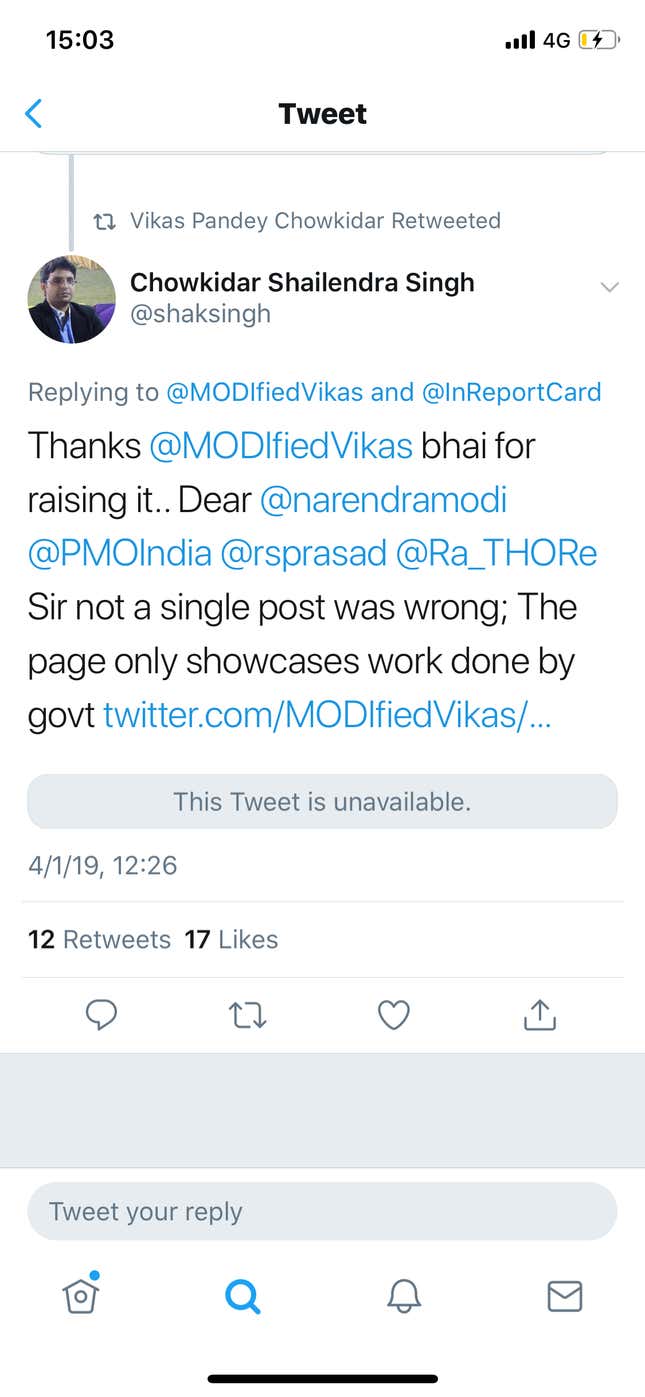 If the 15 Silver Touch-related accounts only included one page—The India Eye—what explains this chatter?
One possibility is they, too, were among the 227 pages that Facebook removed because they spread "spam." These pages were mentioned as part of a separate takedown in yesterday's Facebook blog post, alongside with removals of accounts engaged in inauthentic behaviour in Pakistan.
Facebook did not specify the details of the supposed spam, but said such pages often "post the same clickbait posts in dozens of Facebook Groups, often hundreds of times in a short period, to drum up traffic for their websites." Such pages, Facebook continued, often control fake accounts and use them to like, share, and engage with posts, driving up their content in the news feed for real users.
Quartz emailed Facebook to ask about the other pro-BJP pages removed. We will update this post as and when we receive a response.
Making a dent
The takedowns throw light on the difference in the digital campaign strategies of India's two major parties.
When Facebook takes down content, it often shares it with researchers at the Atlantic Council's Digital Forensic Research Lab (DFR Lab), which breaks down some of the key findings in a blog post. The lab's analysis shows The India Eye was a "significant asset" that "engaged its users with partisan and polarising content, posing as an independent outlet, while serving the interests of the governing party."
An ET Prime analysis last week ranked it third in the list of the BJP's unofficial Facebook fan pages, by followers.
Its substantial Facebook reach aside, The India Eye was Instagram-savvy as well. If anything, platform often paid higher dividends in terms of engagement, even though its page on the image-sharing platform only had 30,000 followers and it, too, has been disabled now.
The move to Instagram was considered a deft one as it would attract relatively less media scrutiny. "After Indian media began writing about the Facebook page, the page redirected its activity toward Instagram, opting for more visual content with fewer words, and even fewer sources," DFR Lab noted.
At the same time, the Congress's strategy seemed to be to go local.
The pro-Congress pages that Facebook removed were mostly associated with the Gujarat Congress IT Cell, which has openly touted its "Cyber Army." Most of the fake accounts behind this campaign, Facebook said, had already been disabled by the site's automated systems.
The content used by the pro-Congress pages was quite creative. For example, DFR Lab writes, the pages used caricatures of politicians. Yet, "the pages had less engagement compared to The India Eye's page."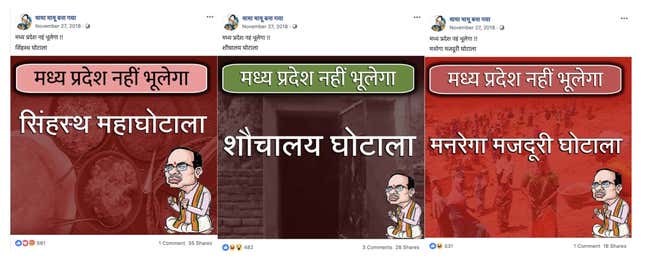 Many of the "Gujarat IT Cell" pages were created ahead of the state assembly elections in 2017. DFR Lab reports that many of the removed pages were named after local towns in Gujarat, "suggesting that their strategy incorporated granular geographic targeting for the Gujarat assembly elections." Many of these pages had fewer than 5,000 followers, suggesting microtargeting.
So the loss of the Congress's pages may sting less than the loss of The India Eye and other BJP-related pages.
"The big difference was that the INC operation could afford to lose some of its pages without putting a big dent in its overall operation," Nimmo said. "The takedown of the pro-BJP pages will have much more impact on the overall operation, because their followings were so much bigger."
Read Quartz's coverage of the 2019 Indian general election here.