India's mounting pile of old smartphones, laptops, and refrigerators could create over half-a-million jobs.
By 2020, the country's electronic waste management sector is set to create 450,000 direct jobs across collection, aggregation, dismantling, and recycling, according to an April 03 report by the International Finance Corporation (IFC). Another 180,000 jobs could also crop up in the allied sectors of transportation and manufacturing, the development finance institution said.
Every year, India churns out more than two million tonnes of e-waste—a figure that is expected to surpass five million tonnes by 2020. More than eight in 10 of the electronic products disposed off are personal devices such as computers, smartphones, and TVs.
Dumping and improper disposal of e-waste can release toxic chemicals such as arsenic, lead, and zinc, among others, into the air, water, and soil, in turn affecting the health of humans and animals.
IFC and Karo Sambhav—a producer responsibility organisation—launched the India E-waste programme in 2017, and over 4,000 metric tonnes of electronic items have since been collected from citizens and corporations, and recycled, IFC claims. Also, 2.26 million citizens, including school children, have been sensitised for safe disposal of end-of-life electronics.
Formalising the informal
Until now, the sector has been largely unregulated in India with one million poor people involved in manual recycling operations.
"Severe health impacts and environmental damage are widespread in India, due to the final step of the e-waste processing by the informal sector," the Global E-waste Monitor Report 2017 noted. The workers handling the hazardous waste often develop nervous system and respiratory disorders, skin diseases, bronchitis, and even lung cancer, among other ailments.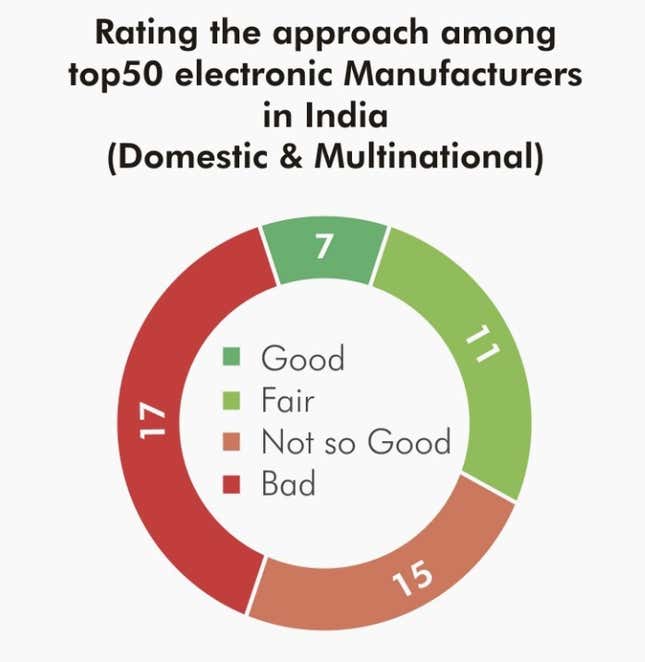 India's e-waste management rules, implemented in March 2016, mandate that producers are responsible for collecting and returning electronic waste to dismantlers.
"If the responsibility is shared between the government, producers, and consumers of e-waste, then efficient management of e-waste can be successfully achieved in India," said Sonu Singh, joint director of the hazardous substances management division in India's ministry of environment, forest, and climate change.
Authorities, meanwhile, are trying to bring about a change by creating dedicated spaces for proper disposal, identifying authorised manufacturers and dealers who can take back used gadgets, and installing roadside e-waste drop boxes, too.